The Vibe Report – August '08
Wednesday, August 27, 2008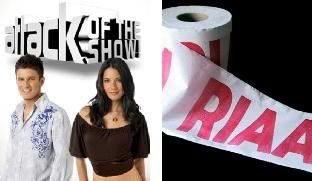 August was a month of good press and good TV, but also of sad passings and recording industry BS. I've managed to sort out all those good and bad vibes and I'm presenting them to you today in the latest edition of The Vibe Report.




Good Vibes


Press for Adam's World - It was a banner month for Adam's World when it came to getting press as my online home was featured in the New York Times, the Stamford Advocate (with a picture of me on the cover!) and on Cool in Your Code's website (full interview with me about Adam's World!). That's a lot of positive momentum and I'm working hard to keep the ball rolling.

Attack of the Show – G4's Attack of the Show has quickly vaulted itself onto my very short list of must see TV shows. The rapid fire techie / pop culture news and video clips are fantastic (their top five internet clips of the day are reason alone to tune in) and hosts Kevin Pereira and Olivia Munn out-hip Jon Stewart (who I still think is great) by miles. Every once in a while you can just tell when a television show has something special about it. Attack of the Show is one of those shows and should be a flagship program of G4 for a very long time.

Master P - I gotta give some props to Master P for his attempt launch a more positive version of BET. Although we all love booty videos some of the time they can get pretty cliché if that's all we're presented with. With Better Black Television (BBTV) Master P seems to want to live by the old standard - it's not where you're from, it's where you're at.

My Concert on 8/30 – If you didn't already know, I'm hosting a concert this Saturday, August 30th at Cousin Larry's (1 Elm Street, Danbury, CT). The lineup features Louis Logic, Sketch Tha Cataclysm, Lauren Ianuzzi and Homeboy Sandman. The doors open at 9pm and it's only $5 to get in (ages 21+). It's going to be the event of the summer!!!




Bad Vibes


Isaac Hayes, Bernie Mac and Sho' Nuff passing away - It's still hard to believe Isaac Hayes, Bernie Mac

and

Julius Carry III (aka Sho' Nuff) are all gone. These three incredibly talented individuals were taken from us way too soon. I was discussing the passing of Hayes with a friend of mine and we both agreed South Park has to find a way to make things right with the Chef character now. Bernie Mac's last words

should

have been "motherfucker" (no word on what they actually were). And when it comes to Sho' Nuff, if you haven't seen The Last Dragon, run out and get it today... and kiss his Converse! RIP to all three. I bet they're having one heck of a party up there in Heaven.

The RIAA vs. Pandora & Muxtape – In a move that proves the RIAA has no idea what it's doing the group is now going after streaming music sites Pandora and Muxtape, both of which focus on introducing new artists to people. In the RIAA's crusade to charge everybody for everything all in the name of "saving music" they are set to take away two of the biggest ways many internet users find music. This fight begs one major question of the RIAA; could that gun of yours be pointed any closer to your foot?

The Presidential Election – We have our candidates now, and although I'm excited about Obama I have to ask… when is anyone going to talk about the issues? Yes, Obama is young. Yes, McCain is old. No, I don't care. Tell me where you stand on things so I can figure out if you're worth voting for. Until both of you can do that in a clear cut way I have no reason to pay attention to either of you. What does it say when Paris Hilton has the most thought out platform?

Previous Months

July '08
June '08
May '08
posted by Adam Bernard @ 7:46 AM