ABX Podcast #78 - The Start Of Fall Pumpkin Spice Remix Podcast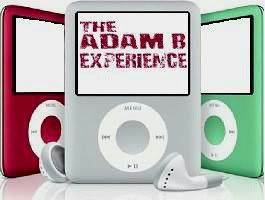 Midway through recording this podcast I realized that branding it with some random words people associate with the fall would be a good idea, so although I'm fine with the season taking its time getting here, I'm also fine using it to get more listeners. With that in mind, welcome to The Start Of Fall Pumpkin Spice Remix Podcast! This month I have nine new songs for you, including four Adam B Experience artist debuts, and stay tuned all the way to the end, because as an added bonus I go off on a rambling six minute stream of consciousness that only gets stranger as it goes on.

You can stream or download the show at RapReviews.com.

Playlist

Substantial - Splendor
Jake Palumbo w/ Ollie Ox, C-Zar Van Gogh, & Ciphurphace - 4 Deep In A Honda
Toussaint Morrison - LeTron Brains
Lil Mattress - Guns
AtLas - I Ain't No Rapper
Stockade Kids - Breaking the News
PremRock - Lens (Zilla Rocca Remix)
BOTZY - Flameburger
Blahze Misfits - Funeral For A Dick Pic



Labels: Podcasts
posted by Adam Bernard @ 7:00 AM

Pop Shots - We Found Ya!
Monday, September 29, 2014

Welcome to your weekly dose of pop world musings. Covering all things pop culture, this week Pop Shots is hitting you with thoughts on everything from Bieber's upcoming hospital stay, to Kanye's exceptionally eventful club night, to a Spice Girl at the UN, and since it's Pop Shots you know everything is seasoned with a little bit of attitude.

* Maple Leif Garrett (aka Justin Bieber) tweeted that he "busted" an eardrum in a cliff diving accident in LA. I could be wrong, but I'm pretty sure this automatically gives the cliff national landmark status.

* Taylor Swift has once again reminded us that she's pretty awesome. The superstar Instagrammed a photo of herself wearing a t-shirt that read "No It's Becky," a direct reference to an old meme of Swift in a tiara that was accompanied by an anti-marijuana message claiming that the girl in the photo was "Becky," a girl who died from snorting pot. A commenter instantly noted that it was actually Taylor Swift in the pic, and things took off from there. So yes, Taylor Swift Googles herself, and she has a great sense of humor about it.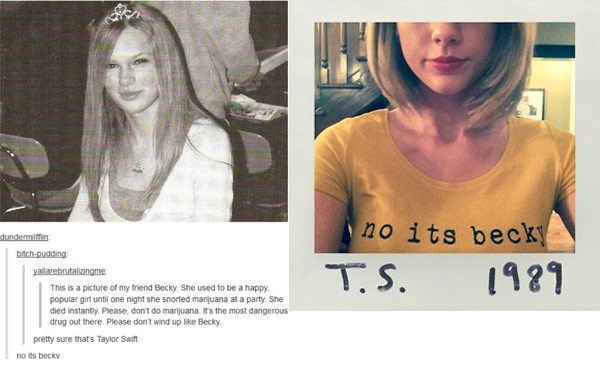 * Theophilus London is making noise that a new Kanye West album has been completed. West executive-produced London's upcoming album, Vibes, and according to the London's tweets and Instagram captions, "I only remember Kanye playing his new album 3 times in a dark room of 20 people last night and moshing drunk with mad babes." This is in stark contrast to when women drunkenly mosh with Cee Lo, as everyone usually wakes up from that with no recollection of anything.

* According to E! News, Jason Derulo and Jordin Sparks have reportedly ended their nearly three year relationship. In response to this, the entire world said, "Those two were dating?"

* In breakup news featuring a couple everybody knew about, Amber Rose filed for divorce from Wiz Khalifa this past week, alleging that the rapper cheated on her. If he did, we can be pretty sure it wasn't with a cheeseburger.



* Victoria "Posh Spice" Beckham has been named a United Nations goodwill ambassador for the organization's program on HIV/AIDS. Her long history of standing around doing nothing makes her a perfect fit for the UN.

* Lana Del Rey announced she'll be playing shows on October 17th and 18th at the Hollywood Forever Cemetery. Some say the venue matches the darkness, and gloom, of her music. I feel it's appropriate because she bores me to death.

* In news that shows exactly where the music industry is right now, internet pornography site PornHub has announced they're launching a record label. This means there's now a level below signing with Pato Music World.



* Hipster clothing store Urban Outfitters is claiming to be "the world's number one vinyl seller." This must come as a huge shock to suppliers of diner booths nationwide.

* This past Friday, Radiohead frontman Thom Yorke released a solo effort titled Tomorrow's Modern Boxes via the file sharing site BitTorrent. The album requires payment, and Yorke and producer Nigel Godrich are calling the entire thing an "experiment." I hope Yorke's next experiment involves creating something I might actually want to listen to.

* Finally, if you're looking for a Robin Thicke / Justin Timberlake replacement, Nick Jonas, yes, Nick Jonas of Jonas Brothers fame, is on his way to being a major player in the world of soul-pop. Check out his latest single, "Jealous," the video for which reminds me of some of the visions I get when I drink expired cough medicine.




And with that, my time is up for the week, but I'll be back next week with more shots on all things pop.



Labels: Pop Shots
posted by Adam Bernard @ 7:00 AM

Vid Pick: Margaret - Start a Fire
Friday, September 26, 2014

Rarely do I see a video that I'd describe as remarkably beautiful, but that was the first thought that came to mind after watching Polish pop singer Margaret's "Start a Fire."

Three non-traditional relationships are front and center in the clip, and director Olga Czyżykiewicz does a masterful job of revealing their stories over the course of just under four minutes.

Back in 2013 when I interviewed Margaret she ended up with the honor of being the only Polish pop singer with an open invite to crash on my couch if she ever finds herself lost in America. OK, I'm not really sure how much of an honor that is, as my couch is pretty old, but after watching "Start a Fire" you'll understand why I extended the invite. Margaret isn't just talented, she has a lot of heart.



Labels: Vid Picks
posted by Adam Bernard @ 7:00 AM

AERS Dreams Up Something Beautiful
Thursday, September 25, 2014

When AERS' Tasha Abbott was a college student studying abroad in Germany she found herself at an outdoor cafe, understanding nothing, and everything, all at once. "I couldn't understand a word anyone was saying," she recalls, "but it was kind of amazing."

Read the full story at Arena.com.



Labels: Music Interviews
posted by Adam Bernard @ 2:02 PM

Lights Revs Up Her Little Machines
Wednesday, September 24, 2014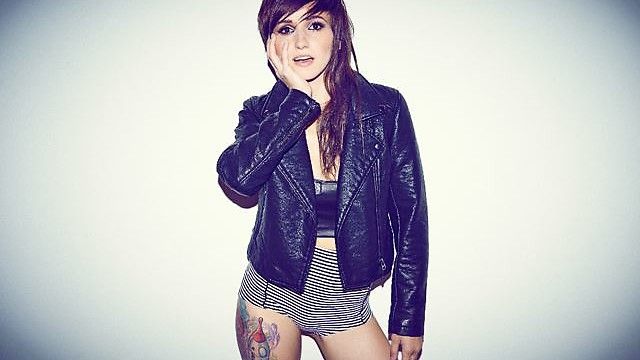 Last time we heard from Lights it was 2011 and she brought us to Siberia. This week she's finally returned from the cold with Little Machines. One of those little machines should be a race car, as for Lights, the last three years have been a wild ride.

Read the full interview at Arena.com.



Labels: Music Interviews
posted by Adam Bernard @ 1:42 PM

Follow
Email List
Fresh Interviews

Mike Doughty

Clean Bandit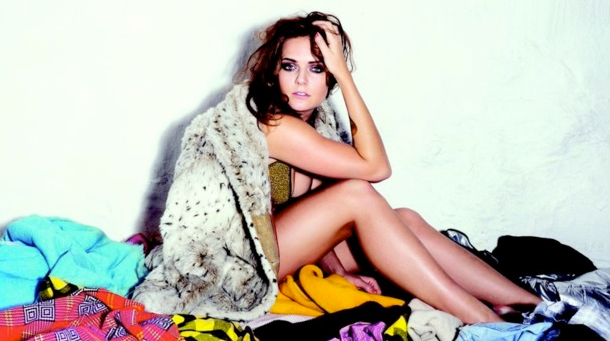 Tove Lo
Latest Podcast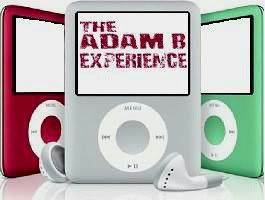 The Adam B Experience Episode #78
Stand-Up Comedy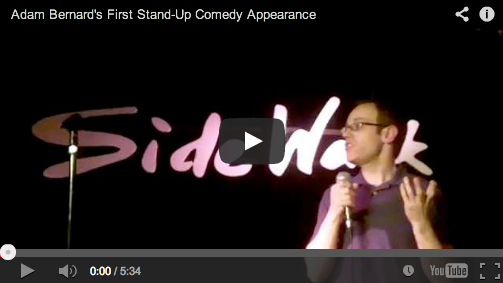 My set from Soce's
First-Timer's Show (April '14)
B-Lister Nation
B-Listers are a select group of artists that were featured in my Artist Of The Week series that ran every Monday from April of '06 to April of '11. All of these artists have two things in common; extreme talent, and a flight path far too under the radar for my liking. They took on the title of B-Listers as they embraced being featured by me, Adam B. Check out the AOTW Archives for all the interviews.
Friends of Adam's World
60 Second Review
Adam John | Kid Kryptic
Always Home and Uncool
AngryMarks
Backpack Cat
Claudia Alick
Definitely Amazing
Gangstarr Girl
Fly Like Dove
FreeHipHopNow
Halo Doesn't Suck
I Are Conscious
iHeartDilla
Jesse Abraham
Joey K's Place
Jus Rhyme
Ken Morico
Life of a Rockstar
MC Larny Rocks
Nappy Diatribe
Nobody Beats The Liz
Paul Gargano
Pay Us No Mind
Popular Opinions
Ramblings of the BK GrrlGenius
RapDirt
RapReviews
Sleep Dirt
Speech Is My Hammer
Stamford Talk
The 54 Reality Show
The BillaBlog
The Race to Nowhere
xo Publicity
Member Of