My First Time – Otis Clapp
Friday, March 22, 2019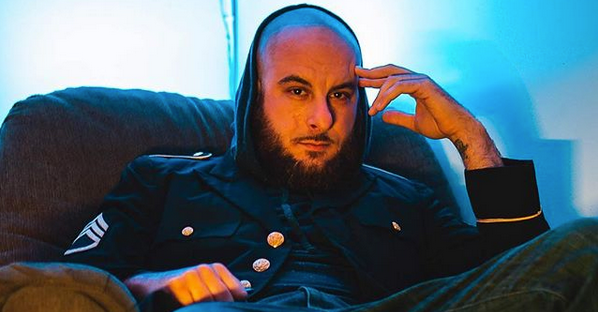 My First Time is a feature exclusive to Adam's World where artists discuss some of the major artistic firsts from their life.

Everyone's heard the claim that NYC's hip-hop scene doesn't have a sound anymore, but anyone who tries to make that claim needs to give Otis Clapp's music a spin.

You really can't talk about the city's hip-hop scene without mentioning Otis Clapp. Whether it's his EPs, LPs, or live shows, the Queens native has been the epitome of a great New York emcee for well over a decade. His latest single is "Gidda Drumma Some," which is the sixth, and final single from his Quentin EP.




Currently in the studio mixing his next full length effort, 40s On The Church Steps, before Otis finishes up what's next, he sat down with me to talk about some the major artistic firsts from his life.

My first time performing on stage

Turning back the clock a bit, when I was 5 – in first grade – I had the lead role in my class play. I don't remember the name of the play, though. It was about brushing your teeth, and cutting out sugars. My name was Ken Careless – new rap name? – a dirty little kid that didn't brush his teeth, ha ha. Eventually they convinced me to take care of my teeth, and the rest was history. 

My first time buying an album

If I had to guess, I'd say it was probably The Doors debut album on vinyl.

I remember becoming a Doors fanatic around the age of 8 or 9. Back then, before video games had extensive audio sound effects and soundtracks, I used to mute my video games and blast music. Till this day, certain video games will always remind me of certain albums. That Doors album will always remind me of Baseball Stars for Nintendo.

Jim Morrison/The Doors will always be one of the biggest influences on my music – the tonality of his voice when he sings, his sometimes obscure but poetic lyrics, etc. 



My first time writing an original song

When I first started writing, like most people, I was just writing to instrumentals, but my first original song wasn't written till about 1999. I formed a rap group with one of my closest friends, we called ourselves The Deranged Mentalz. Back then I mostly wrote battle raps. I think our first song was called "World of Weapons," so there's a great chance I was shooting and killing everyone –lyrically, of course.

My first time at an open mic night

First time I ever performed at an open mic was at the Nuyorican in 1999. I remember there was a live band there, so artists would come to the stage when they were called and spit two verses over whatever the band plays. I remember asking the band to play "N.Y. State of Mind" by Nas. The place was packed and I was nervous as hell.

I remember getting off stage and not remembering anything. I compared it to the adrenaline rush after a fight, or a college player going pro, where the game is so much faster.

Over time I found a way to slow everything down while I'm on stage.

There's no substitute for experience.



My first time going on tour

I used to be the frontman for a band called Dump Body – check us on Spotify! – and we booked a local weekend mini tour. The first show was about an hour away on Long Island on a Friday night, but that Friday morning I was at my day job on a construction site, and a heavy piece of pipe rolled off a scaffolding about 15-20 feet high and cracked my whole head open. I was bleeding everywhere and got rushed to the hospital. I wound up getting 21 stitches in my forehead.

We still did the mini tour, and the Friday night show wound up being one of our best shows ever. The place was packed, and even the people that didn't know us loved us. The next night we performed in Amityville. The show was horrible, the place was empty, and the people that were there didn't really show us love at all. But those are the highs and lows of being a performer. Never get too high when you win, never get too low when you don't.





For more Otis Clapp, check out otisclappmusic.com, and follow him on Facebook, Twitter, and Instagram.

Photos: nyenteenatey2



Labels: Music Interviews, My First Time
posted by Adam Bernard @ 7:00 AM

NYC Scene Report – pecas, Missyou, & more
Wednesday, March 20, 2019

This week's NYC Scene Report features a sultry single from R&B artist pecas, alt-pop-rockers Missyou having a dream for a better world, The Rad Trads pedaling through exotic locations, and Lost Leaders figuring out "Probably Why We're Here."

* Brooklyn, by way of Madrid, R&B artist pecas has released a video for her latest sultry jam, "T-Shirt."

In a statement, she spoke about both the song, and video, saying, "I stole my ex's t-shirt after we broke up, and slept in it for really long time. At a certain point I realized that it was slightly creepy, and also comical. The song was an admission to myself of just that. The video didn't come to fruition until a year or so after I had written the song, at that point I was far enough removed from any sentimental attachments to it, and was able to explore more of the comedic aspects."

Pecas continued, adding, "I drew a lot of inspiration from Connan Mockasin's (video for) 'I'm the Man That Will Find You,' and started to play around with the idea of being the female counterpart to that. I wanted to own being a creepy/sensual R&B crooner, and hoped with the video to blur the lines of gender, identity, and sensuality. The song was later revised to include low pitch-shifted vocals to reinforce this idea in the video, and in the very end of the editing process we added a warp on my face for a few shots, primarily because I really got a kick out of it – the idea of breaking and recreating my perception of myself and how others perceive me."

With pecas being on tour through March 26th, it isn't hard to imagine audience members throwing their t-shirts to her while she's performing.




* NYC-based alt-pop-rock band Missyou will be releasing their debut EP, Yourbody, this Friday, and while the EP is their opening salvo, their polished sound could easily lead you to believe they're a veteran band that's been around for ages. A perfect example of this is their latest single, the immediately memorable "Anything."

Missyou frontman Blaise Beyhan discussed the song in a statement, saying, "This song is about the longing for a time and place when we all had more empathy, and wishing that everyone cared more for one another, and how understanding and love can truly change everything. I wish for a world where willing to die for another is valued above being 'cool,' where passion is rewarded, and not something to be ashamed of. I hope for a time where we don't have to hide who and what we love, and I hope for a culture where we celebrate differences amongst us all."

Check out the video for "Anything" and don't miss out on Missyou.




* Brooklyn-based five-piece The Rad Trads, whose sound is filled with infectious good vibes, have released an incredibly fun, and creative, video for their latest single, "Thumbtack."

Something that makes The Rad Trads unique is that each member of the band is featured as the lead vocalist on different songs. On "Thumbtack" Mike Harlen takes the lead, and he explained the song in a statement, saying, "'Thumbtack' is a song about love lost, in which the character is offering up various forms of self-flagellation or humiliation to win his lover back."

Harlen added that when it comes to the video for "Thumbtack," "The video was directed by our good friend Taylor Ashton, and shot by him and Sam Graff. He set up a giant green screen behind a Citi Bike docking station in Red Hook and had us pedal the bikes in place while he superimposed various exotic locales behind us. It's a playful, quirky video that reflects the tone of the song, as well as the goofy good-natured-ness of the band."

The wheels are in motion more often than not for The Rad Trads, who will be touring throughout 2019. Of course, you can also check them out on their stationary Citi Bikes right here.




* The Lost Leaders duo of guitarist/vocalist Peter Cole and bassist/vocalist Byron Isaacs released their third album, Promises Promises, earlier this month, the latest single off of which is the catchy indie pop-rock gem "Probably Why We're Here."

While their Facebook page makes the claim that the band's interests include, "Yelling loudly for no reason & anything made from tin foil," after one listen to "Probably Why We're Here" you'll find in actuality they're more into great songwriting, and earworm hooks that rent space in your head.

Check out the lyric video, and make Lost Leaders your next great find.




For more of the best of NYC's indie music scene, come back next Wednesday, and check out the archives for previous columns.



Labels: NYC Scene Report
posted by Adam Bernard @ 7:00 AM

Pop Shots – Elite Receivers
Monday, March 18, 2019

Welcome to your weekly dose of pop world musings. Covering all things pop culture, this week Pop Shots is hitting you with thoughts on everything from J.Lo receiving a ring, to Missy Elliott and Justin Timberlake receiving honorary degrees, to Britney Spears' extensive catalogue receiving the musical theatre treatment, and since this is Pop Shots you know everything is seasoned with a little bit of attitude.

* Jennifer Lopez and Alex Rodriguez have announced they're engaged. I have a hard time believing it, though, because J.Lo warned us not to be fooled by the rocks that she's got.

* Bush, Live, and Our Lady Peace are teaming up for a summer tour to celebrate the 25th anniversaries of their respective debut albums. In a related story …



* Former Wham! singer Andrew Ridgeley will be releasing a memoir titled Wham! George & Me on October 3rd. Unfortunately, the audiobook version has hit a snag, as it was done entirely in a careless whisper.

* Missy Elliott, Justin Timberlake, and Alex Lacamoire will receive honorary Doctor of Music degrees at Berklee College of Music's commencement ceremony on May 11th. After the way I weaved through traffic on I-95 the other day, I'm hoping for an honorary degree from NETTTS.



* Theater owner James L. Nederlander announced he's producing a jukebox musical titled Once Upon a One More Time, which will feature the songs of Britney Spears in modern day revisions of classic fairy tales about storybook princesses. The show is scheduled for a short run in Chicago in the fall, with the hopes of eventually making the move to Broadway. I guess this means it's almost time for me to pen my jukebox musical featuring the songs of Kevin Federline – The Phantom of the Popozao.

* 311 and Dirty Heads will be teaming up for a 29-date U.S. tour this summer. I have a feeling I know what will be served at the concession stands.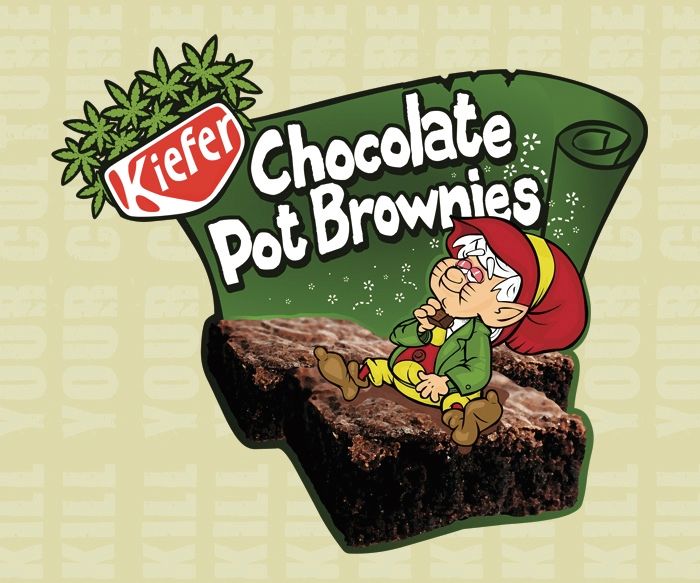 * Nick Jonas bought Priyanka Chopra a Maybach after the new Jonas Brothers song "Sucker" hit #1. I just wanna know what the gift would've been had the song only made it to #7 … a Kia?

* The seventh annual ACM (American Country Music) Party for a Cause will take place April 5th-7th in Las Vegas. I once partied for a cause for three days straight in Las Vegas. OK, fine, the cause was "partying." I didn't say it was a good cause.

* Pretty much every time Selena Gomez has a new song out it becomes a gigantic hit that's ever-present on the radio for the better part of an entire year. Her latest is a bilingual collaboration with Benny Blanco, Tainy, and J Balvin titled "I Can't Get Enough," and the video for it features the largest bed I've ever seen. I assume the bed is equipped with a giant version of a MyPillow, because the clip doesn't end with a mustached man creepily showing up and telling them he could help them get a better night's sleep.




And with that, my time is up for the week, but I'll be back next week with more shots on all things pop.



Labels: Pop Shots
posted by Adam Bernard @ 7:00 AM

Lo Lo Stole Your Sweater, But You Should Be Cool About It
Friday, March 15, 2019

Rising pop newcomer Lo Lo has a confession to make – she has a closet full of clothes that aren't really hers.

That's the theme of the Toronto-based artist's latest single, "Sweater Collection," as she goes through her wardrobe, much of which was inadvertently supplied by her exes.

An undeniably great pop song, "Sweater Collection" could fit right in on current Top 40 radio playlists, and while the song is about her breakups, it might also mark the start of a long lasting relationship between music fans and Lo Lo.




Wanting to know more, I caught up with Lo Lo to find out about her extensive sweater collection, as well as her path to the pop world, and which era of music holds a special place in her heart.

Since you're a new voice on the scene, let's get some background info on ya. Tell everyone about growing up in Toronto, and how you got into music, and performing.

Growing up I was always obsessed with music and performing, but I was really into musical theatre. I religiously watched all the Shirley Temple movies as a child, so I made my mom put me in tap dancing lessons and singing lessons, and I even wore my hair super curly like she did.

In the beginning of high school I took up guitar, and my teacher thought I had a good voice, so he encouraged me to write songs. I always kept a diary, so songwriting came kinda naturally to me … although my first ever songs really sucked, looking back.

What was the moment where everything clicked and you were like, "I have to be singer"?

I think it was the first time I ever actually recorded one of the songs I wrote. I went into a studio and sung over some piano, and then my guitar teacher added guitars, bass, drums, etc. I heard it back with all the production later in the week and I was like – WOAH. This feels amazing. I want to create things like this forever.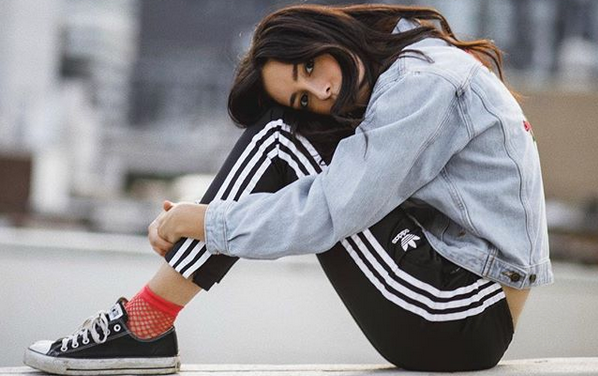 Your latest single is all about your extensive "Sweater Collection," which has been culled from various exes. When did you realize you were a sweater thief, and how did you come to embrace it?

It was at the beginning of the summer. I usually go through and try to organize my closet before/after every season. I was looking through like whoops, this isn't mine … OH SHIT, this isn't mine either. And so on and so forth.

I think it's very important to not take things too seriously, and laugh at yourself sometimes. Even though looking at the sweaters made me kinda sad, I decided to embrace it, and thought that a song about it would probably be really relatable to a lot of other people. I was like, there's no chance it's just me that has a "sweater collection," so I jotted down the idea on my iPhone notes and wrote a song about it shortly after.

Is it safe to say you'll never be allowed to work with The Neighbourhood, because you'd always be stealing their sweaters?

HAHA! Do not let me near any of those band members, or we may have a serious problem.

"Sweater Collection" is pure pop, as are your previous two singles, "Yours," and "Convenient." What do you enjoy most about listening to, and creating, pop music?

I love listening to songs I can easily sing along and dance to, so I try to make sure my own songs have these qualities when I'm creating them.




If you could exist in any other era of music, which era would you choose, and why?

Definitely the early 2000s, because that's the kind of pop music that I grew up listening to when I fell in love with it. It will always have a special place in my heart. 

Who do you think would be your BFF in that era?

Hilary Duff, hands down.

You are quite popular on Instagram. I noticed in one photo you have a gecko on your face. Did you just get a deal on insurance, or is that a pet of yours?

I WISH THAT WAS MY PET. He belongs to one of my best friends. His name is Mr. Man.

I hope to get my own lizard one day.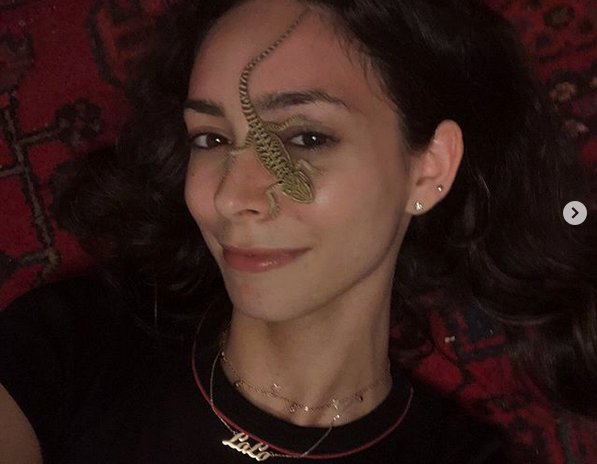 Judging by your pics you like to have fun in life. If we were to hang out, what would we end up getting in trouble for?

I'm glad you caught that vibe, because you're definitely right about that. We'd get into some trouble for getting too rowdy at a concert, for sure. We might even get kicked out.

If you could have a song of yours featured in any television show, past or present, which show would you love to hear your music in, and why?

I would have loved to have my music play on The O.C., because it is definitely my all-time favorite. I think Marissa and Summer could definitely relate to my songs.



With three singles out, is an album or EP on the way? What can you tell us about your plans for the rest of 2019?

Yeah, I'm really excited to be releasing my first ever EP on May 3rd! I'm also having my debut live show in Toronto at Adelaide Hall on May 2nd. So it will be a show, and a release party! You should come ;)


For more Lo Lo, check out itslolomusic.com, and follow her on Facebook, Twitter, and Instagram.



Labels: Vid Picks
posted by Adam Bernard @ 7:00 AM

NYC Scene Report – Barrie, Belaver, & more
Wednesday, March 13, 2019

This week's NYC Scene Report features Barrie picking "Clovers," Belaver taking the wheel on "Driver," Trixie Whitley's seductive "Touch," and Craig Finn laying out some "Blankets."

* Indie-pop five-piece Barrie has become a column favorite here over the past few years, and come May they'll be releasing their full length debut, Happy To Be Here, via Winspear. The project is led by the fantastic single, "Clovers."

With members of Barrie having lived everywhere – including Boston, Baltimore, upstate New York, London, and São Paulo via Berlin – frontwoman Barrie Lindsay describes how their diverse backgrounds played into the makeup of the album, saying, "The scaffolding of this album is moving to New York, and finding these people that make up the band. We're very different, but we cover each other's gaps personally and creatively, and are eager to learn from each other."

The band's Noah Prebish adds, "Part of what makes Barrie greater than the sum of the parts is that it's actually a bunch of freaks working together to make super accessible, satisfying music. So there's a somewhat experimental nature to the approach."

Barrie is currently on the road, with US and UK tour dates booked through May 10th, so you check them out when they come to your town. Of course, you can also listen to "Clovers" right here.




* Belaver is a new singer-songwriter on the scene, and with the video for his debut single, "Driver," he's clearly ready to give people something to talk about.

"Driver" is off Belaver's upcoming album, True Love of Crime, due out April 26th, and the video is a story that features some scenes that look as though they're right out of the '80s (I got some serious Videodrome vibes from the intro).

Musically inspired by Neil Young and David Bowie, with "Driver" Belaver is behind the wheel, and taking us on quite the ride. Check it out.




* Trixie Whitley will be releasing her third album, LACUNA, on May 29th, and the video for the sultry lead single, "Touch," is the first in a trilogy leading up to the album's release.

The clip for "Touch" was created by Whitley with visual artist, and creative director, Hannah Marshall. Whitley discussed the concept for the entire video trilogy in a statement, saying "We shot the trilogy in London over the course of two days. I was contemplating a lot of spaces in-between, and the different forms of trust and intimacy during the writing and recordings of LACUNA, which was co-produced with Little Shalimar."

She continued, adding, "I felt movement and dance formed an integral part of the language that I wanted to use to tell this story. Around the same time, I was working with dance company Ultima Vez on a mixed media performance and got introduced to some incredibly talented dancers who fully aligned with the vision that I had. I was also lucky enough to have my dear friend, and movement director, Paul Zivkovich by my side for the entire journey. I couldn't be happier with the process and explorations we took on together, and I'm excited to share these intimate films with the world."

Whitley will be touring Europe and North America in support of LACUNA, and you can check out the sensual "Touch" right here.




* We still haven't quite made it out of winter yet, so let's pull up some "Blankets," specifically Craig Finn's latest single, "Blankets."

"Blankets" is off Finn's upcoming album, I Need A New War, due out April 26th via Partisan Records. In a statement, the former frontman of The Hold Steady said of the project, "Going in, I saw this record as the third part of a trilogy (following 2015's Faith in the Future, and 2017's We All Want The Same Things). Thematically, this was the third group of songs that I had written about smaller moments – people trying to stay afloat in modern times, attempting to find connection, achieving tiny triumphs, and frustrating let downs, in their day to day lives."

Finn continued, "Perhaps forward motion is everything. The characters in the songs on this record, and the last two, are trying to keep up and keep their heads above water. They succeed, or they don't, but their stories are the tales of their attempts at pushing ahead."

Check out "Blankets," and push ahead with Craig Finn.




For more of the best of NYC's indie music scene, come back next Wednesday, and check out the archives for previous columns.



Labels: NYC Scene Report
posted by Adam Bernard @ 7:00 AM

Pop Shots – Proving Ground
Monday, March 11, 2019

Welcome to your weekly dose of pop world musings. Covering all things pop culture, this week Pop Shots is hitting you with thoughts on everything from Cardi B proving me wrong, to Snoop Dogg proving to be not so great at scalping tickets, to Runaway June proving they can do just fine at the bar on their own, and since this is Pop Shots you know everything is seasoned with a little bit of attitude

* A few weeks ago I quipped, "I just want to know where in the Venn diagram is the overlap between Cardi B fans and attendees of the Houston Livestock Show and Rodeo." Apparently it isn't a Venn diagram at all, it's just a giant circle, as Cardi B ended up breaking the attendance record at NRG Stadium, drawing 75,580 fans for her performance during the Houston Livestock Show and Rodeo. That's three more people than the venue's previous record holder, Garth Brooks. I guess that's what I get for ignoring Doja Cat.



* Pharrell Williams is launching his own music festival named Something in the Water, which will take place in Virginia Beach from April 26th - 28th. After the Fyre Festival, I'm a little less concerned about what's in the water, and more concerned about how they're going to get it to people.

* Three major radio stations in Montreal have stopped playing Michael Jackson songs as a result of the child-molestation allegations brought against the late singer in the documentary Leaving Neverland. A hologram version of Jackson, however, has booked a headlining gig at NAMBLApalooza.

* Starbucks has teamed up with Ariana Grande as its newest brand ambassador, unveiling the Grande-inspired Cloud Macchiato. Here's hoping someone at Starbucks knows to keep her away from the pastries.



* Taylor Swift is turning 30 this year, and in celebration of this she wrote a piece for ELLE magazine titled "30 Things I Learned Before Turning 30." Sadly, with lesson #24 she revealed her mother's cancer has returned. Speaking as someone who battled cancer in 2017, that's one fight that should really have a "no rematch" clause. Best wishes to mama Swift.

* Jessica Simpson, who is pregnant with her third child, spent a week in the hospital due to bronchitis. Her ex, Tony Romo, was somewhere predicting everything that was going to happen moments before it actually happened.

* Snoop Dogg offered up his Staples Center Suite for $5 after ripping into the Lakers for having a poor season. Far be it for me to try to teach Snoop Dogg the finer points of ticket scalping, but you generally want to generate interest in the team if you want to make a sale.



* Fat Joe, Remy Ma, and French Montana had a monster hit three years ago with "All The Way Up," and now Miami-based hip-hop artist Fly Havana would like a piece of the pie he says he helped bake. The rapper claims to have contributed to the writing of the hit song, and that he was subsequently cut out of receiving any credit or compensation for it. With Fat Joe's reputation, this might be the last time we hear from Fly Havana.

* Two years ago I interviewed an up and coming country trio named Runaway June (you can check out that feature here). This year they'll be supporting Carrie Underwood on The Cry Pretty Tour 360, and they just released a great video for their song "Buy My Own Drinks." I don't know about you, but I love a success story!




And with that, my time is up for the week, but I'll be back next week with more shots on all things pop.



Labels: Pop Shots
posted by Adam Bernard @ 7:00 AM