In My Car's CD Wallet
Wednesday, October 29, 2008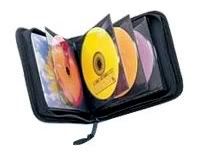 I am a firm believer that you can tell a lot about a person just by looking at their CD collection (many of you may have already figured that out after my "How Hip-Hop Has Changed My 'Type'" article). Today I'm going to give you a peek into mine. Well, at least the CD wallet I keep in my car. It's obviously not a complete collection by any stretch of the imagination, especially since there are only 24 CDs in the wallet and there's certain music that simply doesn't lend itself to driving (i.e. the smooth stuff. I can't be wanting to close my eyes and get into a zone while behind the wheel!), but I still think it gives a pretty good view of who I am. To make this even more fun I've decided to separate the albums into some very unique categories. Enjoy!



My Friends Rap Really Well

Vinnie Scullo – I Spit On Your Grave
Vinnie Scullo – See You At The Gap
Homeboy Sandman – Actual Factual Pterodactyl


Two very good friends and two very talented emcees, Vinnie Scullo and Homeboy Sandman are in my car both because I love their work and because having their CDs there makes it easier for me to let friends who may not be aware of their talents in on how freaking dope they are. "Oh you haven't heard of Homeboy Sandman? Lemme put on his latest album."



My Homegirls Sing Really Well

Rue Melo – Rue Melo
Che'Nelle – Things Happen For A Reason
Maiysha – This Much Is True


Some of my favorite ladies also happen to be some of my favorite singers. Once again, it's always nice to pop in something by a friend, especially a supremely talented one.



I Like Hip-Hop… A LOT

k-os – Atlantis: Hymns For Disco
Pharrell – In My Mind
Hot Karl – The Great Escape
Hi-Tek – Hi-Teknology
Mickey Avalon – Mickey Avalon
Kardinal Offishall – Not 4 Sale
The Game – The Documentary

My Favorite Rock Band

The Vincent Black Shadow – Fear's In The Water
The Vincent Black Shadow – El Monstruo


First off, let's get it straight, I would listen to Cassie Ford sing the phone book. The woman has some of the most incredible vocals ever and is pretty much unmatched on the mic. The fact that the rest of band is also top notch puts all TVBS albums in heavy rotation in my ride.



More Rock Acts I Dig

Sixx:A.M. – The Heroin Diaries Soundtrack
Sonic Boom Six – The Ruff Guide To Genre-Terrorism
Yeah Yeah Yeahs – Show Your Bones

Mood Setters

Thicke – Cherry Blue Skies
Shock of Pleasure – It's About Time


With all the respect in the world to what Robin Thicke is doing now, I still don't think any of it compares to his criminally slept on first album which was both soulful and a lot of fun. It's a perfect summer album. On the flipside, Shock of Pleasure provides some downtempo tunes for those rare times I'm stuck in traffic and can feel my blood pressure rising a bit too much.



The Indefinables

Blaqk Audio – CexCells
Kenna – Make Sure They See My Face


Blaqk Audio is a sex-thump side project of two of the members of AFI that's a cross between Depeche Mode and a pornographic hallucination. Kenna is, well, Kenna. Both are dope, and both are really really hard to explain.



The King of Pop

Michael Jackson – Number Ones

My Guilty Pleasure

t.A.T.u. – 200 km/h in the Wrong Lane


I'm not afraid to say it, judge me all you want, I love absolutely everything about this album. If you haven't heard it in full pull a George Michael and listen without prejudice. (Yeah, I really just said that.)

PS - I also have the following albums in my car on cassette; Wu-Tang Clan – Enter The Wu-Tang (36 Chambers), Busta Rhymes – The Coming, Eric B. & Rakim – Paid In Full, Camp Lo – Uptown Saturday Night, Phife Dawg – Ventilation: Da LP, and The Soundtrack to The Last Dragon.

So who wants to take a road trip?
posted by Adam Bernard @ 7:31 AM