Pop Shots – Living Large, and In Charge
Welcome to your weekly dose of pop world musings. Covering all things pop culture, this week Pop Shots is hitting you with thoughts on everything from Taylor Swift being honored by Apple, to LMFAO having a billion reasons to smile, to Nelly Furtado running the show … or at least hosting one, and since this is Pop Shots you know everything is seasoned with a little bit of attitude.
* Taylor Swift was named Apple Music's Artist of the Year for 2023. Word is votes were tallied from the child, and slave labor used to make Apple products (and yes, I'm a total hypocrite, typing this on a MacBook).
* Mariah Carey told Good Morning America that new music is "on the horizon." Dammit Mariah, is owning Christmas not enough for you? Which holiday are you aiming to take over now???
* LMFAO's "Sexy and I Know It" has surpassed one billion views on YouTube. This is their second video to achieve this feat, following "Party Rock Anthem," which has amassed 2.3 billion views. I guess the moral of the story is never underestimate the power of a good time, and a brightly colored Speedo.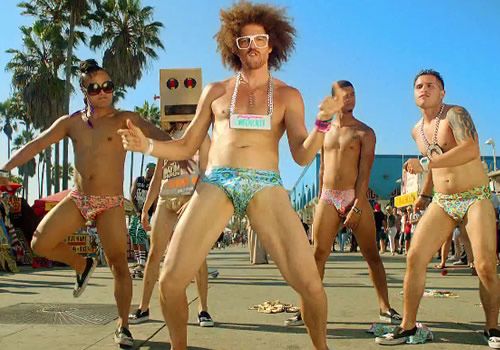 * Selena Gomez said she's taking a break from social media after she was bullied for her comments on the conflict between Israel and Palestine. The flaming hot take that got her in trouble? "People are being tortured and killed or any act of hate towards any one group is horrific. We need to protect ALL people, especially children and stop the violence for good." Yep, she was bullied for wanting peace. These social media dorks would've roasted John Lennon.
* New Edition have announced a 2024 Las Vegas residency. Running from February 28th through March 9th, the group will have six performances at the Encore Theater at the Wynn Las Vegas. I'm not really a Vegas guy, but this seems like a perfect excuse to recreate some scenes from Swingers. Who's down to join me?
* Tupac Shakur now has a street named after him in Oakland, with a section of MacArthur Boulevard near where he lived in the '90s now officially known Tupac Shakur Way. Diddy reportedly can't wait to have someone shot there.
* Ten years after leaving Bon Jovi, Richie Sambora says the group's upcoming 40th anniversary could be the right time to reunite with the band. A reunited Bon Jovi on stage, touring again?
* Nicki Minaj posted an Instagram Story asking her fans to chill when it comes to defending her, writing, "… never threaten anyone on my behalf. Whether on the internet or in person. Whether in jest or not. I don't (and) never have condoned that." To be fair to her fans, Minaj is married to a registered sex offender, so the line of what she will, or won't condone is blurry at best.
* Nelly Furtado will be hosting the 2024 Juno Awards, which will take place on Sunday, March 24th at the Scotiabank Centre in Halifax, Nova Scotia. She's a fantastic choice as host, because if the proceedings begin to run long, she won't hesitate to "Turn Off The Light."
That's all for this edition of Pop Shots, but come back next Monday for more shots on all things pop.