NYC Scene Report – Zoe Ko, PANIK FLOWER, & Joel Zighel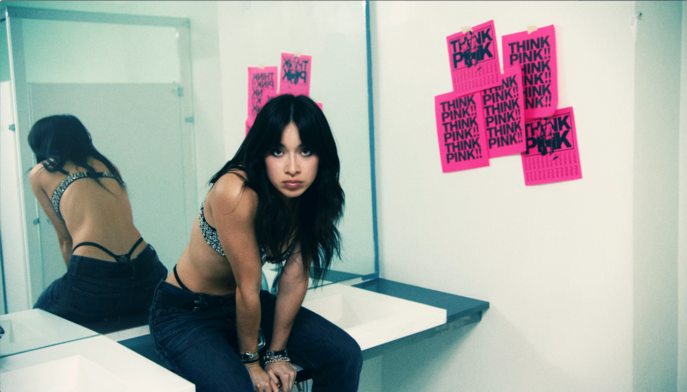 This week's NYC Scene Report features Zoe Ko showing her fangs with "Baby Teeth," PANIK FLOWER refusing to be diluted, and Joel Zighel with some classic East Village songman vibes.
* NYC-based indie alt pop-rock artist Zoe Ko recently released a single titled "Baby Teeth," but don't be fooled by the name, this song has plenty of bite.
Discussing the inspiration for the coming of age anthem, which is the title track of her upcoming EP, due out November 3rd, Ko said, "This is an introspective song on which I call myself out for holding onto bad habits, past traumas, and deep-seated insecurities. I went through so many changes in my life in the past year and a half, and finally stepped into the person I was supposed to be. Growth and transformation can be terrifying because it means you must let go of a lot of stuff from your past that made you who you are."
The video for "Baby Teeth" is set in a school bathroom, and Ko says there's a good reason for that, "The school bathroom is one of the most nostalgic, or traumatic places for people. It is where most of the drama and gossip happened in my school. I dealt with seeing slut shaming nicknames written all over the bathroom stalls, and walls. It was only fitting to have this video capture me in the setting of a high school bathroom going through all of those past emotions while being the most true, and exuberant version of myself."
The exuberance is infectious, making "Baby Teeth" is raucous winner. Click play, and get ready to bounce off the walls to this one.
* Brooklyn-based indie rock foursome PANIK FLOWER will be releasing their debut EP, titled Dark Blue on December 1st, the lead single off of which is the fantastic, relationship themed "Dilute Me."
A song about falling for someone, but not wanting to lose oneself in the love of another, the chorus of "Dilute Me" gets straight to the point, as PANIK FLOWER's Sage Leopold sings, "Because I just wanna be consumed by you / But I don't wanna be diluted by you."
In addition to the heartfelt lyrics, musically "Dilute Me" perfectly parallels the feeling of a growing love/lust, and the concerns of possibly losing oneself in those feelings.
This is a seriously great song from a band I can't wait to hear more from. Check it out!
* Sometimes when you attend a show you discover a great artist on the stage. Sometimes you discover one in the crowd. The latter was the case the other night when I was attending a buddy's show, and met NYC-based artist Joel Zighel, who was also there to support a friend.
A classic Lower East Side troubadour, you could transport Zighel any era of music and he would immediately be welcomed by the artistic community, and listeners alike.
Zighel is currently working on his next album, which will be titled Vintner's Blues, and he'll be releasing singles throughout the fall leading up to it. To get a taste of his vibe, check out "Queen of Souls" from his 2017 album Down On Jones Street. It's a musical, and lyrical gem that has a wonderful energy to it. After one listen I immediately wanted to see him live, and look forward to being in his crowd sometime soon.
For more of the best of NYC's indie music scene, come back next Wednesday, and check out the archives for previous columns.