Hip-Hop Meets Mental Health With Tour For Life
Honesty, and toughness are two traits synonymous with hip-hop. Yet, Full Blast Booking founder Kenny Mercer found it troubling that hip-hop rarely addresses one of the toughest things to be honest about – our mental health.
"There's no realer, eye opening lyrics than hip-hop lyrics," he explains, "a lot of them have come from a place of emotion, describing a lifestyle, and upbringing where managing mental health wasn't part of the picture. When you come from hard places, you gotta act that way, or get eaten alive."
This is why in 2020 Mercer created Tour For Life. "We're here to let heads know its cool to talk about your feelings, its aight to go through shit, and we're here for one another – as a community, we love each other because we love ourselves."
Tour For Life has worked in conjunction with Mental Health Connecticut since day one, raising over $40k for the organization. Because of this fundraising, Mental Health Connecticut has been able to expand their arts and wellness programs.
Attending a Tour For Life show is a bit different than attending a typical hip-hop concert, because while there's still plenty of live music, and live art, there are also mental health resources available to concert goers – including licensed counselors offering free on-site therapy sessions.
Hip-hop legends, and indie faves have embraced the work Mercer is doing with this now annual series of shows, as over the years headliners have included Rakim, Ceschi, Brother Ali, Copywrite, and Akrobatik.
The inspiration for the tour, however, came from a man for whom the beat didn't go on.
The Tragedy That Lit A Spark
Practicing what he preaches, Mercer is open about the fact that he's had his own mental health struggles throughout his adult life, including having spent time being homeless, and jobless. It wasn't until 2019, however, that everything truly hit home. That was the year his friend Alex, whom he knew from the music scene, took his own life.
"I wanted to do something," Mercer remembers, "I was finally in a stable, healthy position in my life, so I became committed to trying to do my part to help this epidemic."
He started reaching out to local mental health organizations, and found a kindred spirit in Suzi Craig, chief strategy officer at Mental Health Connecticut.
"Kenny Mercer reached out to us in 2019 after losing his best friend to suicide," she says, "He wanted to do something meaningful to raise awareness, and to bring hope to folks who are also struggling. Kenny's passion really stood out, and it was clear that he was determined to create safe, and brave spaces in the music world."
With the same goals in mind, Tour For Life was born, but it would get off to a rocky start due to some unfortunate timing.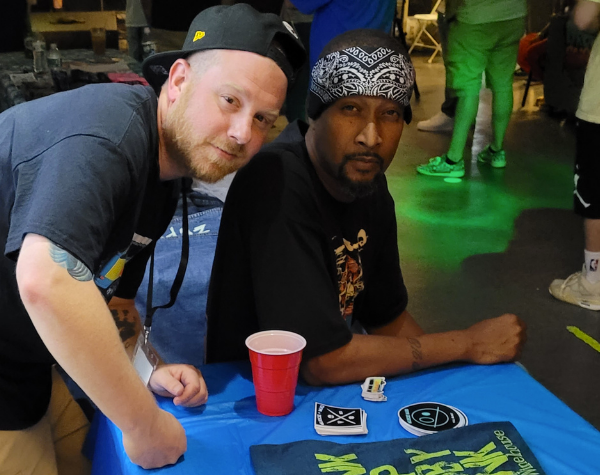 Kenny Mercer and Pacewon at a Tour For Life show
The Day The Earth Stood Still
Mercer, who in addition to owning and operating Full Blast Booking is also an artist himself, had plenty of experience booking shows, and tours, before launching Tour For Life, but just as the tour was ready to hit the ground running, COVID swooped in and stopped everything.
"We actually were about to announce the week COVID hit," he remembers, "so we just kept postponing until things got back to normal. All our paperwork was more than legit, so I knew these shows had to happen as soon as the law would allow."
When the initial Tour For Life finally kicked off it did so under unique pandemic circumstances with a series of outdoor shows in spaces where live music didn't usually happen. This included parking lots where fans were required to sit, or stand, in widely separated chalk outlined boxes, four to a box.
The circumstances didn't quell the enthusiasm, as the initial run raised over $10k for Mental Health Connecticut.
"The first tour, especially coming out of a global pandemic, was incredible, and exactly what we all needed at that point in life," Mercer says, "It definitely showed us what we had, and that we absolutely had to keep going with this thing."
While the money raised has been important, other aspects of the tour may be having an even greater impact, most notably the artists themselves opening up about their own experiences dealing with mental health issues.
Craig says, "It's amazing to witness how the artists don't shy away from sharing their personal struggles."
Two of the artists that have been leading the way are Mickey Bourbon, and SoSoon.
Getting Personal
Emcee Mickey Bourbon has a story to tell. In fact, he has many stories to tell, and connecting with Tour For Life has given him a platform to tell those stories to a wider audience.
Mickey Bourbon
"I have a personal interest in mental health, and suicide prevention from my own struggles with depression, bipolar, and ADHD, as well as losing two close friends over the years directly to suicide. I just never had the outlet before Tour For Life that I could really latch on to, and project those feelings into a tangible source. Before this I was projecting them inward, and they were harmful instead of being a fuel to potentially save others."
Much like Mickey Bourbon, hip-hop artist SoSoon, who has been a youth educator, and mentor for over a decade, fully understands the importance of mental health, and takes his personal life with him to the stage.
"I worked for an organization that provided free wrap-around services for under-resourced youth between the ages of 14 and 24, many of them POC and/or LGBTQIA identified," he explains, "many of my mentees looked to me for unofficial mental health support, which was a perfect opportunity to redirect them to the trained mental health experts who were only a few floors above where I conducted programming. However, the stigmas associated with therapy often led to adverse reactions from my mentees. I ultimately decided to seek therapy for myself in order to lead by example. This allowed me to normalize accessing therapy by speaking from experience versus telling them to do something I had no experience with."
SoSoon continued, adding, "I continue to speak openly to my mentees, friends, and peers about my own experiences with therapy, both as someone who has accessed individual therapy, and someone who has seen, and still sees a couples therapist along with my partner."
SoSoon
Performing as part of Tour For Life, SoSoon has come to find some parental advice he received back in the day coming to fruition in an unexpected way. "I remember my mother encouraging me to tap into community service. Back then, I never could have envisioned there being a bridge between hip-hop and community service, but here we are!"
The More Everyone Knows
Raising $40k over the past three years is impressive, but Tour For Life has raised an even greater amount of awareness regarding mental health, and this is something everyone involved is incredibly proud of.
Mickey Bourbon notes it's the cause that gives the shows a special energy. "When you have a normal show, you got 5 to 10 acts all there for themselves, and a crowd who is mostly there for one specific person. Tour For Life became something where everyone – artists and fans – have come together to do, and make something better."
This year's tour launches with a kickoff show on June 8th in Brooklyn, and continues in full August 10th through 14th with five shows throughout the northeast, and headliners that include Onyx, Skyzoo, Cormega, Havoc, Kool G Rap, and Pacewon.
It will also continue to bring awareness to something many may still be afraid to face.
"We know for a fact this tour has saved lives," Mercer says, "This tour has improved lives. You can't put a price tag on a life. That is what has been so staggering, overwhelming, confirms we have a very important job to do, and we're gonna keep doing it. To do it in the name of hip-hop, with the legends we've brought in, is something special."
For more info on Tour For Life, check out fullblastbooking.net.
For more info on Mental Health Connecticut, check out mhconn.org.