Frog Pimp – How Memphis Hip-Hop, YouTube Docs, & An Adult Film Actress Inspired An Absurd Short Film
Big pimpin' on F.R.O.G.s?
It may sound strange, but that's the case for indie filmmaker Samuel B. with his upcoming short, Frog Pimp. (photo: Frog Pimp actors Domenic Kim, and Madi Collins)
The name alone is enough to elicit interest, but when your NSFW trailer includes a pimp and his prostitutes all in frog hats, and a blood soaked adult film actress wielding a gun, it should come as no surprise that the Indiegogo campaign was funded almost immediately.
A documentary style short with a horror twist about a pimp who is living his gimmick, the concept for Frog Pimp – which is due out this summer – was inspired by Memphis hip-hop, and man on the street interviews found on YouTube, while the creation of it happened, in part, thanks to the arrival of a new child.
Leaping Into A Brainstorm At Work
Like many indie filmmakers, Samuel B. – who owns and operates MovingFast Pictures, and the sub-production company Gwendolyn Pictures, which is what Frog Pimp is being released under – has a day job to both pay the bills, and pay for his dream. It was during this day job that a confluence of influences would plant the seeds for Frog Pimp.
"I sit in a warehouse kinda doing packaging a lot," he explains, "so a lot of time I'm just listening to stuff."
On the day he came up with Frog Pimp he remembers, "I was listening to a lot of Memphis rap, and southern rap, and there is a song, 'Shake Junt' from Lil Gin, I remember listening to growing up, and watching skate videos on Deathwish. You would just hear 'shake junt, shake junt' over and over and over, and I was playing with words in my head. I was also watching videos that were like WorldStar videos, and videos of people interviewing unique people on the street, because I was trying to do a project like that, a documentary of real people, and unique characters in the street."
One video he came across was a compilation of interviews with pimps. "It had really '90s/2000s vibes of people yelling at the camera, just how they run something, this is how they do it, and all of them had unique names with it."
The music, and the documentaries started mixing in Samuel B.'s head. "At some point there was somebody who did something outrageous, but believed it fully. Not necessarily that they actually thought they were not a human, but just they believed the gimmick so much because it paid for them, so they just ran with it."
The basis for Frog Pimp was born.
"I thought about it, came up with the idea while standing, and working, and wrote in my notes at lunch the idea of it."
Things then moved quickly from the concept phase to the creation phase.
"I pitched it to a couple people, and it was thought of, written, and casted within a week and a half, and then we shot it at the end of that week."
Pimpin' Ain't Easy … Unless You're On Paternity Leave
Finding time for filming can be a challenge for indie filmmakers, but Samuel B. stumbled into the perfect way to clear his work schedule – the birth of a child.
"I just had my second child," he explains, "and I had some time off. It was a scheduled thing to happen, so I was like – I have some time off, I might as well get a day or two of filming. If I can plan it right, it'll happen, if not, it's not meant to happen."
One concept he wanted to embrace for Frog Pimp was a style of filmmaking that would make it look like less like the YouTube videos he watched of interviews on the street, and more like an episode of MTV's True Life.
"I was watching (True Life) … I was like, that's kind of perfect, so I got a narrator to go over it, and do it as a full on day in the life of this eccentric pimp, and cover it as so, and then at the end it kind of goes … it's supposed to be a little bit more shocking at the end, where the horror element comes it. I attribute it more to Shia LaBeouf's Maniac."
He also used a unique style of character development, giving his actors guidelines, rather than having them recite word for word from a script.
"I'll give an explanation of the character to the actor – these are the videos I have watched, this is how the character is, and this is his mindset, and these are the sorts of people I thought of that would play that mindset really well. I sent that to (Domenic Kim), and he just rolled with it, and I would just throw him lines as we were going, things I had written down that I wanted to be in there to either be funny, or that connected to something that happens in the next scene."
Because of this, he says, "A lot of the absurd, weird stuff was in the moment," and most of that absurdity made it into the final cut.
Lead actress Madi Collins, who is in the adult film world, would occasionally have an idea they couldn't run with, but she was also the film's savior, coming in to take the place of an actress who backed out at the 11th hour.
"We had an actress lined up," Samuel B. remembers, "she was one of the first people we casted, talked to her the entire time, and she cancelled at 11pm the night before."
This was when Madi, who had a small role in one of his previous films, came to the rescue. "She actually messaged me and asked if she could do it."
The entire short was filmed in a single day.
A Soundtrack Fit For A Frog Pimp
With Memphis hip-hop being a direct inspiration for Frog Pimp, Samuel B. knew the short had to have a great soundtrack. Memphis hip-hop artists, however, weren't necessarily all-in on the idea. In fact, they weren't into it at all.
"I reached out to a lot of artists from Memphis, and I think they saw it as some guy making a DIY, like a student film, so they didn't bother with it."
He immediately switched gears, and the indie filmmaker went the indie artist route, creating a soundtrack that has an international flavor to it, featuring Delnymane (Mexico), La Muerte (Argentina), and Lil' Rocketman (Colorado).
"I was like alright, I'm gonna try to find music that sounds similar, or fit the vibe of what I was thinking … and people that I feel wouldn't necessarily get the eyes that the short would get, so at the same time sort of help them in a way. I try to help out, like the vinyl, we gave some money to them. For everybody that buys it, it's kind of split."
He also wanted the album cover, and Blu-ray cover, to have a classic hip-hop feel that would immediately draw people's attention, so he went with a Pen & Pixel style image reminiscent of the album covers of the music that helped inspire the film.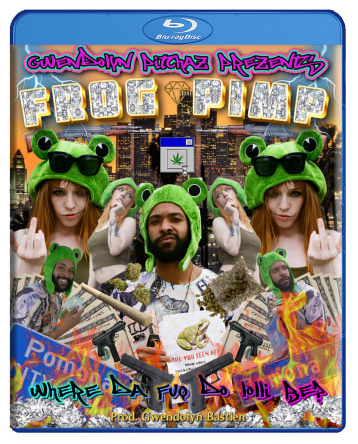 "I knew I wanted the album cover from just listening to the music that started it. It was that idea, and I was like – why don't we release the Blu-ray that looks like Pen & Pixel? It looks like (an album) cover."
He notes there's always been something special about that style of cover art, saying, "You buy something that sort of looks cheap, or amateurish, and when you listen to it, and the music is not matching the cover, the cover becomes just as infamous as the album itself."
Life After Frog Pimp
Frog Pimp quickly blew past its initial goal on Indiegogo – the crowdfunding video says "Kickstarter," but Samuel B. pulled the Kickstarter campaign after learning people were having difficulty bundling backer rewards – and there are quite a few projects where the money can go.
According to Samuel B., the funding will either be put into productions that are currently unfinished – including his film Anti-Wonderful, which he describes as "like a '90s public access cult film trying to entice people to join them, like a Heaven's Gate type thing. It's very dark humor, and bloody, and weird" – or, if all his other projects have been completed, a brand new feature film. "I have another script I'm trying to aim for," he says, "so we're trying to get the money to go to that."
Based on in the interest in Frog Pimp, and the description of Anti-Wonderful, more wild creativity, and hopefully more absurdity, are in our future from Samuel B.
For more on Frog Pimp, check out frogpimp.com.