Pop Shots – An Unwelcome and Terrifying Thought
Welcome to your weekly dose of pop world musings. Covering all things pop culture, this week Pop Shots is going to have a more serious tone, as I'd like to discuss something I couldn't help thinking about while I was at a concert the other night. The show was headlined by Bush, and took place at Hammerstein Ballroom in NYC. In the middle of Bush's set a thought came to mind, an unwelcome and terrifying thought, but a very real thought in America in 2023 – what's my plan for if someone with a gun comes in and opens fire?
Normally this isn't a major concern of mine, because the venues where I traditionally attend shows have capacities of around 150 people. On this night, however, I was at a venue with a capacity of over 3,000, and while I don't know if it was sold out, I do know that you'd have been hard pressed to fit another person in there.
As I looked around at the packed house, thoughts of mass shootings that have taken place at concerts popped into my head, so I came up with a plan.
This is something we actually discuss in martial arts class (for those who don't know, in addition to writing about music, I'm a sixth degree black belt, and an instructor). We call them open shooter drills, and imagine different scenarios – large venues, schools, office buildings, etc. – where a gunman could open fire, and the ways in which we can protect ourselves, and, hopefully, those around us.
In this case I knew I had a better lay of the land than most everyone else there since I had arrived early, before the crowd was allowed in, to do an interview with DEVORA, who opened the show.
For the concert I was standing about 25 feet from the stage on the far right hand side, less than 10 feet from the guardrails that blocked off both a side exit, and the staircase that led to the artist green rooms. There was only one member of security standing at those guardrails, and if someone were to open fire I assumed that everyone with "security" on their shirt would be a little too preoccupied to care who was jumping the guardrail, or pushing it over, so the first part of my plan would be to go over, or through, the guardrails, and pull a few friends with me.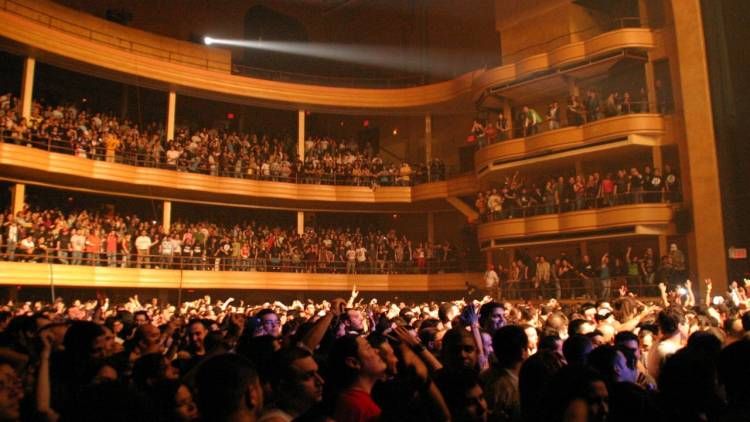 Not from this show, but this is what a packed house looks like at Hammerstein
I figured most people would be looking to head for the exit, but I had no idea if that particular exit was unlocked, so rather than potentially get trampled, or stuck, my strategy would be to head up the multiple flights of stairs. Since I'd just done an interview up there, I knew where to go, and where I could safely hide some people.
With my strategy in mind, I went back to enjoying the show … except that I wasn't fully enjoying the show, because I was thinking about the fact that I had just fairly nonchalantly come up with a plan for if a gunman were to open fire during the next song.
I was upset. I was upset that this is the reality of the version of America we currently live in, and I was even more upset that it happens so often that I was downright casual in my thinking about it, like it's just a regular everyday thing, a bummer that happens, but we deal with, like accidentally stepping in gum. Coming up with a plan was basically me thinking, "Oh, this could easily happen. Lemme just make sure I'm prepared."
You know what, a gunman opening fire at a concert shouldn't be something that could easily happen. It shouldn't be something we have to prepare for, and it shouldn't be something that's such a regular occurrence it can be compared to stepping in gum.
After a few more minutes I was back to rocking out to Bush, but the thought never fully left my mind – not just my plan, but the mere fact that I felt the need to come up with one, and how normal the entire process felt. I guess this is where we are in society today, and it's sad.
Everything zen? I don't think so.
That's all for this edition of Pop Shots, but come back next Monday for more shots on all things pop.