8 Things You Should Know About Power Trash
Power Trash are 100% power, 0% trash.
The Queens, NY-based punk rock band has been making a name for themselves in the city's indie scene with their raucous live shows that are filled with raw energy, and leave crowds both sweaty, and satisfied.
Consisting of (photo: L to R) Quincy Holmer (keys), Kevin McAuley (bass), Pierce Lightning (vocals), Raj Deodat (guitar), and Greg Furlong (drums), Power Trash's history includes a plethora of previous bands, and some unique influences that range from real life struggles to … Patrick Swayze.
Here are eight things you should know about Power Trash.
Power Trash formed after various members toured together while in different bands
Like many bands, the story of Power Trash involves the story of a number of other bands. In this case, the two bands most responsible for the birth of Power Trash were Cutters, which featured both Pierce, and Raj, and Basement Beers, which had Greg on drums.
The two bands went on tour together, and performed at SXSW. "That's how we all got tight," Raj remembers, "We all came back from that tour, and kept being in the same bands for a couple years. Cutters broke up. I hit up Greg the week Cutters broke up, and said, 'Hey man, you want to get together and jam?'"
Rather than jam, Greg says the two met up at a local bar. "We made an agreement kinda like – in maybe a year we'll start a band together."
It didn't take a year. Greg soon left Basement Beers, and a few months after that bar agreement, Power Trash was born.
Pierce, despite previously being a frontman, was originally brought in to manage the band, but Raj says, "Pierce came to the practice room once, sang on a song, and I was like – you're in the fuckin' band."
They weren't originally a punk rock band
Feeling their previous bands were, musically speaking, not entirely approachable, Raj says the original plan for Power Trash was to create songs that were more structured, and had a pop sensibility. "I just wanted to do something that was fun, and dancey. Make the audience dance was the thing that I wanted to do really hard, so the focus was like disco beats, calypso beats, and things like that."
Greg adds, "Raj used to say the term 'dark disco,' and that's kinda like what we wanted to do, something kinda cool, groovy, disco-y."
Their sound quickly evolved, and their guitar riffs started becoming more Blondie-esque on their way to becoming a punk rock band.
Regardless of genre categorization, Raj says, "At the end of the day all we want to write are songs we would want to listen to. When (Greg, and I) write together we're having fun, we can see it on each other's face, and then we bring it to Pierce, and the rest of the band, and it's like – here's everything now … how do we elevate it with everyone else's perspective? That's the important part."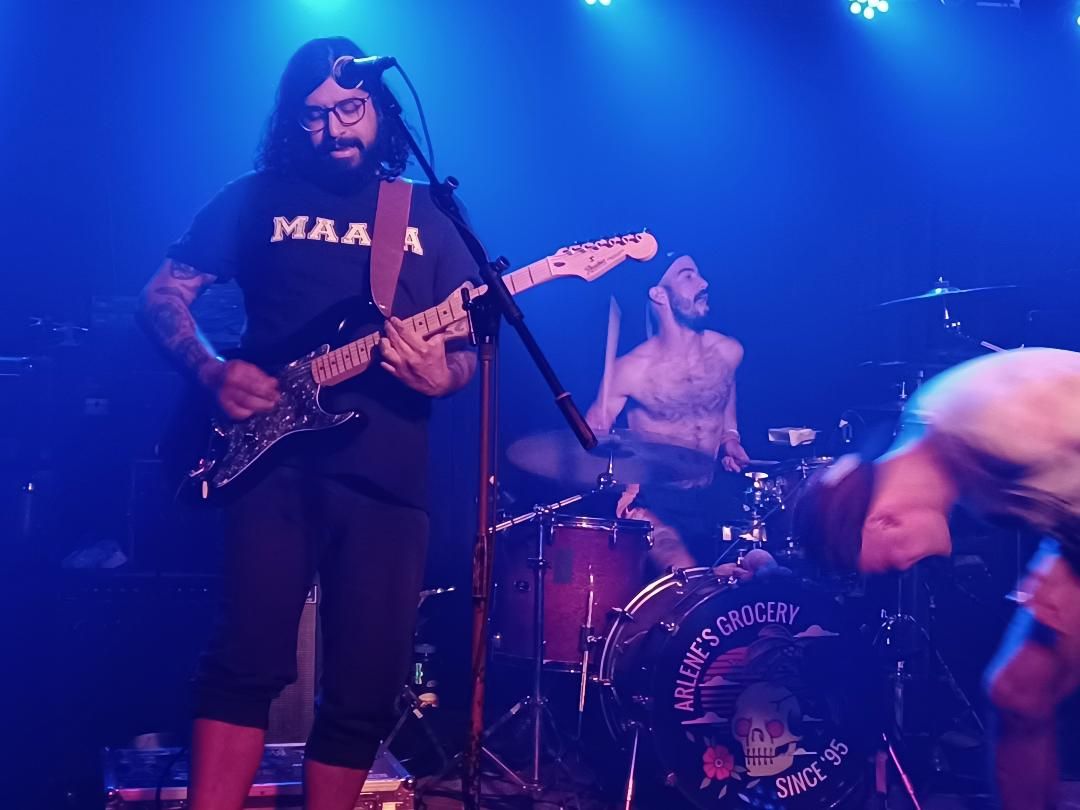 Their name was inspired by The Replacements
The name Power Trash comes from an interview that was done with The Replacements' Paul Westerberg.
Pierce remembers Westerberg was asked, "Where do we put your records?" and The Replacements' frontman replied, "File it under Power Trash."
It was an irresistible term for Pierce, and the rest of the band agreed.
Their influences include everything from real life struggles, to comic books, to Patrick Swayze
Lyrically, Power Trash draws inspiration from a number of places. Pierce says, "I always joke that all of our lyrics are just about comic books, and dying. I love comic books, and I relate them back to my life a lot."
For Raj, his lyrics dive into his personal life, as well, as he explains, "I used to be a heroin addict, so a lot of it is about ex-relationships, and drug addiction for me."
Then there's Patrick Swayze.
According to Greg, 3/5 of the band have different Patrick Swayze tattoos.
In addition to that, Power Trash's two most recent singles – "They Only Live to Get Radical," and "They Don't Even Understand the Sea" – are lines from the Patrick Swayze movie Point Break. "They're two halves of a quote," Pierce says, "even though part of it is slightly misremembered, but that's what it became known as, so I didn't fix it."
Unfortunate timing afflicted their first EP
Power Trash officially formed as a band in January of 2019. One year later they had their EP, Some Old Tragedy, ready to go, and released it to the world. Of course, we all know what happened just two months after January of 2020 – a global pandemic.
"We'd been playing those songs a lot," Greg remembers, "and we put those songs out, and it was cool. We played the release show when that came out, and then we played a show in February, and then the world kinda stopped."
Despite not being able to tour in support of Some Old Tragedy, Raj is quick to say they're still "very proud" of the EP.
When you attend a Power Trash show, you're going to leave with a story
Power Trash shows are always a memorable experience. This starts with lead singer Pierce's theatrical nature as a frontman. "I love glam rock," he says of his performance influences, "I love David Bowie, and Velvet Goldmine, and Hedwig and the Angry Inch, are two of my favorite movies."
Pierce hopes his on-stage – and sometimes even in the crowd – performances leave everyone with something to talk about. "The theatricality of it is really how stupid can I make myself look that's either gonna do one of two things – make you feel OK to do something stupid, or silly, or (the next day) be like, 'I saw the craziest thing last night!'"
He adds, "There are so many bands that we have grown up with, that we've played with, that have taught us that lesson … just wanting people to leave with something. Leave with a fucking story."
They're punks with a purpose
While the band can tear up a stage, and show everyone a good time, they also legitimately care about the city in which the live. Greg goes the extra mile by volunteering with City Harvest, which is NYC's largest food rescue organization, and even he fundraises during Power Trash shows. "Every show I've done that, I've been able to talk to people. People have come up to me, and asked me more about it, how to utilize it, or how to become a volunteer."
New music is on the way, two songs at a time
Much like with "They Only Live to Get Radical," and "They Don't Even Understand the Sea," Power Trash are planning to release their next singles back-to-back. One of them is titled "Only Murders," and the other is "Negative Space," the original version of which was supposed to be on Some Old Tragedy. "We recorded it for the first record," Greg says, "then half of my drums got deleted from the track somehow. We actually rewrote it. It's very much a keys-led song. We play it live every show now."
For more Power Trash, check them out on Bandcamp.