Classic Compilation – British Gold (1978)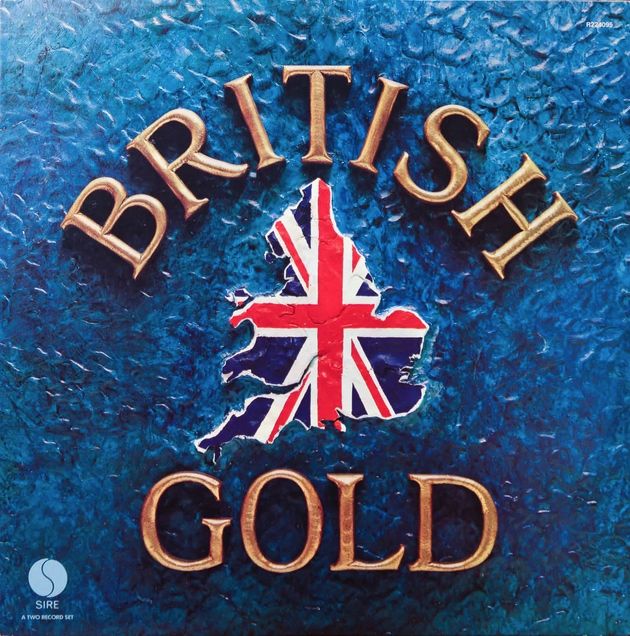 Sometimes a track listing just screams "buy me!" and that was definitely the case when I saw British Gold in a box of used vinyl.
While British Gold was released in 1978, all of the songs on the double LP are from the mid '60s, to early '70s. As someone who enjoyed a steady diet of oldies while growing up thanks to my parents' impressive record collection, and having CBS-FM on during, and after weekend family dinners, seeing the following lineup of artists immediately brought back memories of rockin' out until bed time. (click the image to enlarge)
A strange quirk about British Gold is that Record #1 has sides A and D, while Record #2 has sides B and C. According to a note on Discogs, the albums were formatted in this way "for convenience when playing on record changers, when flipping over the records." I thought maybe it was just a British thing, like driving on the other side of the road.
I could probably write something about all 20 of the songs on this double LP, but I'm going to focus on ten of these classics, some of which I had totally forgotten I knew!
Side A
Derek and the Dominoes – Layla
This is Eric Clapton at his absolute best. That opening guitar riff, which continues in the chorus, is EVERYTHING!
I can't even begin to tell you how many times the needle dropped on this song on my parents' record player when I was a kid. I learned about the guitar gods very early in life.
Side B
The Hollies – Bus Stop
This is a song that I knew, but didn't realize I knew. Had there been a note next to the title saying, "The 'under my umbrella' song" it probably would've been a light bulb moment for me.
Regardless, I've always liked this song, and all these years later I can't believe it wasn't used as the theme for How I Met Your Mother.
The Troggs – Wild Thing
It's impossible for me to hear this song without immediately thinking of Charlie Sheen in thick glasses, and a Cleveland Indians uniform, with an entire stadium of fans singing along.
What can I say, Major League is a classic, and so is "Wild Thing."
Side C
The Mindbenders – A Groovy Kind of Love
There are two songs by The Mindbenders on this compilation, but I chose "A Groovy Kind of Love" because, well … I like that one best!
While I'm familiar with this version from listening to the oldies station as a kid, I think hearing Phil Collins' version in the late '80s is probably what kept the song alive in my mind.
Van Morrison – Brown Eyed Girl
"Brown Eyed Girl" is a song that will be played on classic rock stations, and bar jukeboxes until the end of time.
Of course, we do have woo girls to thank, at least in part, for the latter, as Barney Stinson once reminded us, without woo girls, "… when Van Morrison's 'Brown Eyed Girl played on a jukebox, you'd hear nothing but silence … and 'Brown Eyed Girl.'"
(Have I made two HIMYM references in an article about British rock music from the '60s? Yes I have!)
The Kinks – You Really Got Me
The Kinks are a legendary rock band, but who knows how much more legendary they might be had they not been banned from the U.S. at the height of their fame.
In 1965 – just one year after the release of "You Really Got Me" – The Kinks were denied permits to perform in America, apparently because their offstage – and occasionally on stage – antics were a little less Beatles, and a little more of a precursor to Mötley Crüe.
By the time the ban was lifted in 1969, the musical tides in America had shifted.
Side D
Manfred Mann – Do Wha Diddy Diddy
Yes, I knew this song as far back as my youth, and yes, I'm just as familiar with the 2 Live Crew version … because I'm cultured like that!
Deep Purple – Kentucky Woman
When most people hear the name Deep Purple the first song they think of is "Smoke on the Water." I know that's the case for me.
I'm not sure if I'd heard their cover/remake of Neil Diamond's "Kentucky Woman" until listening to this compilation, but while giving it a spin I was wowed by the solos from guitarist Ritchie Blackmore, and keyboard player Jon Lord.
The Searchers – Love Potion No. 9
This is such a wonderfully cheesy pop-rock song, and I hope that one day we'll find out what was in Love Potion No. 9. Based on the lyrics, my guess is tequila was probably involved.
Cream – Sunshine of Your Love
This compilation was led off by Clapton, and is closed out by Clapton (as long as you can figure out the weird way they decided to have the "sides" of each LP).
I'd say that was a damned good decision!
Now if you'll excuse me, I have to tune up my air guitar.