8 Things You Should Know About Stud Count
Some bands form out of a lifelong dream. Philly punk rock outfit Stud Count formed out of a week of frustration.
"I had just parted ways with the band I was playing in in Philadelphia," guitarist, and band founder Matthew Green (photo: in sunglasses) explains, "and I don't know if you've figured this, but punks and hardcore kids aren't really know for their … what's the word here … their professionalism and tact when not being in bands with one another anymore. So I had all this leftover angst, and I had only left the band a week beforehand. The way that my brain works is that if I'm upset I write music, so I wrote a demo's worth of '77 punk songs, and I was processing life with some homies, and just hanging out watching movie marathons in West Philadelphia, and I looked over to our bass player at the time, I said, 'Hey, so I wrote this demo's worth of like Buzzcocks songs, you want to do it with us?' Immediately they were like, 'Yes,' so we just started the band."
Stud Count consists of Green on guitar, his wife Norelle Green on vocals, Jake Beaver on bass, Max D'ambra as a second guitar player, and Bret Hart on drums (no, not that Bret Hart!).
With their fast-paced self-titled debut album having just been released via Smartpunk Records, here are eight things you should know about the band.
Stud Count originally had a different vocalist
It may sound crazy considering the band's founder, Matthew Green, is married to frontwoman Norelle Green, but when Stud Count was formed Norelle wasn't the vocalist. She was in the band, but the couple's roles were initially reversed, with Matthew as the frontman, and Norelle on guitar.
He says the plan started out pretty simple, "I'm gonna do some vocals again, you have this guitar that you know how to play," but that only lasted for a few weeks. "I had written the songs for me to do vocals," he explains, "and then one day I look over, I was just like, 'You know what, what if you just did vocals instead?'"
Norelle jokes, "Then I started to care."
Matthew was immediately happy with the change, saying, "She is a significantly better vocalist than I am."
There's pop in their punk, but most listeners will hear punk
While Matthew says the Stud Count album is "by far the poppiest thing I've ever written," his long history in hardcore, and punk projects gives the music a blistering pace.
"Your average listener is gonna hear punk," he says, "and there are at least two songs on the record that I would say are hardcore punk songs, but they still fit with the sound in general, mostly because Norelle's vocal style really ties it together."
Their first two singles are a great introduction to the band
Most of the songs on Stud Count's debut album are remarkably fast, and clock in at under two minutes, but the lead single, "Through My Window," is the longest song on the album at 2:51, and Matthew says he chose it as the band's opening salvo "because it's the poppiest song I've ever written in my entire life."
He continued, adding, "I'm proud of it. People seem to really like it. It has a 'na na na na' bridge in it. It is every ounce of like Top of the Pops, Brit Rock, '77 that I could possibly muster put into three minutes."
The album's second single, "Give Me Time," was the first song he wrote for Stud Count, and he says, "I think is a good transition to the rest of the record, because it's a little punkier, but it's still hooky, sugary choruses."
They only had one gig before the pandemic hit
Forming near the end of 2019, the world was completely open for Stud Count, and every other band, but then the coronavirus happened, and Stud Count had exactly one show before the entire world shut down.
"We had just one gig," Matthew says with a bit of a laugh.
Norelle quickly adds, "It was a good gig!"
Packing a South Philly bar, the band was the third act on a four band bill. Matthew remembers, "It was just before quarantine, like maybe two weeks, and it was great. It was our demo release show, and we didn't make physical tapes in time, so we just had 2-inch pins, and download codes."
It would be nearly two and a half years before they'd be able to play another show together, but they re-announced themselves with a bang – appearing at the So What?! Music Festival, and taking a mini-tour of the South and Midwest earlier this summer.
They belong everywhere
Sometimes people will claim to only like certain genres of music, but no matter what a person may be into, Matthew says Stud Count plans on drawing them in.
"Being able to get out there, and play music that is ours, and not playing just the hardcore circuit, but playing these nostalgia fests, and mixed bills, and DIY venues, and even the bar punk scene, we saw it all in the course of our week of shows. I learned that Stud Count belongs pretty much everywhere."
So even if someone doesn't think they like punk rock, Stud Count won't be counted out.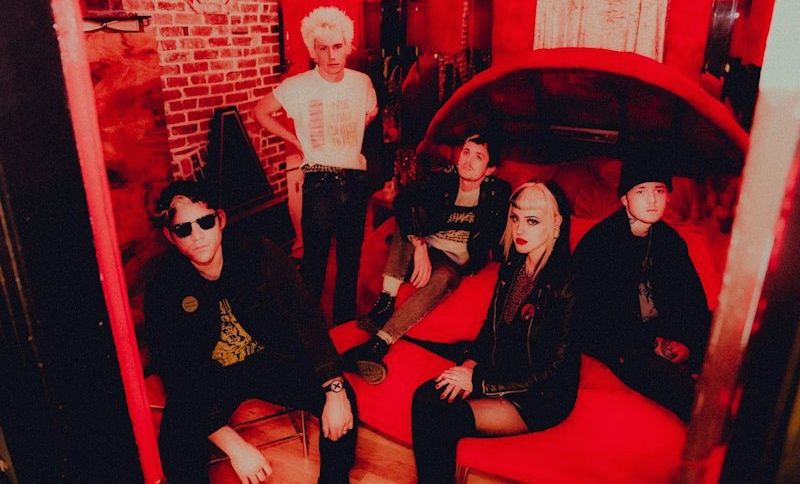 You won't see them repeating previous punk rock pitfalls
With Matthew having had plenty of experience in punk, and hardcore bands, he's dealt with his fair share of genre-specific obstacles over the years.
"In the early 2000s there was a real emphasis on lifestyle adjacency to the genre," he says, "Boy that was obnoxious. People would be like, 'What do you mean you have money now?' Like any money at all."
That, however, was nothing compared to the one thing he says you will never see him do again.
"Far more obnoxious was touring for clout, and not getting paid. Honestly, these are things I did as an adult, I don't have to go back to my teenage years to go into this, my early and mid 20s were spent touring so that maybe festival heads would think that we're cool enough … That was the punkest, and wackest thing I have ever done for years of my life at a time. That's something I will go on record saying that I won't be doing that again."
On the flip side of that, he says there were times early in his career when he was the one who doled out next to nothing for someone's work, which is why he says, "It's not always nefarious. When I was younger, and poorer, I definitely would pay much more deserving photographers less than they were worth, even if they insisted on just that amount of money. Now when people insist on an amount of money that isn't fair for them, I'm like, 'I'm paying you twice that. Please don't argue with me,' but I've definitely paid for a brief shoot with a sandwich before. It was a great sandwich, but still, never again."
Matthew is always working on a project
Henry Rollins once described himself as an "accomplishment junkie," and Matthew says, "I really appreciate that phrasing."
An accomplishment junkie himself, while other spent the pandemic marathoning TV shows, or baking bread, Matthew was working on Stud Count's album … and quite a few other albums, as well.
"I was born with a blood type called Jewish parents," he says with a laugh, "so I never relax, not even once."
With a goal of keeping the momentum of their demo, and one live show going, Matthew and Norelle decamped to the mountains, where Norelle's parents live, and the work never stopped.
"We did a promo tape during that time," he remembers, "and Convulse Records, from Denver, was kind enough to release it, and do physical copies of the first demo, so we did that … I didn't wait that long to record the LP. We did (that) October/November 2020. Once that happened the only thing I was waiting on was getting it mixed properly, and then sent off to mastering. That was done by the beginning of 2021."
They decided to shop the album to only a handful of labels. Two replied saying they'd like to release the album, with the band ultimately deciding on Smartpunk Records.
While that would be more than enough work put in for most, Matthew says, "It is probably worth mentioning that I wrote two other LPs during quarantine for other bands that I started in quarantine," adding that even post-quarantine, "My days are still full … I already wrote another record for another band in the last six months, or so."
Stud Count hopes to introduce entirely new audiences to punk rock
One thing Stud Count truly enjoys is bringing new people into the punk rock world. Matthew recently saw such a fan in the crowd, and says, "You could tell it was their first time hearing songs go that fast, and I just really think it's gonna click with a lot of the missing pieces … DIY, emo, shoegaze, alternative kids, and even teenage punks."
He continued, adding, "There has been more than one teenage girl that has bought our t-shirts, who it's their first punk band, and that's the stuff I live for, kids getting into punk, because of what I'm playing, is amazing."