The Kids Are Alright – Teen Artists Rock for a Cause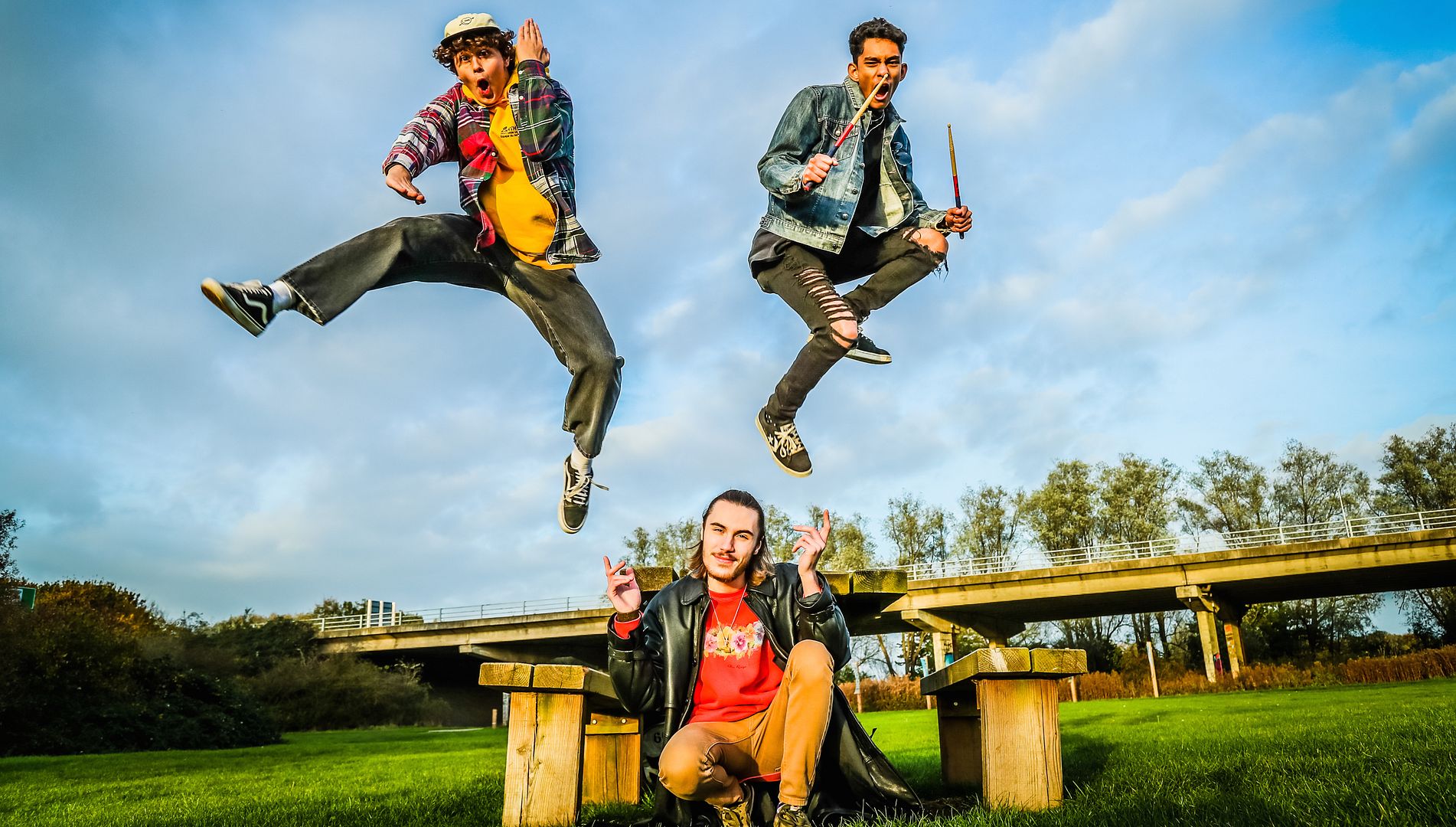 When people think of music connecting with charitable causes it's usually something grandiose, like Live Aid, "We Are the World," or whatever Bono might be up to. An artist, however, doesn't have to be a celebrity to make a difference. In fact, they don't even have to be old enough to get into most music venues.
Teenagers – like those in UK band Archy and the Astronauts (photographed above) – are becoming more and more aware of both local, and world issues, and they're looking to help in any way they can.
This is where Kids Rock For Kids comes in.
Launched in 2017, Kids Rock For Kids is a Brooklyn, NY-based nonprofit that was founded on the idea of young musicians performing to raise money for youth-oriented causes around the world.
Their first show was held in their initial year, and raised money for both local nonprofit organizations in NYC, and AFCECO, a girls orphanage in Afghanistan.
Fast-forward to the present, and from June 18th through the 20th Kids Rock For Kids will be having a three day event named Come Together that will feature young musicians from around the world. Artists, and bands will be coming from Spain, The U.K., Brazil, Colombia, Australia, Indonesia, Canada, and all across the U.S. to land in Brooklyn with a show Saturday at The Old Stone House, Sunday at Roulette, and Monday at The Bell House.
All the proceeds raised from Come Together, which will be headlined on two nights by Laundry Day, will be split between charities that support homeless children in NYC, and charities that support children in Ukraine.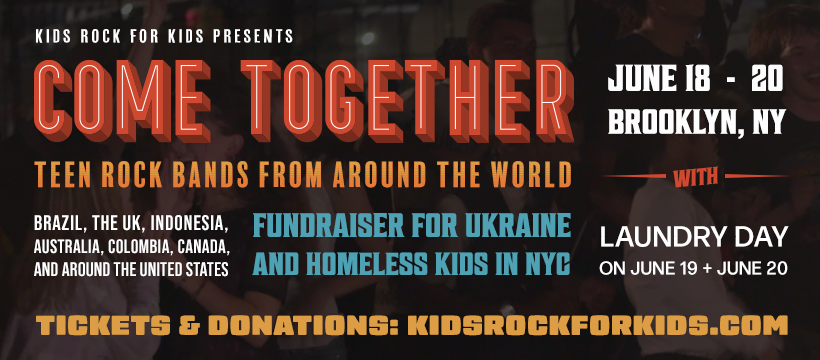 The global nature of the lineup for Come Together has its roots in, of all things, the pandemic, and what Kid Rock For Kids had to do to continue to raise money while not being able to have in-person shows.
The organization's founder, Dave Miller, explains, "As soon as the pandemic hit, we pivoted from a planned live show, to livestreams with our local bands. That show was a success for us – raised $12k for kids in need – and attracted attention from musicians around the world. Next thing you know, we were connecting more and more with international bands, featuring them in fundraising livestreams, and building a global community."
Much of that building happened on Instagram, as numerous bands either connected with the organization via DMs, or in the case of Canadian band Nerima, the #youngband hashtag. Nerima notes looking through the hashtag became a regular occurrence "ever since we started playing shows and realized how hard it is to find bands our age."
Some artists, while enthusiastic, had to be patient. Guitarist Lenore the Shredder, who hails from Hawaii, says, "Out here in Hawaii, I am in two bands with grown adults, so those bands obviously weren't a good fit," but she adds, "That 'good fit' opportunity was my global fam/band The Six Continents Band." Consisting of teen rock musicians from six different continents, The Six Continents band, along with Nerima, will be featured at Come Together.
Nerima (photographed below) notes the opportunities presented by Kids Rock For Kids have been huge, saying, "As a young band, we had no clue how hard it would be to break into the scene. We've been turned down from shows due to not only our age, but that of the audience we're assumed to have. In response, we'd started to hide our age and try to appear older, always feeling a little on the outside, until we started working with Kids Rock For Kids. They made us feel much prouder of being young in the scene, and (we) share that pride with the other young artists their work has allowed us to meet."
The band adds that giving back is already an important aspect of their career. "It's especially important to start giving while you're still growing," they explain, "It's not a one-time thing you can do and forget about, it's a never-ending process of doing as much as you can, always."
Archy and the Astronauts second this, saying, "We wouldn't have half the opportunities we've had if not for the generosity and kindness of others, so making sure we give back is paramount. Plus, we just love playing to new faces, and if the performance is directed towards some charity at the same time, the show feels that bit more meaningful and energetic."
Caitlin Hargraves, a bass player from Australia who's joining one of Kids Rock For Kids' international collaboration bands named North South East West, adds, "If I can help make a difference by sharing what I love, then maybe we can push for change in this quest to make the world a better place."
Hargraves is one of the many artists who will be performing in New York City for the very first time, as she notes, "I've never performed outside of Australia!"
Archy and the Astronauts are equally excited, saying, "The chance to play in NYC when we've not even been playing as a band for a year is mind blowing, and we're determined to make it the best show yet!"
They add that these shows are also helping them grow as artists. "Musically, it's allowed us the chance to go back to our roots of playing covers, which helps us learn from the songs of legends like AC/DC, and (David) Bowie. Personally, it's made us work so much harder."
Miller, of Kids Rock For Kids, loves hearing the exuberance from all the young musicians, saying the combination of teen artists rocking out to raise money for youth causes is "exactly the kind of feel-good energy the world needs."
He continued, adding, "We do believe a lot of people need these shows. They're invigorating, inspiring, joyful … and they help kids around the world."
All of this will come together once again, in grand fashion, for Come Together, June 18th through the 20th at venues throughout Brooklyn.
For more info on Kids Rock For Kids, check out kidsrockforkids.com, and to purchase tickets to Come Together, head on over to Eventbrite.