3 Reasons You Should See Lizzie & The Makers Live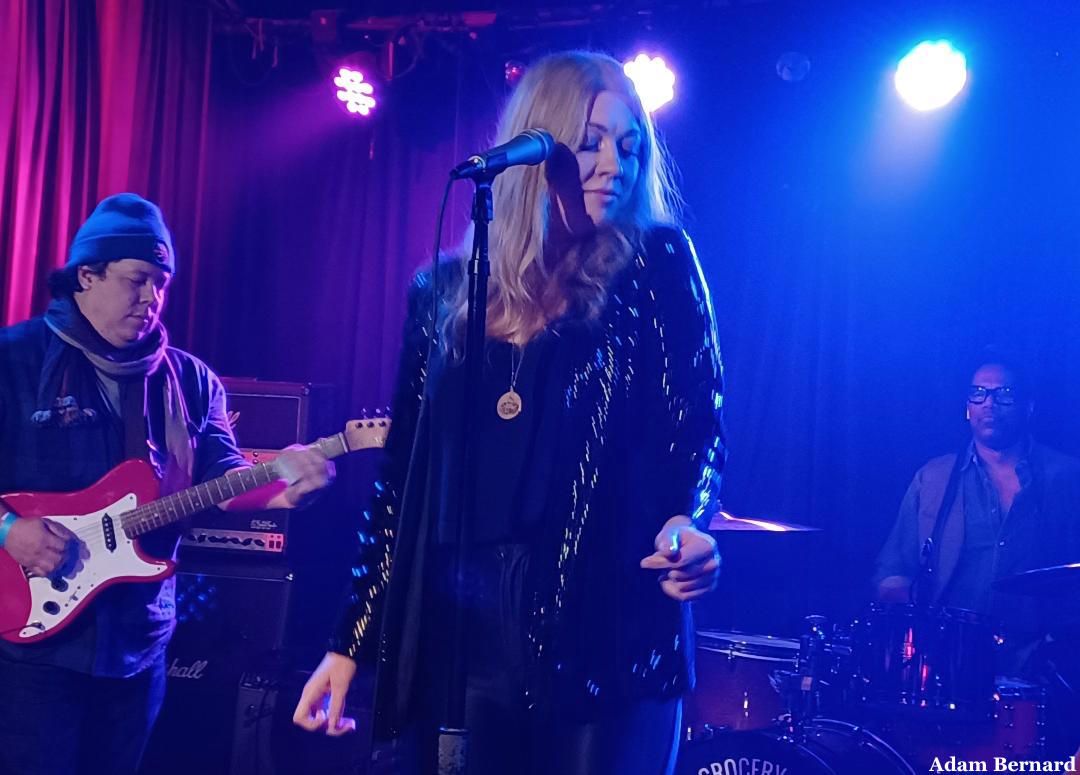 On February 17th NYC-based indie band Lizzie & The Makers managed to pack Arlene's Grocery for a show just as the night sky had opened up and commenced drenching the city under a torrential downpour.
I'm not about to say the band has a Moses-like power to part seas, but after checking out their set I could easily imagine frontwoman Lizzie Edwards being able to move, or make, waves with her voice.
Intrigued?
Here are three reasons you should see Lizzie & The Makers live.
1. Lizzie Edwards is a vocal powerhouse with veteran timing
There are a lot of singers out there who have big voices, but oftentimes they become enamored with loudness, rather than effectiveness. What I mean by this is that they'll always be trying to blow everyone out of the water at all times, and while that can be impressive, it can also become fairly tiresome. From a listener standpoint it's like, OK, we get it, you can be loud, but can you take us on a journey?
Lizzie Edwards has an incredibly powerful voice that can fill a room, but she knows she doesn't always have to fill the room. She saves her hugest notes, and moments for when they'll be special. It's that combination of great vocals, and veteran timing that make Lizzie such a dynamic frontwoman, and must-see live performer. She can, and will, take you on a journey, and you'll love every minute of the trip.
2. The band will give you a soul-funk-rock experience
Whether you're looking for something soulful, something funky, or have a desire to rock out, Lizzie & The Makers will provide you with what you need.
Lizzie's voice is a wonderful mix of blues and soul, and her band can seamlessly go from funky grooves that will move you, to killer guitar solos that will energize your night.
They're a three-in-one combo that fans of each respective genre will enjoy, and I foresee Lizzie & The Makers developing a unique crowd that will include disparate groups of music fans coming together for a common love of the band.
That's a pretty impressive thing for The Makers to make!
3. Lizzie has gone on a David Coverdale binge
Mid-set Lizzie was talking to the crowd, and let everyone know the inspiration for one of her songs came after a David Coverdale binge (I did not catch the title of the song, but maybe she'll read this and let everyone know).
Anyone who is this open about their appreciation for the man who created Whitesnake, worked with Jimmy Page, was at one point in time the frontman for Deep Purple, and gave us Tawny Kitaen writhing on the hood of a car, is 100% cool with me.
Rest assured, on this damp night, Lizzie & The Makers made sure no one was "Crying in the Rain."
To find out when, and where, Lizzie & The Makers will be performing next, check out their Facebook page for show dates.