Molly Moore – 7 Life Events That Helped Shape Her as an Artist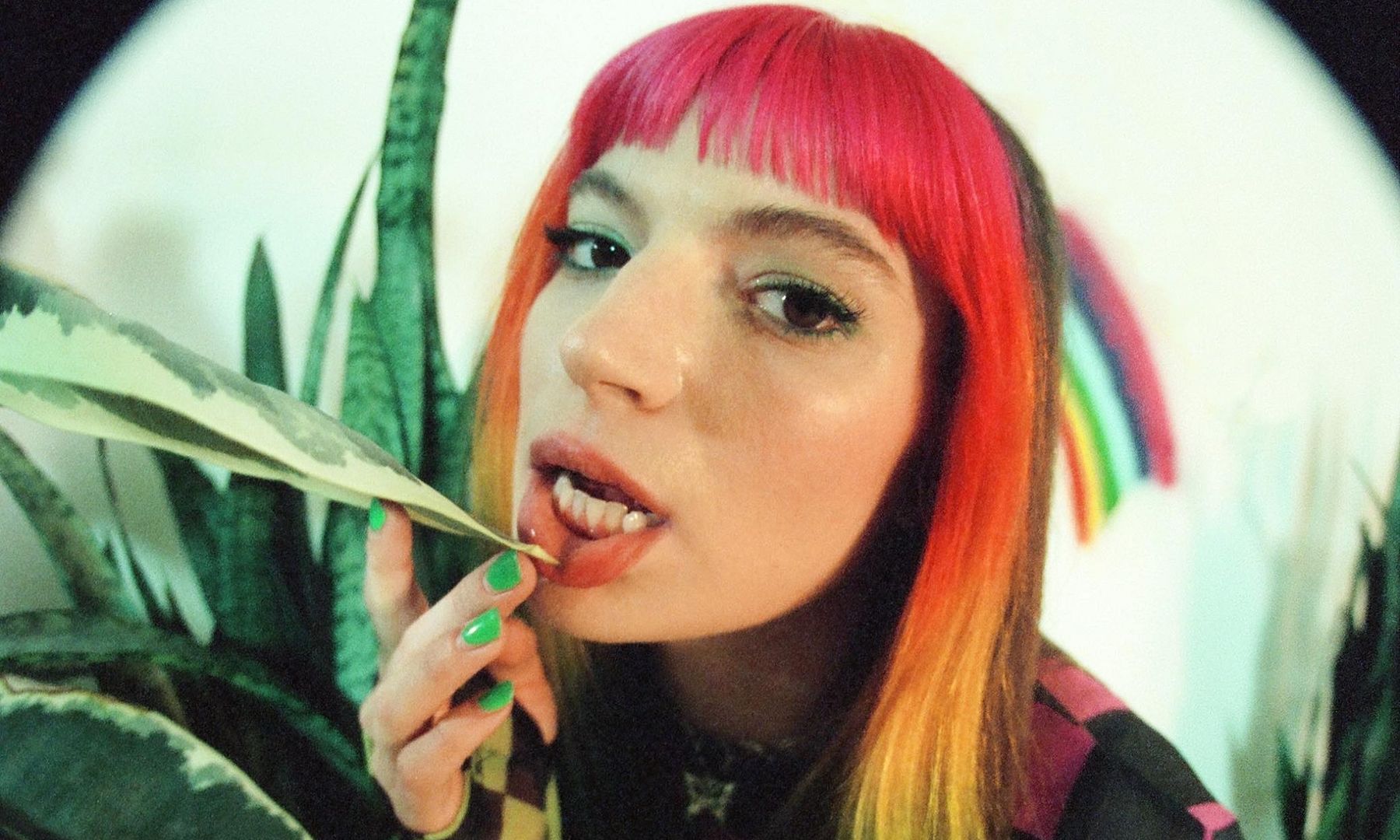 For the video for her latest single, "Shy," alt-pop artist Molly Moore is a visual juxtaposition – topless, but with her face covered by a mask. Equal parts naked, and hidden, the metaphor is one she says "definitely can translate to multiple areas of my life."
She continued, adding, "It's interesting, because I think I've been able to strip more and more layers back from myself, and how much I hide from people, over the last few years, but it's definitely become complex in a lot of ways. There are certain parts of me that I have to share, it's not really possible to hold them back. Then there's others that, even though I know they need to be shared, I'm completely unwilling."
Moore says that at this point in her life, and career, "I'm grateful that I have come to a place where I feel comfortable enough to share most parts of myself."
"Shy" is off Moore's just-released EP, Escapism, the sound of which is the latest step in her continued growth as an artist.
"I think I've always been a risk taker, an adventurous person," she explains, "I like exploring different things, so as I've become more comfortable within myself I've just naturally wanted to see what I'm capable of. I think finding your voice as an artist is a lifelong journey almost, in a way. Some people lock in on it a lot earlier, and (for) others it takes decades. For me, I feel like I've hit certain marks, and I've continued to try to dig deeper, and see what else I can find within myself to fully express all the parts of who I am. That goes along with exploring different genres, and trying different things."
Who Moore is now is a vibrant artist who is unafraid to play with the boundaries of genres, and write songs that come directly from her life. She readily admits, "It's taken a lot of experimentation to get there."
Experimentation isn't the only thing it's taken. When I caught up with Moore she opened up about the following seven life events that helped shape her as an artist.
Attending her first major concert
At the age of eight, Moore, who grew up in New York, attended her first concert, seeing Britney Spears at Jones Beach Theater on Long Island.
"We had total nosebleed seats," she remembers, "I'm pretty sure were were like the third row from the very back of Jones Beach Theater at like the top of the seats. We had binoculars, and I could hardly see Britney, she was like an ant."
Despite Britney looking like an ant, Moore recalls, "It just made everything so much larger than life to be there, and hear music in that capacity in such a large space with so many people. Then I saw her again at Madison Square Garden maybe a year or two later, much better seats, and I just knew, I just knew that I wanted to be a performer, and I wanted to make music, and be able to share something about myself with other people that could affect them in some way."
Diving into multiple genres in her youth
When it comes to her own work, it's clear Moore has influences that span the gamut, so it's no surprise that her musical taste has been varied since she was quite young.
"My sister was listening to Third Eye Blind, and all this alternative music that I wasn't as familiar with, but I started to really love, because she showed it to me, and I wanted to be just like her. My friends started listening to Good Charlotte, and I became obsessed with them, and that just kind of trickled into all this other music."
Moore says that no genre went unnoticed, thanks, in part, to the internet. "Simultaneously with the alternative, pop-punk movement, there was John Mayer, and Coldplay, and Ingrid Michaelson, and Alanis Morissette, all of these artists that I had unlimited access to their music because I had a computer, and you could type in their name and listen to any song that you wanted, or a live version that was ripped from a show that somebody put on LimeWire. So I just dove in. It was just endless for me."
Spending her tween and teens years in the acting world
Moore was acting from the ages of 10 to 18, and she says, "Having the experience of auditioning, and acting really let me into a part of my own creative world that I was so desperate to explore, and it was definitely early on for me to be taking a step into the entertainment industry. When I had just hit double digits I was like, 'Let's go, mom!'"
She continued, adding, "I've always been super ambitious, and I've never really looked at my life and been like, 'Oh this is crazy. I should not do that.' I don't know why, it's just something that's existed in me since I was very young."
Writing for others after moving to L.A.
Moving to L.A. at the age of 19 was a huge life event for Moore, and it led to a temporary shift in her career path.
"I didn't have any money. I was like, I'm gonna get a job, and I'm not gonna have money to make music videos, or single artwork, or photo shoots, or mix songs. So I was like, well, I love making music, I want to get better at writing songs, so let me just collaborate with other people, and get better, and maybe I'll be able to make a living out of this, and continue making music as an artist, too."
While writing for others, Moore unintentionally allowed her own singing career to take a backseat.
"For maybe a couple of years I didn't even really sing on a lot of my demos," she says, "There are so many talented people, so many vocalists that at the time, I was like these people sing way better than I do – probably an accurate statement – so I was just letting them cut the songs so I could potentially get them placed, and so they would sound the best they could."


Looking back, Moore now sees the pros and cons of those decisions, saying, "That stunted my own development for a few years, not being behind the mic and continuing to grow as a singer, but I got better as a songwriter during that process. I definitely, 100% became a better songwriter through working with other people, and learning."
Deciding to feature her own voice again
When Moore reached her 21st birthday she felt it was time to once again be front and center in her own career.
"I was ready to start making music for myself again," she says, "and talking about my story, and what I've been through."
Connecting with former partner Brandyn Burnette
Moore notes that even though she enjoys living in L.A., there can be a loneliness to the city, especially for an independent artist.
"I had a lot of people supporting me, and connecting me with other creatives," she says, " … but it can just feel like you're a single soldier against an army. When I met my first boyfriend, Brandyn, I just felt supported. I felt like oh, somebody sees value in what I do. So that was incredibly impactful."
The two would spend five and a half years together, and during that time they wrote for each other's projects, co-wrote songs together, and formed a group called Cosmos and Creature.
"He is an incredible artist," Moore says of her ex, "At the time he was signed to Warner Bros. When we met I was so inspired by him, and I saw someone living their dream the way I wanted to be living my dream. I saw it was possible, and I started to believe in myself again as an artist in a way I think I'd lost sight of at that point, and it just kind of clicked."
She adds, "So much of my development happened in those five years. It was also the middle of my 20s, which is such a definitive period of a person's life."
Signing her first publishing deal
Becoming a full time artist was Moore's goal when she moved across the country from NY to L.A., and after signing her first publishing deal that's exactly what she's become.
"Being able to not work odd jobs, and make music full time, that was a massive transition for me," she says, "To actually write songs every day, and not just when I had energy after a shift, or on my off days, but to really be in it, in the thick of it, and not have anything else to do, not have anybody calling me being like, 'You have to come to work,' that was, I think, probably the moment where I was like, 'Other people believe in me the way I believe in me. Let's go! Let's do this!'"
While she notes there are a unique set of pressures to being a full time artist, she says, "Overall I just feel very lucky. It feels like a magic trick that I'm even sitting here talking to you, and still making music, honestly. I wake up every day and I'm just like, 'Nobody's coming for me yet? Sick!'"
For more Molly Moore, check out mollymooreofficial.com, follow her on Instagram, and Twitter, and give Escapism a listen on your preferred music service.