Welcome to your weekly dose of pop world musings. Covering all things pop culture, with the Grammy nominations having just been announced, and people debating who is deserving of what, I feel like there's something very important we all need to remember – the Grammys have always been a horrible barometer for assessing musical greatness. In fact, they have a long history of getting it wrong.
How embarrassing has it been? Let's take a look at three types of recurring Grammy gaffes that act as reasons why we shouldn't put much stock in the awards.
1. The ever-growing list of "Oops! We totally dropped the ball on this one, here's a Lifetime Achievement Award" artists
If you want to see how bad the Grammys have been when it comes to honoring the right artists and songs, here's a quick list of bands and solo acts that didn't win a Grammy until they were given a Lifetime Achievement Award, or Hall of Fame honor, both of which are basically the equivalent of admitting, "We need to correct this egregious error"
The Beach Boys, Bob Marley, Diana Ross, George Clinton, Iggy Pop, Janis Joplin, Jefferson Airplane, Jimi Hendrix, The Kinks, Led Zeppelin, Queen, The Ramones, Sam Cooke, Talking Heads, The Who
You know what that list looks like to me? The start of a damned good album collection!
I can see maybe missing the boat on one, or two, legends, but when the number is over a dozen something is clearly wrong with either the process, or the people they have doing the voting.
2. The choices that look downright silly
Annual awards shows are prisoners of the moment. That said, they should at least try to think about where music is going, and who might be influential.
Clearly none of that is taken into consideration by Grammy voters. Just take, for example, what happened in 1981 in the Best Rock Performance by a Duo or Group with Vocal category. Here are the four nominees that didn't win.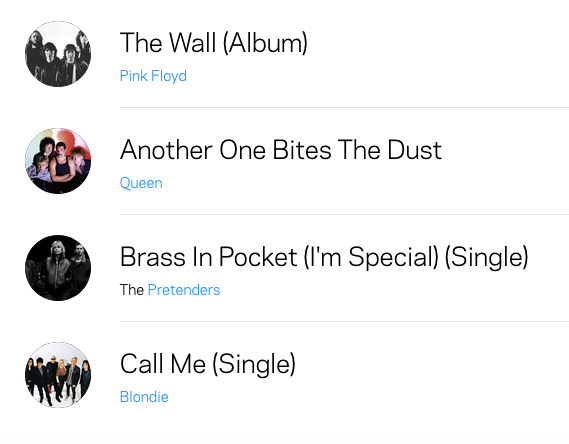 Pretty amazing foursome, wouldn't you say? We still listen to all of those artists, and those releases, today.
So who took home the award? Who was so great the Grammy voters decided Queen, Blondie, Pink Floyd, and The Pretenders paled in comparison?

Insane, right?
They didn't just get it wrong about one nominee, they got it wrong about four nominees! Literally any of the other four would've been a better choice.
40 years later, this is still Blondie's lone Grammy nomination – to put that in perspective, current pop darling Olivia Rodrigo received seven nominations this year – and they still haven't received a Lifetime Achievement Award.
Someone please "Call Me" when this changes.
3. Continually overlooking the influential artists of today
I know some of you may be thinking, "Surely the Grammys have gotten better at this." Sadly, that is not the case, as a number of living legends have still never received an award. Let's call these artists the future Lifetime Achievement Award winners, because that's the path Grammy voters have them on.
Topping this list of artists is Björk, who is legitimately one of the most creative minds in the history of music, yet despite 15 Grammy nominations, she has never taken home an award.
If you think 15 sounds like a lot, R&B legend Brian McKnight has 16 nominations without taking home a trophy, and Snoop Dogg currently holds the record for the most nominations without a win, with 17.
Tori Amos has 8 nominations with zero wins, and PJ Harvey is right behind her, going 0 for 7.
A number of legendary bands have also been ignored, as The Cure (2 noms), Oasis (2 noms), and Depeche Mode (5 noms), are all Grammy-less.
I'm guessing the latter would much rather "Enjoy the Silence" than yet again hear someone else's name called as the winner.
All of these artists and bands will likely get the Lifetime Achievement Award treatment at some point, as the Grammys continue to swing and miss on an annual basis.
It's actually kind of amazing how terrible the Grammys' track record is when it comes to choosing artists, and albums, that will end up being important.
In the end, the old cliche rings true – it really is an honor just to be nominated … because winning isn't indicative of a damned thing.
That's all for this edition of Pop Shots, but come back next Monday for more shots on all things pop.

Labels: Music Commentary, Pop Shots