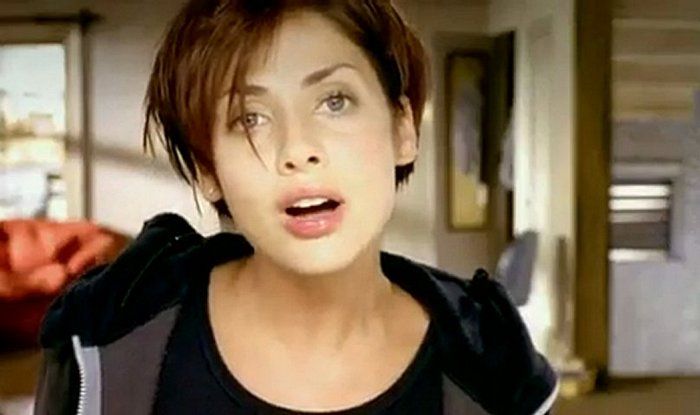 Some people may know that Natalie Imbruglia's classic hit "Torn" was a cover, but did you know she was actually the FOURTH artist to record, and release, the song?
Yup. It's time to get into a deep dive on one of the most iconic songs of the '90s.
"Torn" was written in 1993 by Scott Cutler and Anne Preven of the Los Angeles-based band Ednaswap, along with songwriter and producer Phil Thornalley. Ednaswap, however, wasn't the first act to release the song. That honor ended up going to Danish pop singer Lis Sørensen, who released a Danish language version of "Torn" titled "Brændt" shortly after the original was written.
Sørensen was a veteran artist at the time, having been in bands in the '70s, and with a solo career that dated back to 1983. By the time she released "Brændt" she was six solo albums deep.
"Brændt" bears a close resemblance to what would become Imbruglia's version of "Torn," although the production has more of an international flavor.
In 1995 Ednaswap would release what should be considered the original version of "Torn."
The cadence is familiar, although Ednaswap's vision for "Torn" was clearly as a rock song. Additionally, Preven's vocals make the pain of Ednaswap's "Torn" a more mature pain, versus the near innocence of Imbruglia's version.
Although Ednaswap would cease to be a band by the time the '90s came to a close, Cutler and Preven continued to writing music together, collaborating with everyone from Madonna to Beyonce. Cutler was even nominated for an Oscar for the song "Listen" from the movie Dreamgirls.
In 2007 the dynamic duo teamed up with songwriter and producer Josh Abraham to launch PULSE Recording, as well as PULSE Management, and Songs of PULSE. PULSE's client roster has co-written hits for Katy Perry, Neon Trees, and Taio Cruz, among others.
Getting back to "Torn," just one year after Ednaswap released the song, American-Norwegian artist Trine Rein covered it as a pop song. With Sørensen's version clearly serving as inspiration, Rein's 1996 version had a slightly more American Top 40 feel to it, and sounds like it may have provided the blueprint for Imbruglia's cover.
Rein saw most of her success overseas, where she racked up the vast majority of her album sales, which have totaled over one million over the course of her career. Her debut album, Finders, Keepers, came out in 1993, and saw a huge boost from the Olympics being in Lillehammer in 1994, as the Winter Games made Norway a hotspot for foreign press.
Her popularity, however, began to wane by the time 1996 came around, and her sophomore album, Beneath My Skin, only sold around half as many copies as Finders, Keepers. Norway still showed support, as the album debuted at #1 there, so her version of "Torn" did make some noise internationally, but it would be another year before we'd hear the iconic version of the song that would take over the world.
In the fall of 1997 it happened. We were introduced to a young Australian actress turned singer named Natalie Imbruglia. Teaming up with Phil Thornalley – one of the original songwriters, and the original producer of "Torn" – Imbruglia would release the version of "Torn" we still sing along to today.
Where Ednaswap's version had some anger underneath it, Imbruglia's version is tinged with both innocence, and sadness.
The video for the song would become one of the defining visuals of the '90s.
While "Torn" was the first single from Imbruglia's debut album, Left of the Middle, it wasn't released as a physical single in the U.S. At the time, that meant that while "Torn" spent 11 consecutive weeks at #1 on the Hot 100 Airplay chart in the spring of 1998, it was never on the Billboard Hot 100 during that time, as Billboard required a physical single to have been released in order to chart on the Hot 100.
Billboard would change this rule, but that change didn't happen until "Torn" was on the decline, which is why in Billboard Hot 100 history Imbruglia's legendary cover only charted for two weeks, peaking at #42, despite being the most played song in the country for nearly three months.
The Aussie songstress, who has quite a bit of original work to her name, still enjoys performing a cover or two. In fact, in 2015 she released an entire album of covers titled Male, where all the songs were originally made famous by male-led acts. The project featured her standout version of Daft Punk's "Instant Crush."
"Torn" continues to be covered by musicians of all genres of music, but Imbruglia's version will always stand alone as an iconic part of both music history, and music video history, memorable for all the right reasons, and one of the pinnacles of '90s pop.

Labels: Tales From The Crates