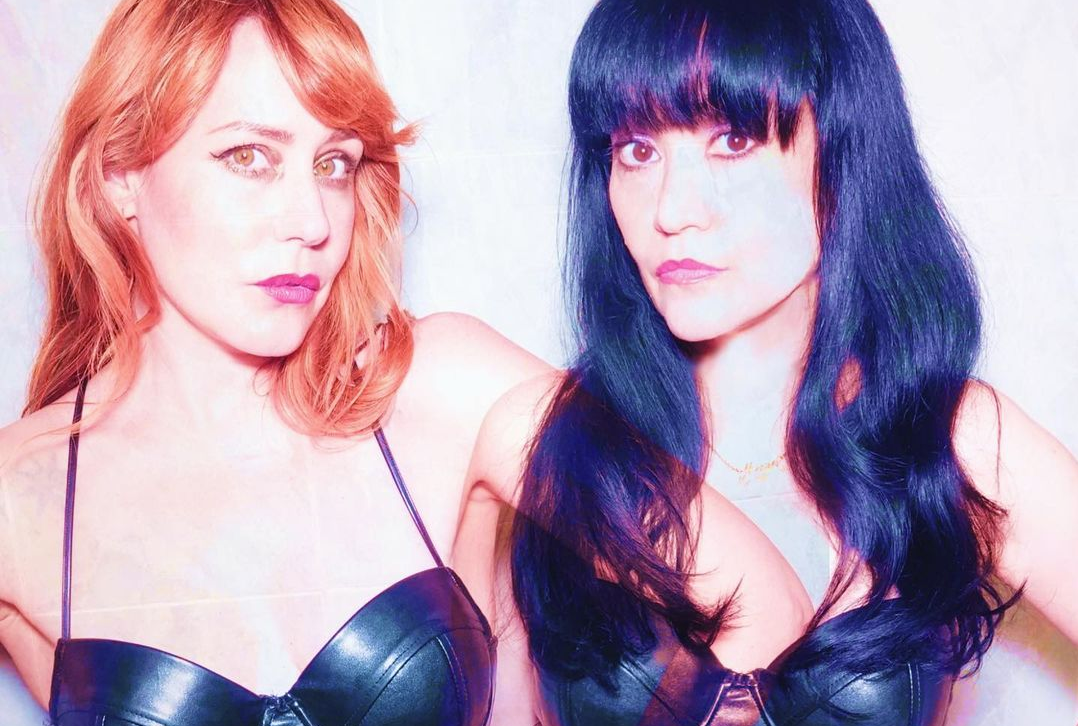 Imagine you're having one of your first shows as a band, you're building on the excitement of everything coming together, the crowd is into the music, the night is going perfectly, and then the sound guy, who's had a few too many drinks, brings everything to a screeching halt, cutting your sound off mid-set.
This is what happened to NYC-based Italo disco/synthwave duo Bunny X back in 2013 at the now defunct Brooklyn venue The Flat.
It was like a scene out of Seinfeld's Soup Nazi episode, except instead of "no soup for you!" it was "no sound for you!"
Bunny X's Abigail Gordon (photo: L) remembers, "We weren't anywhere near being done, and he was like that's it, you're done."
Mary Hanley, who is the other half of the Bunny X duo (photo: R), was especially shocked, since it was also her birthday, and she thought everything was going to be fine after a pre-show shot with the sound guy. "(He said) 'Well, if you don't get up there and take a shot with me then I'm cutting your sound off.' I was like, OK, bottoms up, honey! And that didn't even help, because we still got cut off early!"
According to Hanley, the sound guy later apologized.
Eight years later, Bunny X have performed a plethora of complete sets to enthusiastic crowds, and released a bevy of music, including their brand new album, Young & In Love, which takes listeners back to both the '80s, and their high school years.
Crushes, angst, and killer synths
For most of us, our high school years are a time of extremes – extreme emotions, extreme awkwardness, and extremely tight friendships.
According to Hanley, this type of nostalgia plays a huge role in Bunny X's Young & In Love. "We all can remember the anxiety of school stuff, and crushes in general," she says, "like there he goes, and you want to be like, 'Hey,' and you're afraid to do it. Some of the songs have that approach."
Hanley notes that when it comes to those teenage crushes, she's speaking from experience. "I just remember having different crushes and then finally having, excuse my French, but the balls to take my yearbook and have the guys that I had crushes on sign it, and I was all like *sighs*. Then I was like wow, they were really nice. If I would have just actually tried I could've been friends with them, but I was too shy. At that last minute, just before they were shutting school down for the summer, or forever, really, because I was graduating with the rest of them, I was like oh my God, that just happened, why'd I wait so long?"
In addition to crushes, Young & In Love also has a song tackling the subject of bullying. Titled "Who Cares What They Say," Gordon describes the song saying, "It's (about) being supportive of your other friend, or fellow misfit, just saying don't worry about whatever they're saying, just keep on being you, and doing you, and just ignore them."
Bunny X's '80s inspired synthwave sound, which is the musical backbone of the album, helps turn the sometimes difficult subject matter into songs that can make people dance, smile, and reminisce. "Even though some of the themes are a little heavy," Gordon explains, "it doesn't come across that way … We think it comes across as pretty poppy, and light, and fun, and romantic."
Hanley seconds this, saying, "It's a good time album."
A blizzard of Freddie Mercury
Something else that's a good time are Bunny X's live shows, and Gordon credits her time in a short-lived, but well-received Queen cover band for the development of her stage presence.
Named Dairy Queen, Gordon and Hanley formed the band with a few friends back in 2009, and while they only had a few shows, Gordon says those shows helped her immensely. "I was honestly really shy for a long time, so I would get stage fright. (Being in the cover band) helped me to conquer some of that … just getting more comfortable on stage, working with other musicians, and all of that. Then Mary and I just improved our harmonies, and singing together."
She continued, adding the cover band was an important building block as an artist. "I feel like with anything in life, you take these little steps forward, and build on top of that."
Connecting with a passionate fan base
One of the things Bunny X has been building over the years is a relationship with the synthwave community.
Synthwave wasn't the duo's first style of music, that was Italo disco, which Gordon describes, saying, "It's kind of happy-sad. You have these really very sad lyrics, with kind of brighter chords … I just love the juxtaposition."
Bunny X's musical journey then took an unexpected turn. "With synthwave, I had been listening to several synthwave artists for years without realizing that it was under that umbrella, so I had been a fan for a long time, then thought about Mary and I opening our project up to encompass other genres, just to experiment, to really try our hand at that."
In the spring of 2017 they released the synthwave single "Lasers and Lace," and immediately found themselves wrapped in the loving arms of the synthwave community.
"People are unbelievably supportive of others' projects," Gordon says, "lots of sharing, and featuring. It's a really beautiful community, and they've been very welcoming, and supportive, to us."
With Young & In Love, she says Bunny X is, "blowing a kiss to the community."
Bunny X is for everyone
Having just released a full length synthwave project, the duo say that in the coming year they plan on writing and recording some Italo disco tracks for their Italo disco fans, while also collaborating on more synthwave music with some of the artists featured on Young & In Love.
Whether it's Italo disco, synthwave, or something else altogether, when Bunny X creates music, it's universal, and when they're on stage the good times will last the entire night.
Well, as long as the sound guy stays sober.
For more Bunny X, follow them on Facebook, Twitter, and Instagram, and purchase their music and merch on Bandcamp.

Labels: Music Interviews