Stacking The Deck is a feature exclusive to Adam's World where I bring packs of 1991 Pro Set Superstars MusiCards to artists, and we discuss who they find in each pack.
Sometimes, out of the wreckage of tragedy a glimmer of hope appears.
For Minnesota based hip-hop artist Chaz Kangas – who was a prominent member of NYC's indie hip-hop scene for the better part of a decade – the tragedy was a fire, and subsequent flood, last September that destroyed his apartment, and most everything in it.
The glimmer of hope was the gleam from a CD he hadn't thought about in ages. A CD of beats by Blockhead that Chaz had compiled over a decade ago.
"We used to post on the same message board, PhilaFlava," Chaz explains, "at one point in 2010 he'd posted a bunch of beats of his from between 2000 and 2003 that never made any album or project, and I had thought they were really cool, so I burned them all (onto a CD) and held onto it."
Chaz continued, "I remembered him saying if anyone wants these beats, have at it. I reached out to him, 'Hey, this thing you put up 11 years ago for free, does that offer still stand?'" Blockhead gave the OK, as long as it wouldn't be marketed as a Blockhead release, due to potential conflictions with releases he has on the way.
With that, Chaz began work on Small Hours, his brand new full length album, which was just released last week.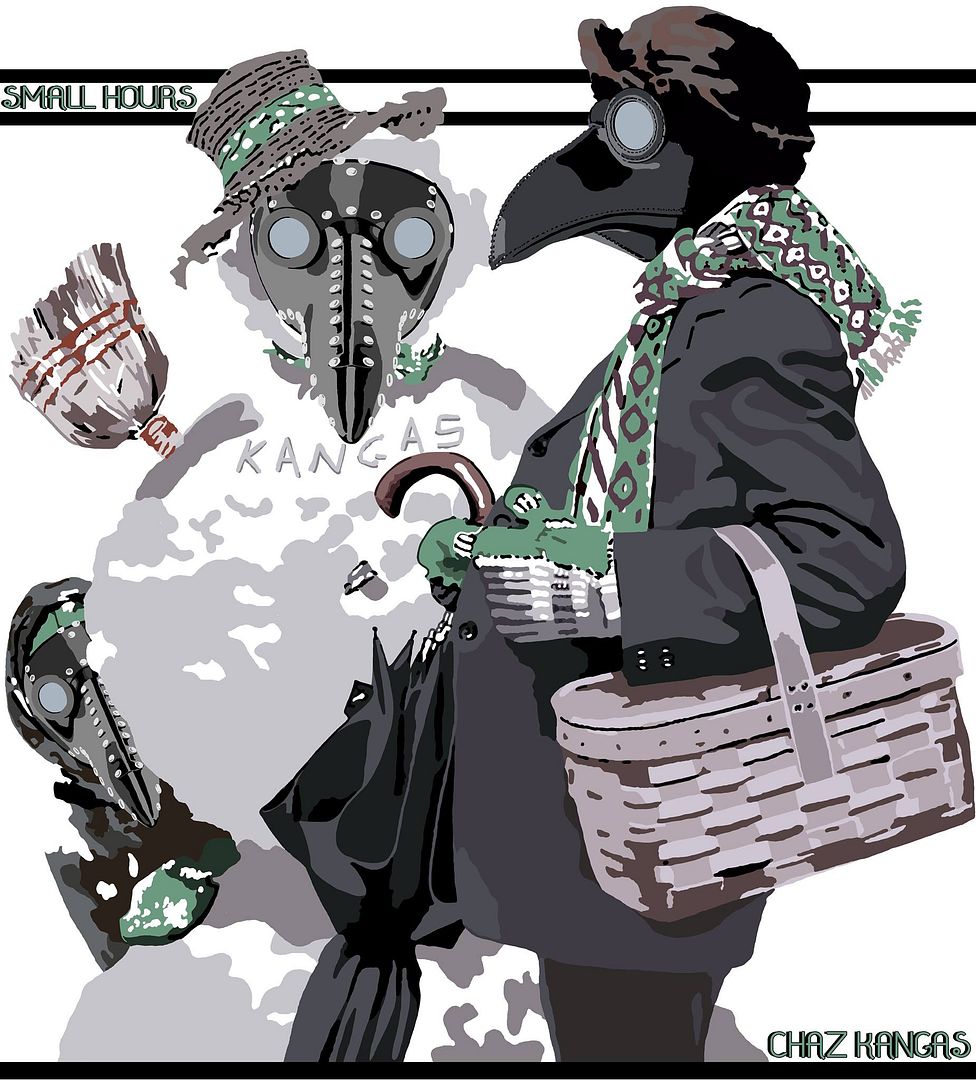 "I had some time on my hands over the past year," he says with a bit of a laugh, "I could take a break from nothing, and start writing again."
The one thing he didn't want to do, however, was write an album about COVID.
"People were releasing music one year into COVID that was all about COVID, and the struggles of COVID, and I thought it's probably not gonna age the best. I don't know who's gonna want to revisit this particular time."
Chaz went through the pandemic alone – no roommates, no pets, just himself, his thoughts, and his personal experiences dealing with OCD.
"Every song is about those different levels of dealing with your own mental health," he says, "and your own mortality, when you're alone with yourself, and alone with your thoughts."
The cover art for Small Hours features plague doctor masks, which Chaz feels are a strong allegory for OCD. "A lot of OCD is your brain forcing really strongly to create logic out of an illogical situation," he explains, "the flowers stuffed in to block the plague going through – which we know makes no sense, but in terms of having the security, people think, to go in and allegedly treat people with the plague – it's sort of the same way people have certain habits. I have to do this particular OCD thing, or this completely unrelated thing is going to have a horrible negative effect to me."
With Small Hours having just been released, I caught up with Chaz via Zoom to open up some packs of MusiCards, and the artists we found sparked conversations about classic video game, and video game movie, soundtracks, how Troma films have influenced him musically, and a memorable night at B.B. Kings in NYC.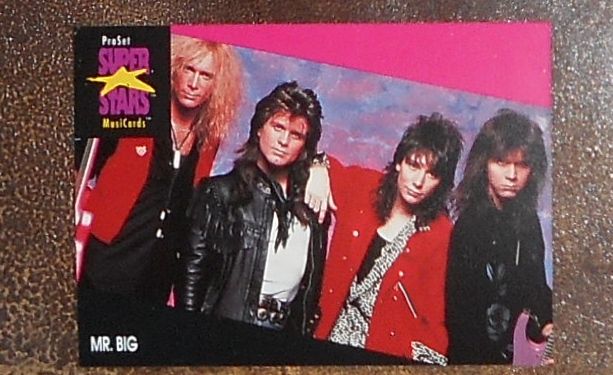 Mr. Big
I have such a love of Mr. Big, who were, in a lot of ways, among the last of the hair metal bands to chart.
"To Be With You" is one of the early songs, as a kid, I remember really liking, and then years later discovering the music video where they were all just hamming it up, because they were essentially an amalgamation of studio musicians just having a good time, and getting that last bit of money in the end.
There was a while in the mid-aughts where I was working "To Be With You," a verse from it, into my sets.
The real thing I love about Mr. Big is there's a video game called Spider-Man vs. The Kingpin for the Sega CD. Sega CD was the first major North American video game console that had access to CD quality music. All the games that had existed on Sega Genesis, and Sega Game Gear, for the Sega CD they decided, "We need an entirely new score, and we need it done by the guy from Mr. Big," so he has a song in it called "Swing Time."
The actual score is a really cool electric guitar thing. It sounds like nothing like the 8-bit bleeps and bloops that we were so accustomed to.
Back in the day I had the full soundtrack from it on my iPod. I kinda learned how to walk through New York (through the game) – because you go through an entire map of Manhattan – and being able to go through it (for real) with that soundtrack … as one should go through the streets of Manhattan, listening to Mr. Big.
"Swing Time" is just so wonderfully absurd, and hammy, and forceful, and great. I ride for it hard.
Do you think that song, and the Spider-Man vs. Kingpin game, might have been one of the first video game soundtracks?
Absolutely. I think in terms of original music created for a game it might have been THE first. In terms of ones where it's not just like we're hiring a composer to make bleeps and bloops, we're actually using CD quality audio of your studio recording in it, and it's all entirely original.
It's, at the very least, among the first.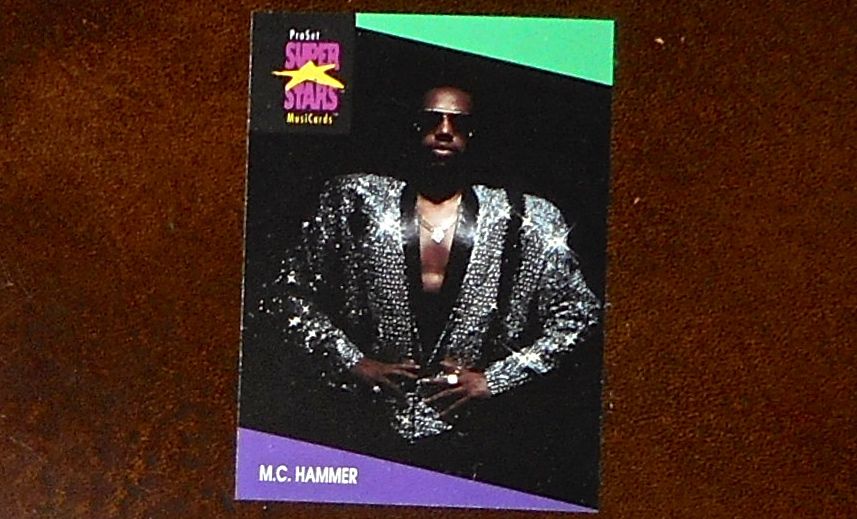 M.C. Hammer
Moving to someone I really liked until he blocked me on Twitter – M.C. Hammer.
I've had nothing but positive experiences with M.C. Hammer, not to rub it in your face.
So had I until I found out I was blocked by him. We'd tweeted back and forth a number of times. I've never said anything bad about him.
I have a few things to say about Hammer.
There is video of me at what's gotta be four or five years old doing Hammer's "Pray" … and I remember as a kid deliberately getting up on Saturday mornings to watch the Hammerman cartoon, with the dancing magical shoes.
I was fortunate enough to interview him in October of 2019.
I think a lot of M.C. Hammer interviews all kinda run together, (and are about) the same sorta topics, but Hammer has been a part of so many niche fandoms that I've always really super enjoyed. The one thing I was really excited to ask him about was he has a song called "Straight to My Feet" that was from the Street Fighter soundtrack, and the music video is M.C. Hammer there with Jean Claude Van Damme.
Usually when you have soundtrack videos they intercut things, even if it was original footage you wouldn't have the actual actor on set. So having Hammer there with Van Damme, and getting Hammer to tell me these Van Damme stories (was great).
Because it was near Halloween I also got to discuss The Addams Family song, and he recorded that at Paisley Park, so there's another Minnesota connection to it right there.
And finally … I'm really sorry to share this story because you're blocked by him.
It's OK. We were actually tweeting back and forth to each other the day of one of his concerts that I attended back in the day, so I have no idea why he ended up blocking me.
I'm a big fan of lost media, and the quest for finding things that were created, and got really far, but wound up never getting finished, or never getting released, or things that were released, but they were a small thing, and they were lost.
Apparently was an M.C Hammer video game that got relatively far in development on the Sega CD. The people in this (lost media) group (I was in) were all like – not a whole lot is known about it, we just have these quotes in these interviews. So I just tweeted at him once like, "Hey Hammer, quick question for you, what's the story with the unreleased Sega CD game?" 45 minutes later he gave me a really detailed public account of everything that happened with it.
Roxette
On any given day "The Look" is my favorite song of all-time.
It's such a great song.
There's a pizza chain called Davanni's out here, and when I was in junior high – because this is what we'd do for fun in pre-social media days – I'd put in orders for pizza for pick up, and when the order was ready they'd read your name, so I'd give them names like Pope John Paul II, or Demolition.
The jukebox hadn't been updated in a number of years, and Roxette was the one piece I knew from hearing snippets of it in the Party Zone commercials, the two disc compilation – "You're now entering the party zone!" That's how I got really into Roxette.
The last bit of how much I love Roxette, there is a motion picture called Super Mario Bros. that came out in 1993 based on the video game.
Saw it in the theater!
As did I, opening night!
I like to pretend that movie is the direct precursor to Speed, and Dennis Hopper is playing that exact same character.
I think that Roxette's last big song in the States was their original song from the Super Mario Bros. soundtrack.
On there, as well, unrelated to Roxette, was a George Clinton cover of "Walk the Dinosaur," but instead of going "boom boom acka-lacka lacka boom," his went "goom goom acka-lacka lacka goom," like the goombas in Super Mario Bros.
They're like – an absolute funk icon, one of the most important musicians of the 20th century, we're gonna give you this giant check to take a song that's only five years old at that point, and we're gonna have you just incorporate into it this movie from this titanic media pop culture icon secondary character.
Within a year he did PCU, so George Clinton was on a roll in '93/'94.
Motorhead
Lemmy must be doing something wildly offense to have Pro Set decide to cover part of his face.
That is so so wild. I bet he's smoking in that picture, because why would they cover just the tip of that, and just the front there?
My love of Motorhead came largely from my love of Troma films, because Lemmy was a frequent special guest who appeared in Terror Firmer, and Citizen Toxie: The Toxic Avenger IV, and he was the narrator of Tromeo and Juliet, written by James Gunn. So in 8th grade, when I got super into Troma, it was like this giant counter culture, it felt like a movement, and that age you want to be involved in a movement like that, something that seems so inclusive, and progressive, and also just unabashedly unpredictable.
Tromeo and Juliet introduced me … I'd always known of Motorhead from references in Airheads, and Beavis and Butt-Head, and things like that, but actually getting to hear their song "Sacrifice" on there, I was like OK, I'm gonna check out Motorhead.
I don't know why I did this in junior high, but for some reason I thought the way to get into bands was to get their live albums. So this Motorhead live album, I can't remember the name of it, it was recorded in the '90s, and "Sacrifice" is on it, and "I'm So Bad (Baby I Don't Care)," but so much of that album just sounds like "BRRRRRR."
Guttural noise.
Yeah. It's like people talk about … the record producer who shot his wife …
Phil Spector.
Yeah. It's like the wrecking ball that takes down the Wall of Sound, and then you have Lemmy sounding cool in the middle of it.
I was really diggin' that, and from there I started realizing how much Motorhead's music would pop up in things. I also loved that Motorhead wrote a tribute song to The Ramones, which The Ramones then covered without changing a single lyric.
B.B. King
When you chose this card I kinda had a feeling it had something to do with the former NYC music venue B.B. Kings. When it closed, what was your reaction?
I was super bummed, because B.B. Kings had the best sound of any venue that size in the city.
Because they would have shows going all night, it was the only place where you could see someone like Big Daddy Kane, or Kool Keith, or The Beatnuts, with that quality sound system in New York.
In my first couple years in New York it was the only place that would be doing 18+ shows that I could go to. So many times you'll see a lot of hip-hop legends, and it will only be 21+.
Here's a funny, very esoteric story. Do you remember the hip-hop duo The High & Mighty?
Oh yeah.
They have a song, "The Last Hit," that features Eminem.
I went to that show with my buddy Jed. The High & Mighty were in the middle of a bill. They had Rahzel, Doug E. Fresh, Pete Rock. It was stacked. It was like a nine artist show/benefit.
The High & Mighty come out and perform, and it's a packed crowd, and Jed and I are in the very very front, cuz we're 19, and that's what you do when you're the age of Jennifer Love Hewitt in I Know What You Did Last Summer.
We're in the front, and we're both big fans of the Home Field Advantage album, and there's a line in that where Mr. Eon goes, "Goin' uptown, meetin' senoritas / in Taco Bell screamin' …" and he holds the mic to the crowd, and the line that follows it up is "viva gorditas!" So Jed and I yell it as loud as we can. DJ Mighty Mi had cut the record out, I think they were assuming that everyone would be yelling "viva gorditas!" but that was not the case, it was JUST myself and Jed. It was perfect timing, because Mighty Mi is an amazing DJ. "In Taco Bell screamin'" then just two guys in the front yelling at the top of their lungs "viva gorditas!" which then made the entire venue, including security, burst out laughing.
For more Chaz Kangas follow him on Facebook, Twitter, Instagram, and YouTube.
You can purchase his music, including his new album Small Hours, on Bandcamp.

Labels: Music Interviews, Stacking The Deck