When most people hear the name Shel Silverstein they're immediately brought back to their childhood. His beloved books, including The Giving Tree, Where the Sidewalk Ends, and A Light in the Attic hold a special place in the hearts of those of us who grew up on the wonderful stories and poems woven by the master wordsmith.
This is why when I came across a Shel Silverstein record while going through used vinyl at The Archive, in Bridgeport, CT, I was intrigued. The album, Freakin' at the Freakers Ball, was released in 1972, and the cover featured Shel leaning back, sporting a crazed look on his face, while playing the piano.
Flipping the album over, I read the track listing. Song titles like "I Got Stoned and I Missed It," "Polly in a Porny," and "Don't Give a Dose to the One You Love Most" made me think this wasn't going to have the kind of lyrics found in a children's book.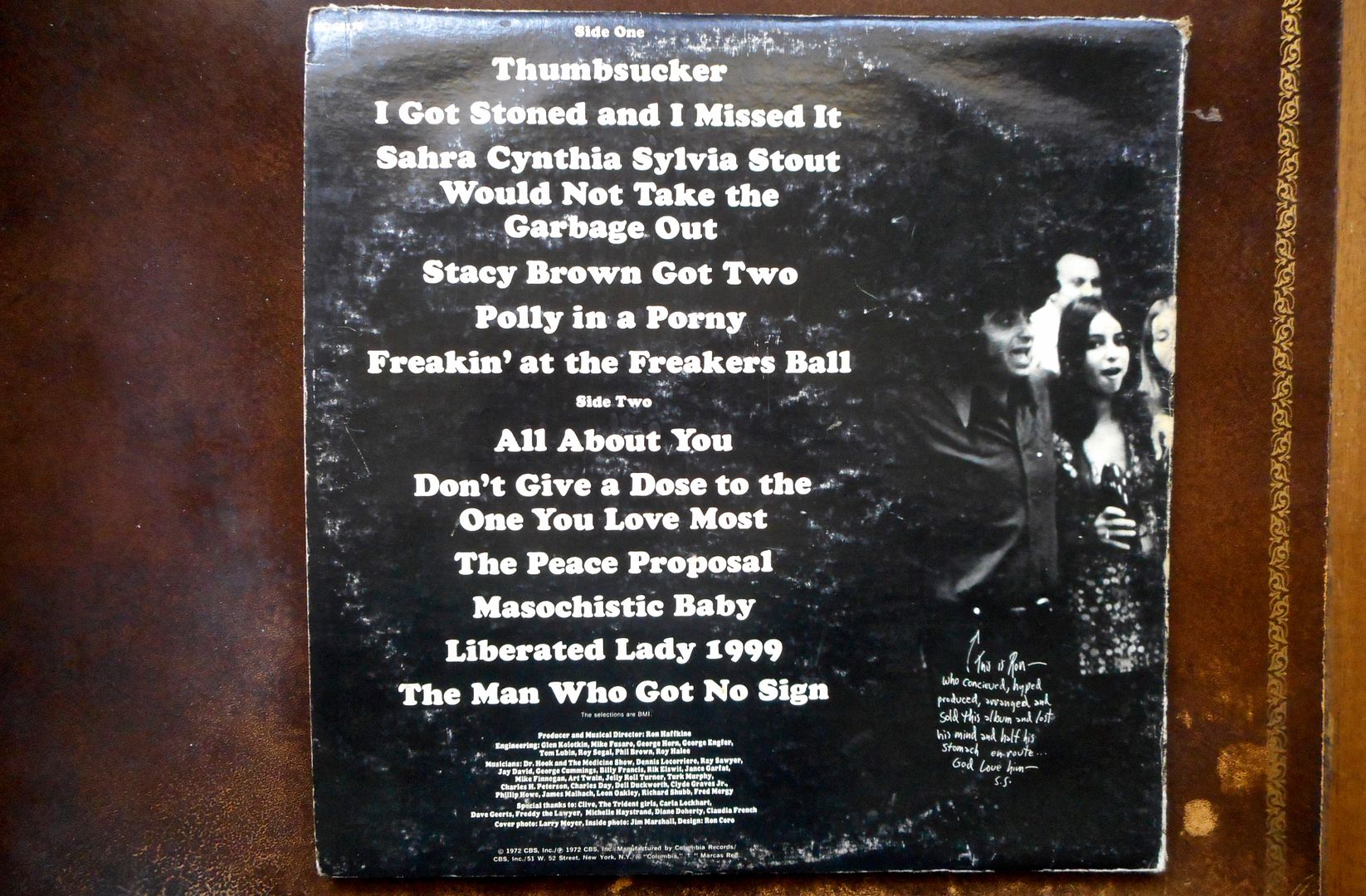 With a $1 price tag, I added it to the stack I was buying, and made my way to the register.
To be completely honest, I had no idea Shel Silverstein had a musical side to him, but you know the Johnny Cash song "A Boy Named Sue"? Shel Silverstein wrote it.
Mind blowing, right?
When I arrived home, I put Freakin' at the Freakers Ball on, and OH MY GOD was it an experience!
One song actually did end up in one of his books – "Sarah Cynthia Silvia Stout Would Not Take The Garbage Out" (Sarah is misspelled "Sahra" on the album) can be found in Where the Sidewalk Ends.
For this article, however, I'm going to focus on five of the freakier tracks, as Freakin' at the Freakers Ball is a heck of good, and sufficiently weird, time.
FYI, you won't find this album on Spotify, but it was re-released on CD with three additional tracks. Thankfully, someone put them all on YouTube, which is where these song embeds are from.
"Freakin' at the Freakers Ball"
Let's start with the title track of the album, which is about a party where all sexual proclivities are not only invited, but encouraged.
Blow your whistle, bang your gong, roll up somethin' to take along
It feels so good that it must be wrong, a freakin' at the Freakers Ball
Sounds like a pretty good time, right?
The line that threw me for a loop, however, was
The Plastercasters castin' their plasters
After hearing the lyric I did a double take. Did he really mention the Plastercasters?!?!
My interest was piqued because that's a reference to Cynthia Plaster Caster, a rock groupie who became known because she and a friend made plaster casts of rock stars' erect penises. She later expanded her work to other types of artists, as well.
I only know this because I read Pamela Des Barres' Let's Spend the Night Together: Backstage Secrets of Rock Muses and Supergroupies. I swear that's the only reason I know. Really!
Getting back to the actual lyric, I found it interesting that in 1972 Shel Silverstein knew of this rock groupie who began her plaster casting career just four years earlier.
Clearly, Shel led an interesting life!
Side note –"Freakin' at the Freakers Ball" features a few slang words that are no longer in use, and would now be considered derogatory. Let's keep in mind this album is nearly 50 years old, and not judge a man of the past based on the standards of a present he doesn't exist in.
"Polly in a Porny"
"Polly in a Porny" starts with Shel dropping his date off at her home, respectfully walking her to the door. In need of a bit of a release, he then makes his way to an adult movie theater. The movie that was showing, he quickly learned, happened to star the woman he'd just dropped off.
Did he enjoy the movie? Well, check out these lyrics from the end of the song … or perhaps I should call it the climax.
I keep on going back
In the very last row I'm singin' low with my coat bouncin' in my lap
A better review of a film you will not find this side of Siskel & Ebert.
"Stacy Brown Got Two"
The title of this song seems innocuous enough, but the "two" in this case is a reference to the number penises Mr. Stacy Brown has. Yes, I said penises, and apparently that's why the ladies can't get enough of him.
Do you know the reason for his success (no we don't so tell us)
They say that he was double blessed (not like you fellas)
They say that Stacy Brown was born just a little bit deformed
Still his girlfriends they all wake up smilin' every morn
(Singin') everybody got one
Everybody got one
Everybody got one
Stacy Brown got two
In the song it is never revealed how Stacy Brown buys pants, but I guess that's just a mystery I'll have to live with for the rest of my life.
"I Got Stoned and I Missed It"
Nearly 30 years before Afroman released "Because I Got High," Shel Silverstein had a song about missing out on everything due to constantly getting stoned, and when I say he was missing out on everything, I mean everything, including not being able to remember deflowering a local virgin.
It took seven months of urgin' just to get that local virgin
With the sweet face up to my place to fool around a bit
nd next day she woke up rosy and she snuggled up so cozy
But when she asked me how I liked it Lord it hurt me to admit
I was stoned and I missed it …
Now that's some seriously potent stuff!
"Don't Give a Dose to the One You Love Most"
I absolutely thought this song was going to be about drugs. With a title like that, how it could it not be? Well, it's isn't. It's about herpes.
I'm not kidding.
The song features the following lyrics that definitely clear things up, while discussing something most sufferers would like to see cleared up
So if you've got an itchin' – if you've got a drip
Don't sit there wishin' for it to go 'way
If there's a thing on the tip of your thing or your lip
Run down to the clinic today, and say
I won't give a dose to the one I love most …
I guess if you do enough freakin' at the Freakers Ball, you're bound to wind up with something.
Having grown up on his fantastic books, and now having listened to Freakin' at the Freakers Ball, if I'm ever asked who are the five people, dead or alive, I'd like to have dinner with, I have a seat reserved for Shel Silverstein.

Labels: Tales From The Crates