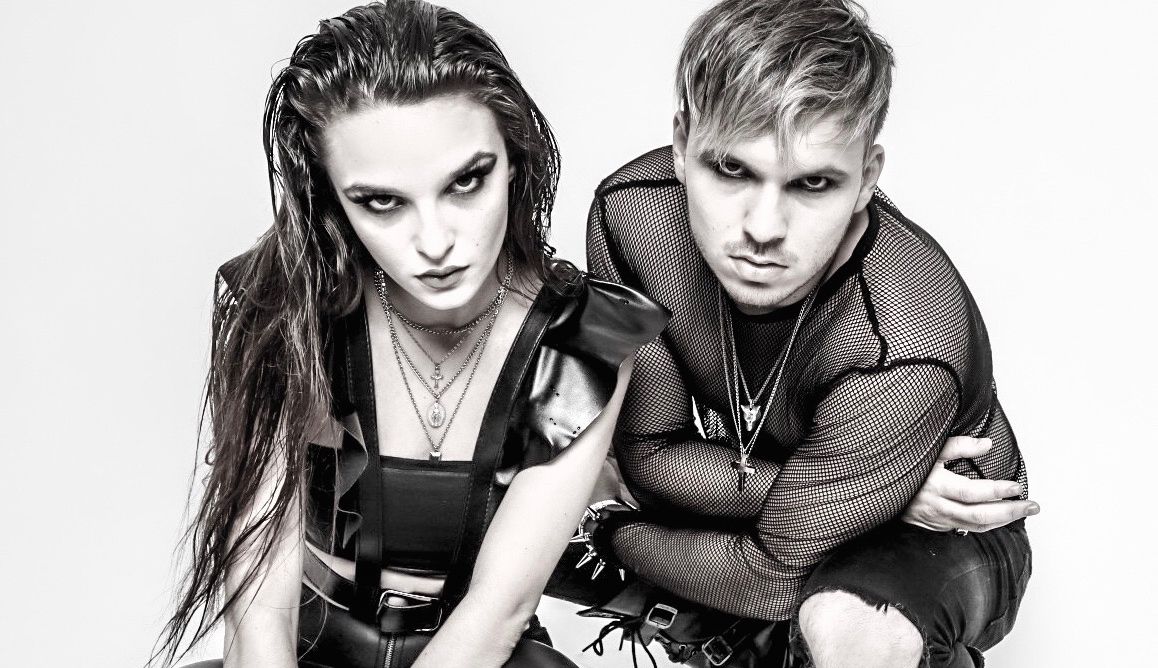 Age-wise, South Florida rock band The Haunt are young, as they're fronted by the sibling duo of 17 year old Anastasia Grace, and 21 year old Maxamillion Haunt. Experience-wise, however, they are veterans, having done two tours with Palaye Royale, totaling 70 shows across North America and the UK, and having been on the Hollister sponsored High School Nation tour with Plain White T's.
The Haunt's sophomore EP, Social Intercourse, is due out in March of 2021, and while they can't hit the road again until we have a handle on the coronavirus, they'll be spending the fall and winter releasing singles from the project.
An exciting band on the rise that will likely be drawing comparisons to huge acts like PVRIS, here are eight things you should know about The Haunt.
They were going to open mics at a very young age
Open mic nights are traditionally places where young musicians cut their teeth, but the musicians usually aren't quite as young as Max and Anastasia were when they initially hit the stage.
"I think I was 13, and she was I would say 10," Max remembers of their first open mic nights together, adding that his sister actually had a head start on him, "She started performing alone at open mics at around 8 or 9."
Their favorite was one held at a local coffee shop one town over. "We would go pretty much every week. We looked forward to it."
Their parents gave them a heck of a music education
While their parents aren't musicians, they're huge music fans, and according to Max music was almost always playing in the house, and in the car. "Every different genre of music was blasting throughout the house every single morning," he says, "I remember when my mom would drive us to school she would show us new music every day when we were kids."
Max laughs when he thinks of one of the first songs he could recite from memory. "By the time I was 5 I probably knew all of "Californication"'s lyrics by heart. The whole album, to be honest." He adds that being that their parents are from New York, '90s hip-hop also made its way to his and Anastasia's ears at an early age. "A lot of Biggie Smalls, Wu-Tang, Nas," he remembers.
Later, the playlist had a rock album added to the rotation that had a major affect on Max, and his interest in music. "As I got a little bit older," he recalls, "the heavy rotation was definitely like The White Stripes, when Elephant came out. That was definitely a huge turning point of me being like yo, this music stuff's pretty cool!"
The band has evolved quite a bit musically
The Haunt you hear in 2020 is not the same Haunt from even just a few years ago. Breaking down the evolution of the band's sound, Max explains, "When we first started out as a band … it was a rock band, but the songs were formatted in a very old standard-y way, like a 1940's standards kinda way where everything revolved around the vocals, and it wasn't as pop oriented with the songwriting as far as like choruses, and repeating parts, and stuff like that."
There was a very good reason the band started that way, as he notes, "Anastasia's been listening to the blues, (artists like) Nina Simone, and Billie Holiday, since she was 8 years old, probably younger than that. That was her biggest influence from the beginning, so we tried, in the beginning, to replicate that sound, but as we got older, and as we matured, we decided that we wanted a little bit more aggression in our shows, and we really wanted to rock out when we were playing, so we decided to go in a punkier route, and that's kind of what's heard on our first EP, The Haunt EP, a combination of our gothic sound and the punk rock sound."
Max continued, adding, "On this album (Social Intercourse) we decided we wanted to take an even more modern approach and mix our old timey vocal that she has with something that's much more modern and synth pop-y, but still keep it dark."
Some of the lyrics of their new single, "Constant," came directly from an ex
When you hear Anastasia forcefully sing the lyric, "Fuck your wants and your needs," the line is actually something that was said to Max by one of his ex-girlfriends. While awful to hear at the time, he's happy that, in the end, The Haunt came away with a great song from the situation.
"Anytime I get seriously upset, or something like that happens, I'm like, well, I know this is gonna be a good song, so …"
They're looking to create some Social Intercourse
"Constant" is off The Haunt's upcoming EP, Social Intercourse, which is due out in March of 2021. What inspired the title of the album is Max and Anastasia seeing so much turmoil in the world, and the gradual breakdown in communication between people.
"We're trying our hardest to push the idea that whether you hate someone's ideas or beliefs, as long as it's not something that is directly harmful to somebody else, we believe that everybody deserves to be heard out," Max explains. "Whether we completely disagree with them 1,000% of the time, everyone's a human being, and their beliefs are valid, as long as they're not hurting somebody else, obviously. That's something we want to push."
He continued, adding that he'd love to see cancel culture combatted with giving people a chance. "We live in this weird time period where if you say one wrong thing, even if you thought you were doing the right thing, you can be cancelled in 10 seconds, and your career is over. That just doesn't seem right. Let this person explain themselves. Let us hear what they have to say. That's kinda where Social Intercourse came from, it's a meeting of the minds over things, specifically things you don't agree on."
They love the relationship they have with their fans
With deeply personal lyrics, The Haunt has created a tight bond with fans, and Anastasia has experienced an outpouring of emotion. "There have been lots of people that have messaged me saying how much it means to see that I went through the same things that they're going through right now," she says, "or even when I was 15 and on tour with Palaye Royale, I was like the same age as the girls, so what they were going through was kind of what I was singing about each night."
Grandpa has skills on the drums
In a revelation Max and Anastasia may not have seen coming, their grandfather has decided to follow in their musical footsteps. "Our grandpa became a drummer after we started the band," Max says.
Unfortunately, due to the fact that their grandfather lives in New York, and the band lives in Florida, they haven't had the chance to play together yet. "He's been to rehearsals, but we've never actually jammed with him," Max laments, "We've been wanting to do it since he started taking it seriously. I assume that he plays mostly classic rock, but honestly, for all I know he could be in a metal band. I really have no idea. Everything you expect him to do he's definitely gonna do the opposite."
Max will protect you from a Sharknado
Both Max and Anastasia are currently enrolled in online classes, with Anastasia finishing up high school, and Max on his way to saving the ocean, noting, "I'm slowly working my way towards a degree in marine biology."
So when The Haunt isn't on tour, you'll probably be able to find Max hanging out at the nearest body of water.
For more of The Haunt, check out thehauntband.com, and follow them on Instagram, Facebook, and Twitter.

Labels: 8 Things, Music Interviews