Tales From The Crates – The Story of MC Skat Kat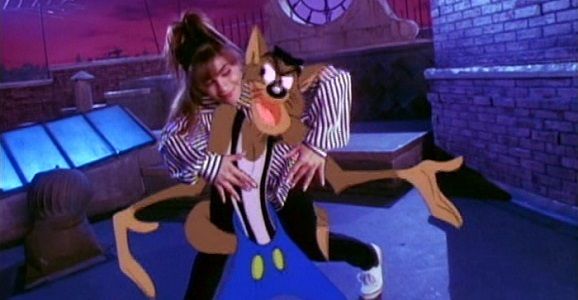 Traditionally, most artists release a couple of songs from an album as singles, but hardly any go as deep as releasing a sixth single from a project, and if they do, the song doesn't usually end up a classic that still receives play three decades after its release. That's exactly what happened, however, with Paula Abdul's "Opposites Attract."
Officially released as the sixth single off Paula's debut album,
Forever Your Girl
, on November 28th, 1989, "Opposites Attract" is still beloved to this day thanks in large part to a rapping, dancing, cartoon feline named MC Skat Kat.
The video for the song, which featured live-action mixed with animation, as Paula interacted, and danced with MC Skat Kat, came just a year after
Who Framed Roger Rabbit
captured the imagination of moviegoers.
With the video boosting the popularity of "Opposites Attract," Paula and her feline friend quickly found themselves in heavy rotation on MTV, and Top 40 radio.
But who was MC Skat Kat? What went into the creation of the rapping, dancing, cartoon feline? How many people were involved, and what do Gene Kelly, a-ha, Michael "Boogaloo Shrimp" Chambers, and the Treacherous Three have to do with it?
This is the story of MC Skat Kat.
The Kat's Meows – The Voices Behind MC Skat Kat
MC Skat Kat's vocals were provided by multiple artists for "Opposites Attract," with The Wild Pair duo of Marv Gunn and Bruce DeShazer providing the singing vocals, and Derrick Stevens providing the rapping vocals.
Gunn and DeShazer had recently left the group Mazarati (where DeShazer was known by the name Tony Christian), which was produced by Prince, and signed to Paisley Park Records.
"We were approached as The Wild Pair by an up and coming producer (named Oliver Lieber) to do an album," Gunn remembers, "He asked if we wanted to sing with an artist he was producing some songs for."
At the time, Paula Abdul was an unknown commodity. Gunn admits, "We had no idea who Paula was."
The Wild Pair still saw the collaboration as good opportunity, so they decided to record the vocals.
For Gunn, it was a quick trip into the studio. "As I handled most of the lead vocals for The Wild Pair, I ended up singing the entire lead vocal as a demo for her to follow. We were ecstatic to find out that my lead vocal was going to be kept, and it was to become a him-and-her relationship song."
During all this time, however, Gunn says he and DeShazer were completely unaware of one important detail regarding the song – "We had no idea I would be turned into a cartoon cat!"
"As artists we figured there would be some kind of video performance with us and Paula. It was later that we found out I/we were turned into a cartoon Skat Kat that was dancing his ass off with Paula. Personally, we thought it was awesome! Probably one of the coolest things I had seen at the time."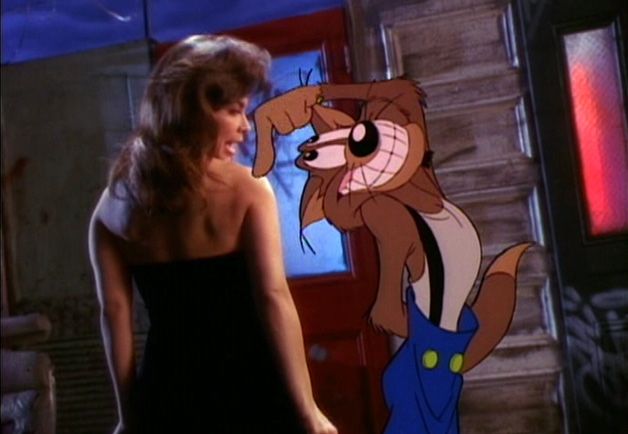 Derrick Stevens, the rapping voice of MC Skat Kat, came into the fold while he was in a Twin Cities-based rap group named The Soul Purpose, which also featured DJ Dan Speak. The group was signed to a local label named Wide Angle Records when the opportunity to be one of the voices of MC Skat Kat came Stevens' way.
Stevens, however, did his recording
after
the plan to turn the vocals into an animated character had been thought up.
"Everything was explained at the very beginning of the recording process," he remembers, "so I was well aware there would be animation associated with the video."
That said, even knowing what the clip for "Opposites Attract" was going to entail, Stevens says he was still floored by the finished product. "I had no clue as to how complex and detailed the animation would be, nor did I ever conceive of how popular the music video would become."
An Animated Feline – Creating MC Skat Kat
Just like there were multiple voices behind the cat, there were multiple people involved in the creation and animation of the cat, as well – the main person being Mike Patterson, whose career in music videos began in 1985 when he animated a-ha's "Take On Me."
By the time the "Opposites Attract" project came along he was no longer working alone, as he'd teamed up with his wife, Candace Reckinger. In an interview with the
Cartoon Dumpling podcast
he noted, "I think we became known as people who worked in combining animation and live action."
Why MC Skat Kat, or any animation, for that matter, became part of "Opposites Attract" was due to a person you might not think would have had much sway in the late '80s/early '90s pop scene – stage and screen legend Gene Kelly.
Patterson told Carton Dumpling, "The project actually began with Gene Kelly. He and Paula had become friends, and he challenged Paula to do a video with animation, like
Anchors Aweigh
, his movie with (the animated cat and mouse duo) Tom and Jerry."
Paula took him up on his challenge, Patterson and Reckinger were hired, and suddenly a team of animators, many of whom worked at Disney, and were doing the video in-between major projects, were busy coming up with what would become MC Skat Kat.
Patterson noted in his podcast interview, "We were commissioned to come up with creating a cat character that was like MC Hammer," adding, "They really wanted Paula to be with kind of a street character, and then come up with a series of dance numbers."
As an interesting aside, he also mentioned that the label considered contacting MC Hammer to voice MC Skat Kat, but Hammer had become too big by the time of the recording of the song.
Hammer would end up getting animated just two years later, with the
Hammerman
cartoon, which had a 13 episode run beginning in the fall of 1991.
As noted earlier, at the time of the recording of "Opposites Attract" Paula was an unknown commodity as a pop artist. She was a highly sought after commodity, however, as a choreographer. Her resume included having been the head choreographer of the Laker Girls, choreographing music videos, and a tour, for Janet Jackson, and choreographing Tom Hanks' giant keyboard scene in
Big
, so putting together a few dance routines for her and MC Skat Kat was right up her alley.
Michael "Boogaloo Shrimp" Chambers was brought in to perform the routines that would become MC Skat Kat's memorable moves. In addition to being Turbo in the breakdance films
Breakin'
, and
Breakin' 2: Electric Boogaloo
, Chambers also has the claim to fame of being the man who taught Michael Jackson to moonwalk.
Patterson remembers the dance aspect of the video coming together, telling Cartoon Dumpling, "That was incredibly fun. We worked with an old Hollywood tap master. We did all the rehearsals in Debbie Reynolds studio in Hollywood."
Once all the routines had been performed, Patterson and his team did pen and ink drawings of MC Skat Kat doing all of Chambers' moves. At which point, a dancing, rapping, cartoon cat was officially brought to life.
The Ill-Fated MC Skat Kat Album
Virgin Records, which was Paula Abdul's record label at the time, wanted to see if they could capitalize on the success of "Opposites Attract." With MC Skat Kat having a number one hit on his hands … err, paws, they decided – let's give the cat his own album.
And just like that, the idea for
The Adventures of MC Skat Kat and the Stray Mob
was born. For MC Skat Kat, however, it would be an excruciatingly long delivery process.
Stevens, who reprised his role voicing the cartoon cat, remembers, "It took almost two years to release the first MC Skat Kat single off the new project, and by then MC Skat Kat wasn't the hot commodity that he'd proven to be just two years prior."
"Skat Strut" was the single, and although the label gave it a push, the music world had moved on other things.
"A lot of money was spent on the 'Skat Strut' video," Stevens notes, "It was a staple on MTV, but radio did not get behind the project, and the album quickly fizzled, ending the rap career of the animated feline."
The album, which did not feature any vocals from Paula Abdul despite her appearance in the video for "Skat Strut," may not have been a success sales-wise, but it was a success for Stevens in a way he could have never imagined – working on
The Adventures of MC Skat Kat and the Stray Mob
created a lifelong friendship with a legendary hip-hop artist.
While Romany Malco did the bulk of the writing for the MC Skat Kat album, Special K from Treacherous Three was involved, as well, and Stevens still remembers how excited he was to work with the hip-hop legend.
"Growing up in hip-hop music, the Treacherous Three were always one of my favorite groups, so when I had the opportunity to work with Special K, I was too stoked, and tried not to come off as a fan boy."
Special K wrote the album's final song, "Skat Kat's Theme," and Stevens remembers, "For three weeks we were hanging out with one another, 10 hours a day. I still remember walking down Hollywood Boulevard with him, rapping Treacherous Three songs. (It's) a friendship that still endures to this day."
In addition to working with Special K, Stevens has a number of other fond memories from his time laying down the raps for MC Skat Kat. "The Skat Kat project allowed me to sit at the table with Virgin Records founder Richard Branson, and to work with some amazing executives. I've met some of my music idols, including Quincy Jones, B.B. King, Stevie Wonder, Pat Benatar, Ozzy Osbourne, Natalie Cole, and others."
As an interesting aside, the liner notes of
The Adventures of MC Skat Kat and the Stray Mob
features a short paragraph on, of all things, voting. It reads as follows
Skat Kat says help rock the vote! Don't be left out. If you want to change things, or just have your say, you have to get involved. Getting involved means voting. Your vote can make a difference!
So there's a chance, albeit a small one, that somewhere, someone is registered to vote because of MC Skat Kat.
The Legacy of MC Skat Kat and "Opposites Attract"
On February 10th, 1990 "Opposites Attract" began a three week run at #1 on the Billboard Hot 100. It would be Paul Abdul's fourth #1 single from
Forever Your Girl
, which at the time made her only the fourth solo artist in history to have four #1 songs from one album (the others being Whitney Houston, George Michael, and Michael Jackson).
In 1991, the video for "Opposites Attract" would take home the Grammy for Best Short Form Music Video, besting clips by Madonna, Phil Collins, Sinead O'Connor, and Phil Collins.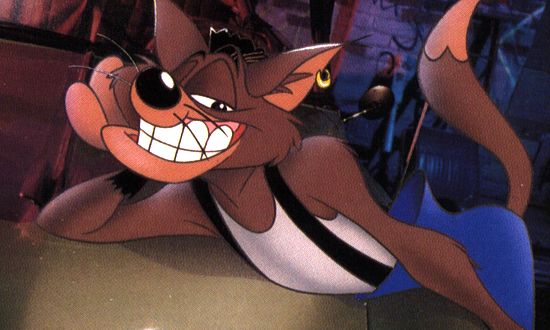 Even with all the accolades that came its way, Gunn admits he never could've predicted the song's lasting impact.
"When a song hits #1 on the charts there's always the potential that it could be remembered for a long period of time," he notes, "Two other songs we (The Wild Pair) sang backing vocals on with Paula – 'Forever Your Girl,' and 'It's Just The Way That You Love Me' – charted well (reaching #1, and #3), but they didn't have the staying power of 'Opposites Attract.' It's never the song you think will be remembered that's remembered."
Stevens adds that when it comes to the continued notoriety of MC Skat Kat, "I'm amazed that MC Skat Kat still has an impact all these years later. He is definitely a part of pop culture, and in the past five years I've done several interviews with media outlets, as well as a cameo appearance voicing the MC Skat Kat character in the animated television series
American Dad
."
In another TV appearance, the prodigious feline was seen on a 2012 episode of
Dancing With the Stars
, as Paula danced with a projected image of the legendary cartoon cat.
Where Are They Now?
* Derrick Stevens is currently the Production Manager at
The Current
, which is part of Minnesota Public Radio's 46-station radio network.
* Marv Gunn now goes by
OneGunn
, and as a solo artist he has a distribution deal with Wolf Entertainment, which is located in Europe.
* Mike Patterson is still creating art, and is a
Professor of the Practice of Cinematic Arts
at USC.
*
Paula Abdul
continues to be a global pop star. In 2016 she toured with New Kids on the Block, and Boyz II Men. In 2018 she had a 26-city solo tour, and currently she has a residency at the Flamingo in Las Vegas.