Pop Shots - Role Reversals
Monday, September 16, 2013

Welcome to your weekly dose of pop world musings. Covering all things pop culture, this week Pop Shots is hitting you with thoughts on everything from Mumford & Sons not only being at, but getting thrown out of, a strip club, to Carson Daly becoming a morning person, to Clear Channel paying labels and artists, and since it's Pop Shots you know everything is seasoned with a little bit of attitude.

* In a scene that must have been absolutely hilarious, Mumford & Sons were thrown out of an Atlanta strip club this past week. Apparently they were being rude, and taking pictures, the latter being forbidden by the establishment. To be fair, it was Mumford & Sons' rumspringa, and they're still figuring this whole modern society thing out.

* Over the weekend Britney Spears leaked her new single, "Work Bitch," which is a phrase I assume she's heard from her parents since she was three.

* Miley Cyrus released a sultry video for her latest single, "Wrecking Ball," this past week (all hype aside, the song is a brilliant piece of pop music). The clip, which features Miley licking a sledgehammer, and riding a wrecking ball while completely naked other than a pair of work boots, was clearly inspired by director Terry Richardson's desire to turn Miley into a Tool Time girl.



* In more Miley news, apparently Miss Cyrus will be collaborating with Kanye West on a remix to Kanye's song "Black Skinhead." We can only hope this will be the next "Accidental Racist."

* Ariana Grande debuted at the top of the Billboard albums chart last week as her album, Yours Truly (which is fantastic), moved 138,000 units, besting new releases from Tamar Braxton and Nine Inch Nails. Nine Inch Nails are already planning a follow up to their third place finisher, which is tentatively titled, I can't believe we went back to a major label and still debuted behind a 20 year old Nickelodeon star, and a reality TV personality.

* Justin Timberlake announced he has a Tuesday residency at Late Night with Jimmy Fallon through the end of September. So he had a national tour with Jay Z, and then immediately followed it with a residency on a late night show... anyone else beginning to think Jessica Biel might not be that fun to be around?

* Carson Daly is joining the NBC's Today show. The happiest person about this, after Carson Daly, is Jimmy Fallon, who gets to continue to use the line, "I'm Carson Daly, and I'm a massive tool."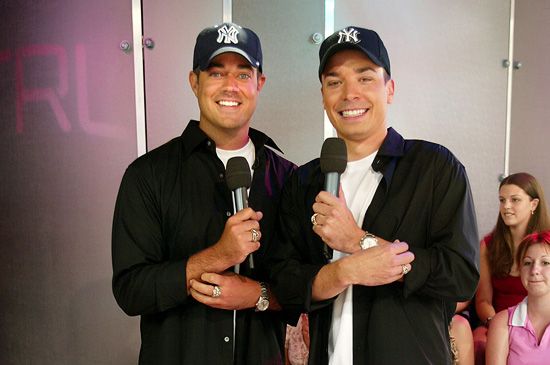 * This past week Hot97's DJ Mister Cee was caught soliciting another tranny hooker. He resigned from his position at Hot97 fairly quickly, then un-resigned nearly as quickly after doing an interview with Hot97's manager, Ebro, and Funkmaster Flex. Listen, I don't care what Mister Cee does on his own time. If he likes dudes in dresses, he should go for it. All I know is his inevitable episode of Catfish will be LEGENDARY.

* Vampire Weekend were guest editors of the September 12th edition of the daily Metro newspapers in New York City, Boston, and Philadelphia. Since I'm a journalist does that mean I now get to guest master Vampire Weekend's next album?

* The police officer from the Village People has finally won at least partial control over the songs he wrote from 1978 to the present thanks to "termination rights" that were enacted in '78. The list of 33 songs involved in the case doesn't include "Macho Man," which was written before 1978, but does include "YMCA" and "In The Navy." Does anyone know how much the New York Yankees grounds crew now owes this guy?



* Jennifer Lopez has parted ways with her publicist of three years, Mark Young. This, just a little over a week after it was made public that J.Lo would be returning to American Idol. In a related story, Young can't wait to watch the new seasons of The X Factor, and The Voice.

* Clear Channel has signed a deal with Warner Music Group that will, for the first time, give a major recording company and its artists a cut of the revenue generated from radio airplay. The radio conglomerate made a similar deal last year with Big Machine Label Group, which is the home of Taylor Swift. In exchange, Clear Channel will receive a favorable rate in the world of online streaming. Although there are no details regarding whether or not hookers, or cocaine, were involved in this deal, let's just assume they were, because they seem like the kinds of things that would be included.

* Finally, G-Dragon is back with a new song, and video. Although I have no idea what the k-pop superstar is saying on "Coup D'Etat" (or why a Korean artist has a song with a French title), the video is so visually impressive that knowing the language becomes an afterthought.




And with that, my time is up for the week, but I'll be back next week with more shots on all things pop.



Labels: Pop Shots
posted by Adam Bernard @ 7:00 AM