A Mixtape for Joba Chamberlain
Thursday, March 29, 2012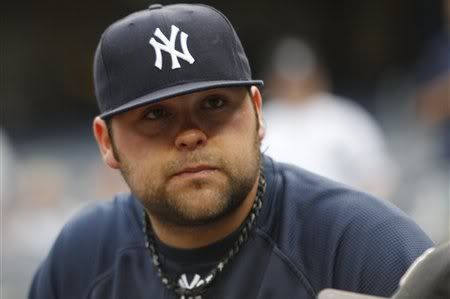 The Yankees organization has known for years that they have something special in Joba Chamberlain. They were reminded of this again last week, as it takes a truly special "athlete" to give themselves not just a season ending, but a life threatening, injury jumping on a trampoline, and that's the claim Chamberlain is making about the open dislocation of his ankle he suffered. Because of this ability to nearly kill himself doing something small children and NBA mascots do on a regular basis, I have decided to honor the Yankees reliever with his very own mixtape.

Track Listing

Van Halen - Jump
Sugar Hill Gang - Apache (Jump On It)
House of Pain - Jump Around
Timbaland w/ Missy Elliot, Dr. Dre & Justin Timberlake - Bounce
Kriss Kross - Jump
The Pointer Sisters - Jump For My Love
Calvin Harris w/ Kelis - Bounce
Mickey Avalon - Jane Fonda
Brand Nubian - Punks Jump Up To Get Beat Down
Alanis Morissette - Head Over Feet
Tom Petty - Learning To Fly
DJ Jazzy Jeff & The Fresh Prince - Dumb Dancin'
Selena Gomez & The Scene - Falling Down
The Bangles - Hero Takes A Fall
Eminem - Till I Collapse
Orgy - Stitches
R.E.M. - Everybody Hurts
Sixx:A.M. - Accidents Can Happen

Joba should take heart, even if he can't pitch this season, at least his dancing days aren't over. He just needs to take some lessons from Lisa Turtle.


posted by Adam Bernard @ 7:40 AM