Happy Face / Frowny Face - June Edition
Friday, June 29, 2007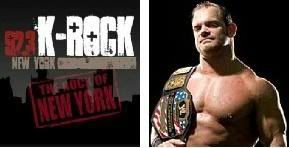 It's the end of the month so you know what it's time for, a little Happy Face / Frowny Face, my personal cheers and jeers column covering the world of entertainment and, quite frankly, anything else I feel like putting my stamp on. So heeeere we go!




Happy Face


The New Issue of Beyond Race – Time for a little shameless self-promoting. This past Wednesday night was the issue release party for the latest Beyond Race Magazine. I've been working with Beyond Race since its inception a year ago and it has grown by leaps and bounds with every single issue. For the current installment I have the cover story, an in-depth interview with Chappelle's Show alum Donnell Rawlings, as well as features on Cool In Your Code and Mindspray. The issue also marks the print debut of this very site in column form. That's right, Adam's World the column! Oh yeah, and Beyond Race is also going national with this issue, which is a huge accomplishment. The party was fantastic, and props to everyone who came through, including Jake Lefco, Fresh Daily and Padre's Eli Kaplan. With this issue in hand I'm very proud to be associated with Beyond Race and hope everyone picks it up.

The Return of K-Rock – Free FM was quite possibly the second worst idea in the history of radio, only Jack FM was, and still is, dumber. Who thought talk radio on the FM dial, and bad talk radio at that, would work? Well, while we're still stuck the robotic "no humans on air" Jack FM, Free FM has been switched back to being K-Rock and we finally have modern rock radio in the NYC area again. I had forgotten how much I enjoy hearing the likes of Nirvana, Stone Temple Pilots, Pearl Jam, Disturbed and Korn when I'm stuck in traffic (although my K-Rock keychain from back in college is suddenly far less retro than it was a month ago). Now if only we could get Jack FM to switch back to being CBS FM, give Cousin Brucie back his job, and bring back the Doo Wop Shop, then we'd really be in business!

A t.A.T.u. Movie Starring an O.C. Alum – If this isn't a personal pop culture wet dream coming to fruition I don't know what is. An actress from my favorite guilty pleasure television show starring in a movie that revolves around my favorite guilty pleasure musical artist. It's almost as if someone consulted with me before conceiving this. When I read about it on Variety's website I instantly knew it would make this list.




Frowny Face


The Mass Media's Chris Benoit Coverage – Only one frowny face this month, but it's a big one. As a pro wrestling fan I have to say Chris Benoit was one of my ten favorite in-ring performers of all-time. Despite the circumstances surrounding his, as well as his wife's and son's, death I'll be straight up, he's still one of my in-ring favs. Let's not let three days of misfortune ruin our memories of this fantastic performer. Did his life end well? No, it didn't. The way his life ended, however, doesn't change the way he lived the vast majority of it. Something obviously snapped in him. The laying of the bibles next to his wife and child after he killed them is a chilling image that will be burned into our brains forever. At the same time, let's keep the memory of him winning the title at Wrestlemania in our brains forever, as well. The same goes for the diving headbutts off of the 15 foot cages, the crippler crossface, and the feeling we got whenever we heard his theme music come on.

The mainstream media is trying paint Chris Benoit as an animal, and although he may have gone by The Rabid Wolverine most of the people covering this tragedy have no idea what they're talking about, as evidenced by Nancy Grace's error filled tirade against him (how does she still have a job? She was wrong on the Duke Lacrosse case and now this). On every major news and sports channel people are trying to break down what happened and how this related to wrestling despite knowing next to nothing, and in some cases absolutely nothing, about the sport and its history. I'm not saying I'm a genius when it comes to pro wrestling, but I have interviewed for positions with the WWE, getting all the way to speaking with Michael Cole and Kevin Sullivan, and I've interviewed a number of wrestling personalities for the various publications I write for, so I do feel I'm more qualified to speak on the subject than the vast majority of the mass media. Basically, I'd just like people to remember that Chris Benoit, before whatever mental ailment caused him to do what he did, was a fantastic professional wrestler, and we shouldn't let what he did at the end of his life alter his standing in sports entertainment history. There will always be the story of his murderous final days associated with Chris Benoit, but let's make sure it's just one story among the many we have of him from over the years. This was not a man who spent his entire life murdering, only to entertain during his final days. This was a man who spent his entire life entertaining, only to end it tragically while in the public eye.
posted by Adam Bernard @ 7:52 AM

A Night of Singer / Songwriter Hip-Hop
Wednesday, June 27, 2007

Prompted by a text message from my friend Substantial saying he'd be in the NYC at the Knitting Factory to perform, this past Thursday I headed into the city see how things were going with my buddy from Maryland whom I hadn't seen perform (or at all, for that matter) since his move back to his hometown in early January. The show, which was titled Sideshow – A Night of Singer / Songwriter Hip-Hop, also featured Miz Metro, Tonedeff and Louis Logic and JJ Brown with J-Zone spinning throughout the entire night. There were two things very different about this night, however, first I brought two friends from out of town for their first NYC experiences, and second, the evening was about the music of Hip-Hop as artists performed with bands and even played the piano.

Miz Metro opened Sideshow and after about two minutes I knew she was something special. Using authentic gypsy rhythms that she produced Hip-Hop beats over, Miz Metro sang her way right onto my radar. She also hooked my friends up with her official MetroCard earrings, which are pretty dope. Once her time on stage was up Substantial was on next. This was the first time I had seen Stan with a live band and his performance was excellent. Live bands, as long as they're talented and are working with a talented artist, are usually a great idea. I say usually because there are some limitations that come with a live band as some of an artist's harder songs are a little more difficult to replicate (as dope at the Unplugged version of LL Cool J's "Mama Said Knock You Out" was it still paled in comparison to the original), but Substantial kept things light and jazzy, which suited the evening well.

One of Substantial's partners in rhyme, Tonedeff hit the stage after him, mixing rapping with singing and even some piano playing. Tonedeff's performance was an exercise in proving that a lot of music fans are far more intelligent than they are ever given credit for by record labels. He went from the hilarious "Pervert" to the touching "Porcelain" to a few songs he penned for the piano and everyone in the crowd dug each song. So not only are musicians alive and well, but if given the opportunity to strut their stuff they're appreciated, too.

The headliner for the evening was Louis Logic and JJ Brown. Louis Logic came out in a Kenny Rogers 1987 tour t-shirt that was, in a word, awesome, just like his performance. J-Zone had joked earlier in the show that while Louis was on tour kids would come up to him in airports thinking he was Lenny Kravitz. Admittedly, Louis' hair has become quite impressive. After performing some traditional Hip-Hop for a good twenty minutes, including the songs "Morning After Pill" and "Classy McNasty," Louis sat down at his piano, an instrument he's spent the past year and a half learning, and performed some of his songs in a completely new way. Highlights of his piano performance included a very touching song about bigotry and the idiocy of the so-called reasoning behind it and the busting out Biz Markie's "Just A Friend." The crowd wouldn't stop doing the chorus for "Just A Friend" and it got to the point where he even said "hey, I can't stop ya."

This was the first Sideshow event, but they were already completely on point not only with their performances, but with their marketing skills, handing out a ten track CD (pictured above) that featured songs from the four artists who performed. I know the friends I brought, who hadn't heard of any of the artists before, became fans and with the CD were able to go home with some of the music that was performed, a perfect way to keep the memory of the evening alive and well.

Speaking of my friends, I gave them quite the night of NYC experiences including their first Metro North ride, first (and subsequently second) subway ride, first underground Hip-Hop show and their first taxi ride. The taxi ride was especially fun as they thought the driver was a little more crazy than he actually was. There is really very little that can measure up to giving someone their first NYC experience. It's the greatest city in the world and everyone needs to be there at some point in time.

All in all it was a fantastic night as I was able to see Stan again, show some friends around the city, and network with all the artists who performed. Thanks to Sideshow in the near future you can expect to see me working with Miz Metro, Tonedeff and Louis Logic in addition to continuing to work with Substantial. The Rolodex just keeps on expanding.
posted by Adam Bernard @ 7:46 AM

Artist Of The Week – Theory Hazit
Monday, June 25, 2007

Back in the day whenever an album came out on Def Jam it was a must have. More recently people have felt the same way about releases from labels such as Def Jux and Rhymesayers. There was a trust with the imprint that Hip-Hop fans had that was so deep that everyone expected greatness from the company and were rarely disappointed. Over the past year a new company has emerged that's been quietly building the same type of buzz, Hip-Hop Is Music. With standout albums by Sivion and label head Braille already in stores Theory Hazit is the next in line with Extra Credit, an album that definitely deserves some of your ear time. This week I caught up with Theory Hazit to talk to him about the album, his past, and some of the messages he hopes to get across through his work.

Adam Bernard: First off let everyone know who you are, where you're from and how you got into Hip-Hop.
Theory Hazit: My name is Theory Hazit. I was born in Winchester, KY, raised in the hood, of course... a good neighborhood. My grandmother, uncles, aunts, and my mom raised me. Me, my brother and my mama moved to Cincinnati, OH in '89. I got into Hip-Hop a few years before I moved. My first rap tape was B.A.D. by LL Cool J. I always was a Hip-Hop fan it just took a while to convince my mom, the typical single black mother, that it was OK. Around 1993-95 I started going to a local studio to record. I decided to take my music to another level. At the time, I was in a crew and being in rap groups make you hungrier.

Adam Bernard: Now you're solo and you recently released your third full length LP, Extra Credit. On the album you speak about how you haven't led the perfect life (hey, who has?). Talk to me about some of the experiences that helped shape who you are today.
Theory Hazit: Well, being ignorant and living single lead to learning things the hard way. Needful things were robbed from me which drove me to seek God. I began living for Him and striving for perfection. Life has not been easier, but I have been able to approach difficult situations the right way and that's by losing myself and trusting in God.

Adam Bernard: How do you feel relating those experiences to others will help them?
Theory Hazit: It's common sense. If you see something wrong, you make it right. That is why my messages are so elementary, so people can relate and have hope. Tomorrow is not promised. We as a people need to stop being lazy and take care of our responsibilities and help our neighbors who are in need.

Adam Bernard: You named your album Extra Credit, which implies you're doing more than necessary. Was that the point in naming the album that, and if so, what do you feel you're doing that's going above and beyond what most feel is necessary?
Theory Hazit: Doing more than required is a part of it. There's also the angle of taking pride in something and then lying or fronting for props. It all started with my previous records, Necrology 101 & Necrology 102. Necrology is basically the study of death. I presented that to help myself and listeners appreciate life. To become dead to the world and speak life… in the words of the legendary Roots Crew, never do what they do.

Adam Bernard: Finally, if you could affect one change in the world what would it be and why?
Theory Hazit: Cease the battle over Israel. As long as that continues, the world will remain chaotic and at war.

For more Theory Hazit check out TheoryHazit.com, myspace.com/theoryhazit and HipHopisMusic.com.

Labels: Artists Of The Week
posted by Adam Bernard @ 7:47 AM

Hip-Hop's Failed Personality Test
Friday, June 22, 2007

Every year I'm asked to do a year end top ten list for at least one website or publication (last year it was three), so I've taken to keeping a running count of which albums I like as the year goes on. Being that it's the end of June I figure it's a good time to check in and see how things are going in 2007. Half a year in I have some not so shocking news to report; there are less quality Hip-Hop albums being released than ever. Last year I had nearly 50 albums to choose from at year's end for my "Best Of" lists, as of right now I have a total of 17 with only two coming from major labels. I've been bringing this up with the rappers I've been interviewing the past few weeks and both Bonecrusher and Twista had some very interesting things to say on the subject.

First off, we're not running low on albums, in one week earlier this month I received 31 CDs in the mail, we're just running low on good albums. Heck, I'd even go as far as to say we're running low on mediocre albums. Bonecrusher sees this and feels it's all about labels following the wrong trends. He explains, "the thing about labels that we've forgotten, labels and us that's in the industry, we follow trends sometimes that don't work, but we just keep doing em because they give us a little money. Why don't people follow the trend of Outkast? They sold more records than anybody in Hip-Hop history, but people don't follow that trend. You know why? Because a lot of people can't do that. They can't do the Michael Jackson type of music, they can't do the Gnarls Barkley kind of music and they really shouldn't be doing it. There are other jobs in this music industry."

Twista notes that one trend that could be followed that isn't is that of the original style of emceeing which involved the artist's personality shining first, before the music. "It was them and then it was 'their music is dope,'" he explains, "now it's 'their music is dope' and 'oh, who was that?'" This new way of creating music has birthed a lot of songs, and a lot of CDs, but not a lot of stars and zero quality. When the beat comes first it's going to appeal to a lower common denominator as GZA pointed out on "Triumph" when he said "the dumb are mostly intrigued by the drum."

Bonecrusher agrees that personalities are not shining through and it's gotten to the point where he feels "they don't have stars anymore. Half these guys, I can't even remember em, they could walk down the street, you could have just interviewed them, the next week you walk right past them and you don't remember em. This is not good. I still remember Anita Baker. I still remember Michael Jackson. I still remember Patti LaBelle. I still remember Duran Duran. I still remember The Police. I don't remember the guy that came out four weeks ago. That's real bad."

The 80's were an interesting time for music as we had our fair share of real superstars, some of whom Bonecrusher mentioned, but also a large amount of one hit wonders, proving that the industry can handle both at once. Today one could argue that there are no real superstars, no artists that we'll all remember twenty years from now like we do Michael Jackson or Duran Duran. The issues of following the wrong trends and putting the music before the lyrics are two of the problems that have led to the current climate in music, but there's also the glaringly obvious point that there are simply too many CDs being released.

Hip-Hop, and music in general, used to be a much more exclusive art form. Twista points out "at first there may have been only seven rappers coming out in a particular year, now you have seventeen hundred rappers coming out in a year." Revisiting the 31 CDs I received a few weeks ago, the total number that I liked can be counted on one hand. The number I'll remember at the end of the year, well, if I remember one of them I'll be happy. I took a listen to all of them, but much like Bonecrusher said would happen, I don't remember the vast majority of them, or who did them. Until artists focus on their identities and creating better music, and the labels figure out they can make more money if they trim their rosters and let artists develop a little more, this is the climate we'll be stuck in, and what was once the job of the labels, to trudge through the sea of horrible music to find the gems, is now the job of the listener.



Labels: Music Commentary
posted by Adam Bernard @ 7:46 AM

Parade Goers Told To March To Jail
Wednesday, June 20, 2007

New York City's Puerto Rican Day Parade has always been swarmed with its fair share of controversy. It turned into a grope-fest in 2000 when some young men became overly aggressive with the women in the crowd, but rather than try to address such issues tactfully, and perhaps arrest the people actually doing the wrong things, the NYPD went out this year and just started arresting everyone. Over 200 people ended up being taken in by the police and Reign, a former Artist of the Week here at Adam's World, was one of those unfortunate parade goers that ended up locked up for what seemed to be simply showing up.

Reign's Puerto Rican Day Parade experience never ended up actually involving the parade. According to Reign, after he made his way to NYC from Long Island with a group of friends and started walking up the parade route he immediately saw a group of older men in Puerto Rico t-shirts "pushing some younger dudes around." Before he and his friends could find out what was going on the older men had Reign and his friends in zip cuffs (which are basically thick cable ties). The men in the t-shirts turned out to be undercover cops and Reign was told he and his friends were going to be charged with Unlawful Assembly and Disorderly Conduct, which came as a surprise to everyone since "Unlawful Assembly" sure sounded like an odd charge for people at a city sanctioned parade.

Due to the high volume of arrests that day Reign ended up having to spend a night in jail before getting to see a lawyer or a judge. When he did finally see a lawyer at 10am the next day he was given some news he didn't take well. "He told me they were willing to drop the charge of Unlawful Assembly if I pled guilty to Disorderly Conduct." Reign would have nothing of that, knowing he didn't do anything wrong he wasn't about to plead guilty to something just to please the system. To add insult to injury after he pled not guilty and was given an August trial date he found out the property clerk was conveniently off that day. Calling back on the 12th, as he wasn't about to make the long trip in from Long Island again without knowing his stuff was available to him, he was told he wouldn't get his things back until the 15th, five full days after the arrest.

The most distressing aspect of all of this for Reign is approaching his son about what happened. Trying to teach a child respect for authority when authority does this to his own family is a tricky matter. Reign admits "I actually was trying to keep him from knowing about it, but he found out from hearing conversations I had with others. I really don't want to him to be influenced by my opinion on things and my likes and dislikes. I've been fucked with by police before so I tend to have a negative outlook on them, but yet in still, I don't want him to feel a certain way because I do. But when shit like this happens, how do I explain it in a truthful yet positive way? The police fucked up, but I feel this is deeper than that because they were given orders from higher places and that is the real root of the problem."

Reign feels the parade was clearly a target as it's the largest gathering of Hispanics NYC has, but adds there is larger issue at hand here. "You would think in 2007, in America, people would be acting more precautious and tolerant of other's beliefs and religions, but this just goes to show you that no matter what you have, do, or are in life, you can be discriminated upon and subjected to the mercies of the system, whether you like it or not."

When Reign's case goes to trial in August we'll have the full report for you here at Adam's World. Currently he can be reached at myspace.com/supremereign and his work can be viewed at DefSounds.com.



Labels: Culture
posted by Adam Bernard @ 7:52 AM

Artist Of The Week - Circle 13
Monday, June 18, 2007

Many bright eyed teenagers envision themselves marrying their high school sweethearts, having kids, and living happily ever after. Very few add creating a Hip-Hop album with their significant other to that list, but that's exactly what Brent Brehony and Crista Carroll did. Starting off dating as teenagers the Santa Barbra, California duo got married, had a child and created Circle 13, a musical project that is giving them a voice in Hip-Hop. Both had been heavily involved in music while living in the LA area before they decided to start this endeavor, Brehony even spent two years at the Musicians Institute in Hollywood. With the release of Come Feel This Brehony and Carroll are hoping their unique voice will have a chance at being heard. This week I'm sitting down with them to talk about Circle 13, what the name means to them, and what their unique cover art (pictured above) represents.

Adam Bernard: Right off the bat your album cover is different from any other I've ever seen in Hip-Hop, it's a reverse telling of the creation story from Genesis. What prompted you to do this for your cover and what meaning does it hold?
Crista Carroll: I think it was just an idea I had and Brent ran with it. He was very brave to do that, I think, and to be on the cover like that. But I think it was just because our whole thing was inspired by the idea of don't believe everything you read, look a little deeper into what we've been told, make your own story. Also, we're doing this as equals and we were being a little bit silly. I wanted it to be Saturday Night Live so it would feel as though we weren't taking ourselves too seriously.
Brent Brehony: And even though it's a religious thing it's not meant to be like a strict religious theme, it's more of a metaphor of just question everything as well as don't take yourself too seriously.

Adam Bernard: You don't hear of a lot of white married couples creating Hip-Hop albums. How did this project come to fruition?
Brent Brehony: From work I've been, for seven years now, doing Hip-Hop solo stuff and I've just recorded tons of tracks on my own as well as produced a lot of Hip-Hop in the studio so I've been into that forever, that's where the Hip-Hop comes from and she gives the alternative sense to it.
Crista Carroll: We have a very strong rock background, Hip-Hop is still pretty new for me. When Brent had the studio in LA rappers just came to him, so that was a big turning point.
Brent Brehony: I'd always liked it as far as listening to it but I was never really involved in it musically until seven years back. Our studio just started getting tons of Hip-Hoppers and most of our business was Hip-Hop, they just were coming to us and we produced so much of it that naturally it was easy to start doing it myself.

Adam Bernard: I noticed you included the lyrics to all the songs in the CD booklet, a rarity in Hip-Hop today. What led to this decision?
Crista Carroll: That's our story.
Brent Brehony: And if we were going to put out an album really wanted to do a complete album. Nobody really does full albums with all artwork and everything so it was like if we're going to do it let's do a full thing. For me, I like it. I like to look at lyrics when I get an album. I think albums kind of lack the whole inside, the guts of it. Another thing is that in the past people can think one word is different and that changes the whole concept for them and it's kind of nice to be able to go back and read it. Pretty much everything I write comes out with some kind of subtle metaphors, so I would say every lyric, even the stuff that's personal, or the stuff that's about my son, the stuff that's about the world, I'd like them to hear everything. I think people will think it's a little different, trying to talk about real things but keep it also so you can also have fun and dance to it.

Adam Bernard: Why did you choose Circle 13 as your name?
Crista Carroll: First off all there's the 13 songs and Brent's lucky number is 13.
Brent Brehony: My birthday's the 13th so it's always been a powerful number for me where everybody else has the fear of 13.
Crista Carroll: And then the circle part, I had really wanted to leave LA when I'd had a baby and come back home. We moved home with family and when we came back up here Brent had started writing. This is where he started so he'd kind of come full circle.

Adam Bernard: Finally, what are you goals for the album? Is there a "next level" for you two in regards to your music?
Brent Brehony: Definitely. We want to do at least one more album with this project. I think each of us have other projects we'd like to do but we'd definitely like to do another album like this. I think the next project may take it a little more, I wouldn't say worldly, but taking on different issues, but it will definitely be Hip-Hop and the same vibe as far as musically. The goal for this record is just to hit as big as we can with it as far as getting fans.
Crista Carroll: And we want to touch people's hearts and connect with their hearts so that they can find something inside themselves to reach deeper and stretch further for themselves. And I think that the genre needed a push in a different direction anyway.
Brent Brehony: That's our goal, too. My goal is I want to be able to be on all the stations because there are a few songs out there that are on both sides of the coin so maybe we can give a little new fresh stuff to Hip-Hop.

For more Circle 13 check out Circle13music.com and myspace.com/circle13music.

Labels: Artists Of The Week
posted by Adam Bernard @ 7:45 AM

Angelina and the Disappearing Interview
Friday, June 15, 2007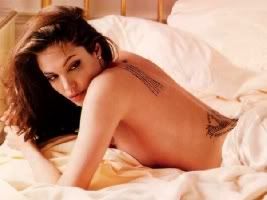 In the world of celebrities versus celebrity journalists there has been an ongoing war since the beginning of time when it comes to intrusiveness. Some celebs deal with it by revealing absolutely everything so as to make journalists unable to get a scoop, other are more measured in what information they'll dole out. A lot of celebs refuse to speak about their personal lives, which can make for a very boring interview. Others reveal just enough to make life interesting. Angelina Jolie, someone who, from an onlooker's standpoint, has nothing to hide pulled a jerk move the other day when she limited not only who could ask her questions, but what questions could be asked. Does the woman who does more charity work than actual work and adopts kids as a hobby feels she has something to hide? (Well, she did have an affair with a married man, let's not forget Brad Pitt was still with Jennifer Aniston when they first hooked up) What makes this especially odd is that the movie she's pimping right now, A Mighty Heart, is about the freedom of the press. Jolie's not the first celeb to pull this kind of a move, however. In fact, I've had to deal with this a number of times.

The first instance of an entertainer being a diva about an interview with me came way back when Prodigy and Jay-Z were having their high profile beef. The year was 2001 and during Hot97's Summer Jam Jay debuted a song ripping into Prodigy. To go with the song Jigga also put up an old picture of Prodigy in a tutu from when he was a child. Originally I was on Prodigy's side on this battle. He'd stood up for New York during the east coast – west coast battle when Jay sat silent despite being dissed by numerous rappers. What happened with the interview we had set up, however, really soured me on the Mobb Deep member.

The Summer Jam incident had just happened and Mobb Deep were preparing to release their next album. Rumor had it there would be a diss track aimed at Jay-Z on it and I was salivating at the prospect of snagging and interview that would get me noticed by the major magazines. I received a phone call a few hours before the interview saying they'd be running late. Even though I had a 9-5 at the time and was trying to squeeze in the interview I was fine with it. When their PR person called back a second time things became bad. I was told that Prodigy didn't want to speak about the Jay-Z beef and only wanted to talk about the new Mobb Deep album. I pointed out there was supposedly a diss track on the album, so it should still be fair game. His PR person replied that if I asked about anything Jay-Z related at all Prodigy would just hang up on me. My first thought was, I'm a journalist, not a groupie and this kind of nonsense wasn't going to fly with me. I even said to the PR person that Prodigy beefing with Jay-Z is a story, Mobb Deep releasing an album isn't, in fact it's downright boring. The PR person became understandably snippy, noting that it was his way or no interview and I replied I no longer wanted the interview.

My second incident with an entertainer asking for me to hold back on questions was Lil' Kim. It was 2003 and Kim was readying La Bella Donna. This was well before the queen bee was sent up north and she should have been in a good mood. Maybe she was, but her PR person insisted that I not ask about the plastic surgery that had altered the queen of Junior Mafia over the years, saying she's tired of answering those questions and feels she doesn't have anything else to say on the topic. Really? Then how come she's sporting a nose that makes Michael Jackson's attempts at reinvention look conservative? It would only be a few years later that 50 Cent would note "thought Lil' Kim was hot till she started fuckin with her nose," on "Love Me" off of the 8 Mile Soundtrack. I was more than a little annoyed, but unlike the Prodigy interview the Kim interview was a guaranteed cover story for a local magazine I was working for so I begrudgingly relented. I'm proud to say that I still managed to sneak in a few tough questions about how her lyrics affect kids.

In the end the only people these entertainers are hurting when they pull the old "don't ask me about XYZ" move is themselves. They end up limiting their press and what press they do end up with is boring and usually skipped over due to a lack of any real information being in it. Worst of all is that when an entertainer tries to limit what the press can ask them it ends up making me angry, and you don't want to be around when I hulk up, it can be one scary scene!
posted by Adam Bernard @ 7:49 AM

A Diary of Adventures in Weekend Revelry
Wednesday, June 13, 2007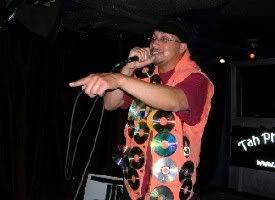 Thursday – Thursday night I hit the city for M3rd, a show put on at Club Midway by visual artist Demostina, who also happens to be featured in the current issue of Foam in an article written by yours truly (pick it up!). There were half a dozen visual artists in the house displaying their work (Demostina, Conscious, Crystal Clarity, ALX, Sylvia and Jari), and live performances from Tah Phrum Duh Bush (pictured above) and 3rd Party. The evening started off slowly, but that was to be expected since the start time was 7pm. I, however, appreciated the early start time because, like the old man I am, I plan my trips to the city in reverse, attempting to figure out which train be able to take home. With this show ending at 11pm I had a chance of catching a train at a decent hour (at least for me).

I arrived at the club with an issue of Foam in hand for Demostina, which she appreciated, said what's up to all the people I knew and met the few that I didn't. As the night moved on the club filled up and I was scurrying around attempting to get people to sign up for my email list. Tah, who is a master networker, made this even easier by bringing me up on stage, holding up an issue of Foam and telling everyone they needed to sign my list. That's one of the things that we love about Tah, if he supports what you're doing he'll be 100% in your corner, and I, as well as the many others he backs, wholeheartedly appreciate his efforts (so buy his album, or at least visit his site). After the show I made the conscious decision (no pun intended) to tell Tah about the book I'm writing. I did this knowing full well I would have to get it done once I told him or I'd never hear the end of it. Call it added motivation.

Oh yeah, and then there were the performances. 3rd Party tore it down with a collection of songs we knew and a few we didn't, closing with a nice freestyle session. Tah rocked the house with his time on stage, bringing out costume changes, props and even showing off a little athleticism during his performance of "Lay The Pipe." He, like 3rd Party, finished with a freestyle session, accepting anything from the audience as something to rhyme about. Once the show was over and the place cleared out I walked to my train with Conscious and Rabbi Darkside (of 3rd Party) and made it home and into my bed at around 3am after a great night. This was one of my favorite events in a long time for both networking and personal enjoyment. I dug everyone I met, enjoyed all the performances, and the atmosphere was perfect. You can check out my pics from M3rd at Imagestation.

Friday – Dual rarities occurred on Friday, my radio show was bumped for baseball (OK, so that's technically not a rarity, but work with me here) and Style Factory was moved from their normal Saturday slot at The Knitting Factory to a Friday date. Less than 24 hours after coming into the city on Thursday I was right back there again on Friday. This installment of Style Factory would feature Mindspray (of course), as well as one of my local favorites from Connecticut, Sketch Tha Cataclysm. The lineup rounded out with Shit Kid Movement, Swordplay, and Stranger Day w/ Haji P. Doing some live art during the performances was Walker Fee, a fellow Mets fan and really fantastic artist. I bought one of the pieces he created during the night after the show.

The performances were enjoyable, as always, and I saw plenty of old friends. More and more when I go to events in the city where I know at least one of the performers I seem to end up knowing a good chunk of the crowd, as well. Back in the day when I'd go to shows my goal would be to meet everybody. Now it seems, especially with my writing expanding to art, fashion and men's and women's magazines, the roles have become reversed and the few people I don't know are now looking to meet me. It's a nice change, and yes, I know I sound a bit egotistical and self-involved when I say that, but if I didn't recognize that I was moving forward what would be the point in doing anything?

Friday night ended with Ill Spokinn taking home the Whose Rhyme Is It Anyway title, and me getting to bed at around 4:30am. The weekend wasn't over, however, I still had an event to make an appearance at on Saturday.

Saturday - Going from dual rarities to dual birthdays, on Saturday I made my way to a birthday party that was celebrating not one but two people's birthdays. Arriving with a friend at around 10:30pm the vast majority of the crowd was already pretty drunk. Since I wasn't drinking I knew this would be a short stay. When it comes to parties there isn't much that ranks lower for the enjoyment factor than seeing people fall down drunk when you're completely sober, it makes you realize some of the ridiculous things you've done in your life. In addition to that fact, the women at the party were, for the most part, fake tanned clones of each other, which is very unappealing to the stone cold sober. My friend and I said our hellos to everyone we knew and left after about 90 minutes or so to hit the beach and play some Frisbee with her brand new light up Aerobie until around 1:30am.

So in the end it was one weekend with very little sleep that was completely worth it.
posted by Adam Bernard @ 7:49 AM

A.O.T.W. – Propaganda Anonymous
Monday, June 11, 2007

Born on Long Island to two Irish immigrants, Propaganda Anonymous' story isn't your typical Hip-Hop tale. Heavily influenced by the Beastie Boys and the Fat Boys, Propaganda would begin going to live shows, including everything from raves to Drum and Bass events, during his high school years. It was during those thump heavy nights that Propaganda would begin to hone his style. He remembers "I learned some things about MCing from watching TC Islam rock shows." It was a move away from New York, however, that really drew Propaganda to Hip-Hop. Though NYC is considered the Mecca of the culture, Propaganda saw an amazing scene in, of all places, Hawaii, when he moved there in 2001. "Most parties would represent all the elements of Hip-Hop," he explains, "to this day the best breakers that I've seen are from Hawaii." Now back in New York, Propaganda is a member of the Brooklyn based Mindspray crew and has recently released his solo debut. Today I'm sitting down with him as part of my Artist Of The Week (A.O.T.W.) series to discuss his work, the meaning behind his name, and what kind of propaganda he's looking to spread.

Adam Bernard: You have a very interesting name. Why did you choose to call yourself Propaganda Anonymous?
Propaganda Anonymous: The definition of Propaganda is "information, ideas, or rumors deliberately spread widely to help or harm a person, group, movement, institution, nation, etc." When it comes to the written word some things that appeal to me are irony and satire, so one take on the MC moniker is through that lens. By calling myself Propaganda I think that some people do a double take and want to ask questions. That's what I like and I'd like to see people asking more questions about everything. Another approach to the handle is basically a statement that since World War II the world has been engulfed with more and more types of propaganda, from every corner. An interesting thing about propaganda is that it's one of those things that a group of people might accuse another group of using, yet they will strongly defend their right to say that they don't use propaganda themselves. Propaganda is a form of communication that doesn't seem very liberating. Those who use it seek to strongly control the outcome of their techniques. They don't seem to leave a lot of room open for the unknown within their formula. These techniques, couple with breakthroughs that scientists are making about how the brain works, are used to control people's desires, etc. The same information about brain research can potentially help more and more people live better lives. Unfortunately, today there are more assholes around who are trying to make money from underestimating the intelligence of the American people than people who will take the same info and seek to help others gain more understanding of how their mind's work. Propaganda has increased even more with the use of the internet. Today one can log on to a site and receive a whole bunch of information that has not been tested and essentially they are ingesting Propaganda sent forth from an Anonymous source. So that Propaganda is Anonymous. I'm seeking to bring some awareness to this whole situation by choosing this name. Plus, I'm going to start a 12 Step program for those that have been brainwashed. Ha ha!

Adam Bernard: When it comes to the information that you're spreading, what are some of the subjects that are most important to you and how do you look to get them across to the listener?
Propaganda Anonymous: For your mind I got the whole Propaganda Anonymous concept, so even when you're not listening to my music you can chomp on some of those thoughts that will pop up in your brain when you put those two words next to each other. I also love looking at how people communicate with each other. What does it all mean? Ya know. I think that communication has bred some of the most amazing accomplishments in human history. It's necessary, it shows that we are not alone in this world, and through communicating we are connected to others. So, for whatever reasons, there are those that have fucked with or slanted the realms of good communication with facades and hidden agendas. These people spread misinformation, disinformation and propaganda. These are the people who I've declared war on. Those that seek to keep people faking communication and fronting like commercials are real exchanges between humans. On some straight music jawny I'm basically working to make myself the best MC I can be, which means learning how to properly rock a crowd, keep their attention and focus on the show at hand. I also seek to be as honest as possible in my music. I want my headphone bangers to stick with you, and my hyphy shit to be super hype.

Adam Bernard: You recently released a solo EP. How does your solo work differ from your work with the Mindspray crew?
Propaganda Anonymous: My solo shit is different because I can get more development going in my songs. With Mindspray I get, at most, 16 bars to get a cool message across, and the lyrics needing to be cohesive with the rest of the band. It's like putting together a jigsaw puzzle. Good stuff gets done with the right amount of patience.

Adam Bernard: What are the rewards of doing something solo vs. the rewards of doing something in a group atmosphere?
Propaganda Anonymous: The biggest reward I've found in doing my solo stuff vs. the collective approach is basically having more room for self-expression. I have many ideas of my own that I don't need anyone else around me to get across. That's the cool thing with Mindspray. We can all stand alone as solo MCs, so when we come together, shit is dope. With my solo stuff I just have more mobility. So long as I have a car, gas money, and a CD of my beats I can go to Atlanta, Cali, Oregon, wherever, and do my thing, see old friends and keep it moving. Of course my live show isn't as involved as Mindspray's. One reason why I keep working with Mindspray is that it's just so fucking interesting. We are an organized group of individuals. Then we have our extended fam, we're all Mindspray. Sometimes I like just watching, how all our personalities interact.

Adam Bernard: Finally, what do you feel separates you most from the litany of other MCs out there?
Propaganda Anonymous: What separates me from a good amount of other MCs that I've heard is that I have gotten to a point where I feel like I've found my voice and flow. That has taken some work. I feel that in order to get to your own inner voice into words that others understand you have to work through your influences. So rapping wise, I feel like I've worked through my influences. You might hear some of them from time to time when I rhyme, but when I spit, you'll also hear Propanon, my own voice, point blank. I think that's the real mission if you want to be a writer, or artist in any form, find your voice first and stay focused on real expression of self, then people will listen. It takes work and time and endurance to let a voice find life. The more work you do, the greater weight your words will have.

For more Propaganda Anonymous check out myspace.com/propagandaanonymous and mindsprayhiphop.com.

Labels: Artists Of The Week
posted by Adam Bernard @ 7:49 AM

Red Grant – From DC With Laughs
Friday, June 08, 2007

Red Grant's face is instantly recognizable to many thanks to his numerous appearances on ComicView and Def Comedy Jam. The Washington DC native is currently on the road hosting The Pimp Chronicles II Tour, which stars Katt Williams, Luenell from Borat and Melanie Comarcho, and he's just been picked up to do a cameo in Ice Cube's upcoming move, First Sunday. This week I caught up with Red to discuss his comedy, why he'd never scrap with a gay guy (but did once with an officer's son), the platform he'd run on for president, and in what way he's just like Jennifer Aniston.

Adam Bernard: Start me off with some background info. How did you get into comedy?
Red Grant: I started in the game because I got thrown out of school. I used to play football at Savannah State University and I got into a little trouble for fighting and stuff like that and when I got sent home at 19 I started telling jokes. A friend of mine named Big Rob was like you need to really tell some jokes man, because you're the funniest dude at the house parties. Six months later I was found by this guy named Bob Sumner who was the producer of Def Comedy Jam, so I've been doing comedy on TV since I was like 19 ½ years old. It kinda seemed like God had a plan for me. After Def Comedy Jam I got hired by Teen Summit to be a New York correspondent and from there I just started staying on TV.

Adam Bernard: Being so young when you received your first shot on TV, did any one comedian take you under their wing or guide you?
Red Grant: Donnell Rawlings was the one who helped me get in the game. Me and Donnell used to hang like every day, he was the first person who really taught me how to expand my jokes into a whole nother level. I give him big props. He really gave me some of my first opportunities in comedy.

Adam Bernard: You're from DC, so tell me which presidential nominee you feel would make for the best comedy?
Red Grant: All of them can be clowned to me. This is the only nation in the world where the issues for every person on the campaign are the same. Nobody talks about the poor kids in the neighborhood. Nobody talks about the real things that are happening. They always talk about the same things; war, abortion, religion, war again, and gay marriage. I mean c'mon, are those the only issues we're dealing with in America? Somebody needs to come and really talk about some real stuff like why am I paying $3.95 for gas and why are my kids not getting a good education and why can you spend trillions of dollars for war but you can't give each individual in America a million dollars? If you think about it there are enough people in America that the government could give everybody in the country a million dollars to take care of em.

Adam Bernard: If you ran a campaign based on your "million dollars to every American" idea I'm pretty sure you could win an election.
Red Grant: I think I could. I mean, shucks, I would vote for somebody telling me they were going to give me a million dollars.

Adam Bernard: You know what the messed up thing would be, you still wouldn't get 100% of the vote, even saying you'd give everyone a million dollars. Someone would be like "he supports gay marriage, we can't vote for him. Forget that guy!"
Red Grant: Yeah. "He said gays should be in the army!" I don't even know why people are trippin over gays in the military because you gotta be tough to be gay. Gay people are probably the toughest people in America. Let them fight. Have you ever fought a gay dude before? I have. And I had to fight hard. If you see gay people now they're in the best shape of their lives. I work out four days a week and I'm strong as hell and I don't even want to fight them.

Adam Bernard: You were kicked out of school, so I'm assuming you've done some crazy things in your life, but I'm wondering, what do you feel is the single dumbest thing you've ever done?
Red Grant: I fought a police officer's son once. His father showed up with all these policemen and before they took me to jail they roughed me up real bad. I think they were just trying to scare me, I was so young. I was like 14 years old and I boxed for seven years, so I thought I could beat everybody. They had a lot of backup and I couldn't win. Before they put me in the police car they gave me a serious wedgie, that was like the worst shit in the world. I've been in so much trouble I'm just glad I'm telling jokes right now because it's gotten me out of a lot of situations. It's changed my whole demeanor. I guess God has a sense of humor and He said if you're going to be in trouble I'll make you tell jokes to people and make people laugh.

Adam Bernard: You also have a few movie credits, including Leprechaun in the Hood. I've actually seen that movie, so you have to tell me how you ended up in it.
Red Grant: It's a crazy story how I got involved in that movie. I used to have a roommate, I won't mention his name, and he was also a comedian, he came home one day and was like "they sent me out on this Leprechaun in the Hood audition. Man if they call you for that don't go out for that audition, man." I guess he didn't do well. The next day, lo and behold, they called me. I do my thing and about a week later they called me back and I saw all these guys who were auditioning but none of them were auditioning for the same part as I was. I walked in the room and it was Ice-T and the director and they said we like you and we want you to be in this movie. I was like alright, cool. It was as simple as that. That was the first movie that I really starred in, where I got some shine, so it was good working on that movie, it's a ghetto classic. People keep asking me "how was it to work with the leprechaun" and I'm like, he's magically delicious.

Adam Bernard: And Jennifer Aniston got her start in The Leprechaun, so you're continuing the tradition of success for people who've starred in Leprechaun films.
Red Grant: I'm hoping that's true because she has a great career. They keep saying that I'm about to be something in life, so that's a good thing.

Adam Bernard: You've also done some TV production work. What shows would everyone recognize that you had a hand in?
Red Grant: I used to work for BET Special Projects in DC, so a lot of BET shows like 21 Questions, Spring Bling, The Lobby. We also had our hands in a lot of pilots like and we created seven shows for the network, three of em were like number one shows so I'm kind of proud of that. We produce films, also, like Family Reunion: The Movie, I wrote and directed that. We got some other stuff coming up with now like You Talkin Bout Me? It's a project that we got coming out in September. We have my new television show, Red's Head, that we're gonna produce. It's about all the stuff that goes on in my head and my head is crazy. It's gonna be a mix of In Living Color with some Jackass with some Dave Chappelle type stuff going on.

Adam Bernard: What's your overall goal when you produce shows?
Red Grant: I think my real goal is not to wait for people. I don't like to wait for people to produce anything for me or put me in anything so I like to keep it going and produce my own stuff because I feel like I'm always creating enough to do that. So my goal is really to just let Hollywood know that nobody has to wait for me, I have a certain audience that likes me and I'ma sell to that audience.

Adam Bernard: Anything else you'd like to add?
Red Grant: Basically I'd like to let people know that there's a new breed of comedy and it's comin at em hard. We're taking crowns off of heads, but we don't want to be the kings. Hopefully the older cats in the game will respect that and if they don't they gotta go head up with us and we're tough.

For more Red Grant check out redgrant.com and myspace.com/redgrantcomedy.



Labels: Entertainment Features
posted by Adam Bernard @ 7:49 AM

What About Your Friends?
Wednesday, June 06, 2007

Two things that most people wouldn't think connect in any way shape or form happened over the weekend. Paris Hilton went to jail and I bought a new (used) video game (I never buy new-new games). All of you are probably thinking, that's great Adam, but what on earth do those two things have to do with each other? Well, after looking through literally hundreds of video games and finding only a handful that were two player I realized something, the act of playing a video game has become like Paris Hilton's jail time, a solitary activity, and in the case of video games, to quote The Critic, "it stinks!"

When purchasing a new (used) video game there are a few important things I look for. First it has to be fun. I'm not down with any of this player's manual nonsense. If I can't figure it out with just the instruction booklet, or less, it probably isn't going to be very fun. Second, I make sure the game has a two player feature. Back in the day almost every game was two player because we'd all get together to play. I mentioned this to the guy behind the desk at EB Games and he gave me a slightly depressed look of "yeah, I know how you're feeling" and told me the kids today are all about the online play. So in 2007 kids have traded in having real friends for playing against DorkOverlord89, and video game companies, rather than encouraging kids to make actual friends, are forgoing the two player option for most games (sports games being a noted exception) in favor of linking people up online. When the kids who are playing these games go off to college they'll figure out how unappealing they really are. If you can't stay up until four in the morning binge drinking while simply switching who's playing against who with the rest of the people in your dorm (which is something I remember doing with everything from Super Mario Kart to Tekken to the ultimate classic, Tecmo Super Bowl) it's a pretty safe bet the game will gather dust.

Another thing about new video games that I've come to dislike is the realism in game play. Sure, we now have a billion plays for each football game, but it was really much better when we only had four running plays, four passing plays and eight respective defensive plays. Tecmo Super Bowl anyone? Where else could you have a player run out an entire quarter on one play like Bo Jackson was programmed to be able to do, or have any QB have the arm to throw the ball from one end zone to the other? Games lasted a total of ten minutes, at most, and you could play an entire season in a night. It was FUN.

I also remember games like Teenage Mutant Ninja Turtles II and III bringing kids who didn't even know each other together at the arcade because of the four player function. Pop in a few quarters and all of a sudden you were fighting Shredder with some kid you just met that very second. Someone who might turn into a real life friend, but even if he or she didn't they'd at least be more than a screen name. The same could be said for NBA Jam, still one of the best sports games ever made. Multiplayer, and with rules that had very little to do with real life basketball, NBA Jam was a phenomenon when it came out. Then there was Street Fighter II, where kids would be lined up to take on whoever was kicking everyone's ass on that particular day.

Maybe it's a generational thing. Maybe my generation is simply a more fun loving one. Back in college we had our video game systems, people crowded around my place when I had the old 8-Bit NES up and working, there's just something about the classics, but even with the then new systems, Sony Playstation and N64, the games of choice were Bond, Super Mario Kart, Twisted Metal 2 and Madden, because we could play against each other. I don't see kids today having those options thanks to the supposed glory of online play.

We've had a shift in human activity over the years and it's a shift for the worse. Kids are being encouraged to sit at home and be online rather than focusing on making friends and interacting with real people. In the end this will hurt them greatly as their social skills will be stunted to new lows. The ability to interact with other human beings is the single most important aspect of living in society, if one can't do that they really can't do anything. So for the sake of the future let's get the kids some two player games, or at least break out a Monopoly board for them, you have to have real people around to play that.
posted by Adam Bernard @ 7:53 AM

Artist Of The Week – Amir Sulaiman
Monday, June 04, 2007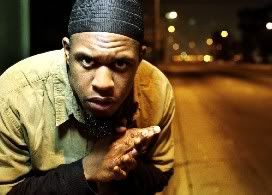 Great athletes oftentimes have their actions described as poetry in motion. A fitting description for emcee Amir Sulaiman's work might be poetry in rhythm as he's been creating his own unique brand of Hip-Hop since 1996. He debuted with the a capella album Cornerstore Folklore in 2001, following it up with Dead Man Walking, Broad Daylight and the just released Like A Thief In The Night. He's appeared on Def Poetry Jam twice, once in 2004 and again in 2005, and was on the Breed Love Odyssey Tour last year with Mos Def, Talib Kweli, Pharoahe Monch and K-Naan. This week I caught up with Amir to talk about the development of his style, how his Muslim faith plays a role in his work, and what type of rappers he feels are a waste of time.

Adam Bernard: Your rhyme style seems deeply rooted in poetry. When did you first get into poetry and at what point did you make the transition from poetry to Hip-Hop?
Amir Sulaiman: Actually I was emceeing before I was doing a capella poetry. And I don't really think the poetry is separate from Hip-Hop, it kind of gets convoluted when we start talking about genres, but for the sake of the conversation when I was doing a lot of Hip-Hop I never went real overboard with the gangster thing, or on the real big drug thing, or the women / pimp / hoes thing, but it got to a point, even as a young man, I started to feel kind of silly that the main focus of my art was just about how dope I am. I'm so this that and such and such, and all the metaphors and similes and all the poetic devices I was choosing were really all just creative ways to say that I'm better than you. I thought to myself I don't really talk like that in real life, I don't meet people and say I'm better than you and these are the reasons why, and I would listen to some of the people who were even my favorites at the time and I would say this person spent their whole career, like four or five albums, and the thesis, the opus, the meaning of what they've written is an argument on why they're better than everyone else, and I thought that was kind of silly. So I thought to myself what do you really think about? What really is on my mind for real? When I started to write that it started to come out a little differently, the rhyme scheme and the manner in which I did it, and I started doing it a capella. It wasn't a conscious thing like OK I'm gonna start writing poetry now, it was a little more subtle than that.

Adam Bernard: What were some of the obstacles you had to overcome when you changed your style?
Amir Sulaiman: It wasn't a big deal because I was just an amateur that was going to open mics and what not, so I didn't have any obstacles, there was no one who was really just hating because of it, it was just a matter of me going to these poetry spots. The first thing was when I started going to these poetry spots my rhyme schemes were so sophisticated because I was used to rapping that they were all really impressed, like wow this is crazy. It was new and fresh to them, so it was always very welcome. It was real cool. There was a time for a while, I made like a commitment to myself, really almost like a spiritual commitment, where I said I don't want to spend my whole life writing about just being silly, and I'm Muslim and Islam doesn't really congratulate egos, just like most religions they're not really big on boosting the ego and to make a career of it. At first I didn't know what else to write, I really didn't know how to write anything else, so there was a real lull in my creativity. Slowly but surely it became more comfortable and now on this album, Like A Thief In The Night, I have some things that are kind of in that vein, but they're coming from a different place, they're coming more from a place. Like these rappers who really think they're something like oh I'm a big important person, I'm like you're a waste of time. Some of that stuff came back out, some of the not necessarily ego driven stuff but me speaking to MCs in a way that MCs speak to MCs, some of that came back. I felt like some ideas and some types of people need to be checked and put in their place a little bit. That's not the general theme of the album, though, the general theme is dealing with social issues, introverted issues, dealing with the self and things like that.

Adam Bernard: Talk to me about some of that content. What were some of the ideas you were looking to get across?
Amir Sulaiman: When I was writing the album I didn't have a clear mission, like I'm going to write an album about this. The album before was about revolution and death before dishonor, a martyr's opus type thing. This one is more about life's victory and entertaining the possibility of victory in real life and for human beings to enjoy real life instead of this simulated, suffocating, destructive, toxic type of environment that we live in now. So there was a transition for myself and there was a big artistic transition because I've dealt with music in a different manner on this album than I have on any other album. I was creating songs which I didn't do as much before. At first I was just doing a capella poetry, then I was doing poetry accompanied by music and now I'm creating poetry in song structure with choruses and bridges and hooks.

Adam Bernard: What do you feel needs to be done in order to get messages such as yours into the mainstream?
Amir Sulaiman: You need to be dope. That's it, really. I think if it's powerful and it's magnetic then the people will come to it, but any other means to it I think is kind of superficial and it doesn't really fit in the culture of Hip-Hop. The culture of Hip-Hop doesn't function by way of censorship. Like this whole situation with Don Imus and Snoop Dogg and Oprah, you're not gonna be able to censor Hip-Hop, it just doesn't work like that. There has to be some sort of internal mechanism in the culture that accepts things or rejects thing, so if the Hip-Hop culture says this thing is unacceptable then it will stop because it's unacceptable, but Hip-Hop was built out of rebellion, even myself, I'll say I don't like these types of things but I can't you can't say that anymore, Hip-Hop was build on saying things that you can't say. NWA's whole catalogue, Public Enemy's whole catalogue, was built on things that are not culturally acceptable. So if you want to change what Hip-Hop is doing create music and create content that is magnetic enough, that is powerful enough, that earns the ears of the people. There's no free position in Hip-Hop, you have to earn it.

Adam Bernard: Finally, if you could affect one change in the world through your music what would it be and why?
Amir Sulaiman: That the irresistible reality that God is one, because, in short, if there's a firm understanding, a knowledge, the knowing that God is one and that conversely that there's only one God, it will remove fear from the hearts of the people because they'll know that all power has a source and the different tentacles of power are not as powerful as its force, so there will be no fear in the hearts of the people concerning tyrants and oppressors. Similarly, there will be no hope for the people except for hope in the goodness, which is God. So the people will not fear tyrants and their fearlessness will be rooted in hope, in an irresistible, indestructible hope, hope that's not hinging on a character like a hero. They may love that hero but they know that the beauty and the power and the inspiration they find in this hero has a source and that they fall in love their source and that source cannot be destroyed, it neither has a beginning nor an end, so they become hopeful and they become fearless and they become patient and they become grateful and this leads to excellent human life. That's the chief objective of really everything I do.

For more on Amir Sulaiman check him out at amirsulaiman.com and myspace.com/amirsulaiman.

Labels: Artists Of The Week
posted by Adam Bernard @ 7:49 AM

The Definition of the Brown Paper Bag
Friday, June 01, 2007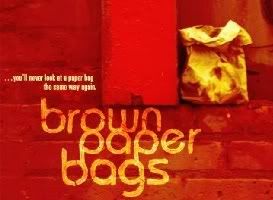 By the end of summer Ephraim Benton feels the youth of America will be singing along to DJ Khalid's "Brown Paper Bags," a song that is set to be the second single off of Khalid's upcoming sophomore effort, We The Best. Benton enjoys the song, he just wishes someone involved with it would give him some credit for coming up with the idea. You see, Benton is the writer, director, and star of the award winning short film Brown Paper Bags, which has been making its way around the music industry since early January thanks to his heavy networking. The film recently took home the award for Short Film of the Month at DJ Ralph McDaniels' onfumes.com (where it can still be viewed in the Shorts section) and will also be shown at the upcoming San Francisco Black Film Festival later this month. Yesterday I sat down with Benton to find out more about the film, the concept behind it, and his want to network, rather than start any static, with DJ Khalid.

Adam Bernard: Talk to me about Brown Paper Bags and what gave you the idea for the film.
Ephraim Benton: Brown Paper Bags is a concept piece about the many resourceful things you can do with a brown paper bag and at the same time how it can be used as a social barrier in the black community. That's the overall idea that I came up with. One night back in October I went to sleep and had dreams of a brown paper bag and I was just wrestling with my thoughts while I was sleeping and when I woke up I had a whole idea of how to flip the script and I just started writing. By the end of the day I had a whole short film. Then I just asked my girlfriend for what else I could add to this brown paper bag theory as far as how to flip it and she gave me one or two other resourceful ways to use it and she also gave me this book where it dealt with the social perspectives of the brown paper bag within the black community called Our Kind of People and that was the icing on the cake. Next thing you know I called up my friends like yo I have an ill piece I would like to shoot, let's get together and make it happen.

Adam Bernard: You mentioned the way a brown paper bag can represent a social barrier in the black community. Without giving away the movie can you explain that further?
Ephraim Benton: The whole brown paper bag theory came from slavery, light skinned versus dark skinned people, and even to this day you can see the conflict. During the civil rights movement a lot of the light skinned African-Americans would blend in more so with high society, the upper class. They were upper class black people, and they would look down upon a black person with a darker skin tone just to blend in more with white society and get into white social events. Also, it was used as a way of separating the two and separating themselves from society.

Adam Bernard: Now there's a song out, the DJ Khalid song, called "Brown Paper Bags." Did you have any contact with him or any of the artists on the song?
Ephraim Benton: No.

Adam Bernard: What are your feelings on the song? Do you think someone caught a viewing of your movie?
Ephraim Benton: I wouldn't necessarily say they caught a view of the movie, even though I'm somewhat in the industry and I go around to different parties and I hand celebrities screeners, but I've been getting a lot of press as of late, ever since I put it out back in January. I was featured in Rap Fanatic Magazine and that was all the way back in March. Fabolous and Trick Daddy were on the cover, so that's the whole Miami connection, New York thing. I got a whole page spread and it definitely bigs up the movie so I'm feeling that they kind of got a whiff of that and just ran with in, which in all actuality is a good thing, but the only thing is I just want recognition. I know it's definitely a great song and I feel that it's gonna be a major hit, I just want recognition for something that I feel I created. I just want to be acknowledged for it.

Adam Bernard: If they haven't shot a video yet would you be open to them using parts of your movie in the video?
Ephraim Benton: Of course. I'm definitely open to all possibilities to even promote it more, to co-promote it, I think it would be a fabulous thing and it would be cool if we can somehow be a part of that video, or if the song can be used somehow in a way to promote the movie.

Adam Bernard: What else are you working on right now?
Ephraim Benton: Right now I'm working on two shorts that I'm about to shoot. One is called Three Quarters of Face Value, I just had the casting the other day and it turned out cool. I have a powerful cast to go along with a powerful script. That film deals with a young man who faces three big tragedies in his life and it forces him to grow up as a man and take on responsibilities. The character, his name is Dante, which I play, he was how a lot of youth are, not really knowing what he wanted to do, just taking life as a game and not taking it seriously, and these horrific tragedies just wake him up and it's either you take the easy way out or you step up and grow up. That's the message I'm trying to give off in that one. I have another one which is called Fictitious and this is very major, I think it will grab even more attention because it deals with what we're going through now, what the youth are faced with as far as these wannabe rappers and gangsters. They're watching this whole façade on television and trying to emulate rappers and others they see on TV, but that's just a made up character. The youth aren't trying to be themselves and who they really are, they don't have a sense of what's right or what's wrong. The film deals with that and subliminally calls out the types of people that are portraying that lifestyle.

Adam Bernard: Finally, what is your overall goal for your work?
Ephraim Benton: I'm an actor. I've been an aspiring actor for the last 13 years. I've been in Baby Boy, Chappelle's Show, Law and Order, The Sopranos, there are a lot of things I have credits on, but I just decided it's coming to a point where the industry is so stagnant, and it's so hard to get in, that you have to do it yourself, so I'm applying the whole independent record label strategy to the film game because all in all entertainment is entertainment. So I'm just trying to make things happen that way and get out there by any means necessary and take on different roles, even behind the camera and wear the producer, director and writer hats because if you're trying to make a name for yourself in this business you definitely have to do multiple things.

For more on Ephriam Benton and his work check out myspace.com/blackberetfilms and imdb.com. The trailer for Brown Paper Bags can be seen on YouTube.



Labels: Entertainment Features
posted by Adam Bernard @ 7:51 AM