Vid Pick: I:Scintilla – Carmena Saturna
Friday, August 31, 2018

Not an electronica band, not a metal band, not a synth pop band, and not a trip-hop or electro band – I:Scintilla is all of these types of bands combined.

For 15 years Chicago's I:Scintilla (pronounced "eye-sin-til-uh") have been weaving a myriad of musical genres together to create their own unique sound. Led by frontwoman Brittany Bindrim, the band will be releasing Swayed, their first new album in four years, on September 21st via Alfa Matrix. The first single off the album is "Carmena Saturna," the video for which is an incredible visual onslaught of images that will have you clicking "replay" numerous times to both take it all in, and to make sure your eyes weren't deceiving you.

Wanting to know more, I caught up with Brindrim to find out about the band's new music, as well as their city's scene, and the artists she'd love to have dinner with, and in one case join at the bar for a shot of whiskey.

You directed and edited the video for "Carmena Saturna," which has some crazy imagery flashing before the viewers' eyes. What were your inspirations for the clip, and how do you feel it represents the song?

The lyrics to "Carmena Saturna" are about the ephemeral nature of memories and relationships, as well as the struggle to stay grounded in reality in the chaotic, fast-paced modern society.

In the video I tried to capture that overwhelming feeling of overstimulation that comes with being bombarded with an endless daily deluge of information and imagery supplied by social media, advertising, and other sources.

We are often force-fed these little snippets of information and given outrageous headlines without seeking them out or delving deeper into understanding their meaning. It's quite disorienting. Using the flashes of imagery in the video, I hoped that this would convey that sense of confusion and overload.

"Carmen Saturna" is off of your upcoming album, Swayed, which will be your first new release in four years. What went on during those years that helped shape your music?

We felt it necessary to take some time to recharge and get some perspective on where we wanted to go next musically, but we never stopped writing during those four years.

All of us had a lot going on in our lives during that time – marriage, loss, travel, tech startups, etc. – all of which gave us new perspectives, and inspired our songwriting.

In addition to life events, our lineup has changed a bit. Alongside Jim Cookas (guitar, synthesizer), Vince Grech (drums), and myself, we welcomed Dean Dunakin (bass) and Myles Arwine (guitar) to the I:Scintilla fam. They have helped us with the evolution of our sound, which you will definitely hear on the new album coming in September.



At any point did you feel like you had a deadline, like you HAD to get something out, or was the writing and recording process more relaxed?

On Swayed our writing and recording process was much more relaxed. We took our time developing the songs, and didn't rush anything.

We also changed the way we wrote and recorded with this album.

In the past, Jim and I would work together to turn song ideas into demos that would eventually be worked into final recordings. For this record, several of the songs came to life with the band in our rehearsal space. One of us would bring an idea, and we would all riff off of that, or we would just write fluidly and see what came to life out of the ether. We found it very refreshing.

We also changed the method of recording. We had the pleasure of working with producer Greg Panciera (Sylvia Massy, Alessandro Cortini of Nine Inch Nails, Dave Bianco), and we couldn't be happier with the results.

What also sets this album apart from our previous material is that we recorded acoustic bass, guitar, and drums at Shirk Studios here in Chicago. The live room recordings definitely gives the album a fuller, more refined sound.

In this internet age – yes, I sound a thousand years old saying that – how do you balance the seemingly almost compulsory need to be in everyone's face at all times, with the need to take part in your creative process?

Self-promotion can be tough to navigate at times, and often feels unnatural, but social media has leveled the playing field for bands and musicians to get their music out there without the need for major record labels.

I sometimes feel adverse to changes towards the in-your-face promotion methods, and oversharing, yet managing social media accounts comes somewhat naturally to me.

I think musicians need to hold on to the balance of maintaining their privacy while being open and engaging with fans.



What was the most memorable moment from the writing and/or recording process for Swayed?

I think my favorite moments of writing the album were working on the title track, "Swayed," when the whole song really came together.

For this track, Jim had come up with some really spooky synths and programming, and I had a song seedling I had written that I thought would work perfectly, so we started there. During the breakdown of the song I tracked vocals using a SM58 (microphone) with some creepy vocal effects, and I riffed stream of consciousness.

That initial recording was used in the final track.

We are really happy with the final outcome of the song, and see it is a harbinger of our sound moving forward.

Aside from that, we had a blast mixing the album with Greg Panciera. We not only learned a lot from those sessions, they were full of laughs, wine, insight, gas, cat adoration, and takeout.

You've done some touring over the years. I'm wondering, during your time on the road, what's the closest you've come to getting arrested without actually getting arrested? Every band has at least one interesting tour story.

We, luckily, haven't come that close to being arrested, but being a touring band traveling in a van tugging a trailer we've been pulled over several times for absolutely no reason at all. We were only guilty of "driving while band." (Because of this) we've been subject to roadside interrogations, van searches, and canine unit inspections … but everyone kept their drugs and sawed-off shotguns at home, thankfully.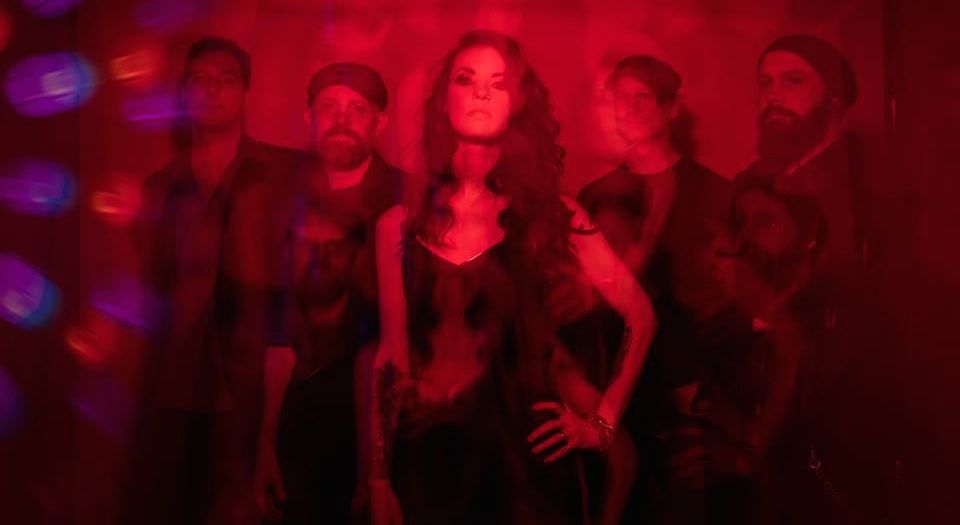 What's one thing about your scene that you absolutely love, and what's one thing about your scene that you'd absolutely love to change?

We love Chicago. The one thing I love most about the music scene is how inclusive it is. Bands here typically aren't cliquey, for the most part. Musicians tend to help each other out, and band together. If someone needs to borrow a trailer for a quick weekend jaunt, someone will loan theirs out without the bat of an eye. Need a contact for that venue you want to play? They'll reach out to the booker for you. Need someone to do a quick remix for a release? They have your back.

One thing I would like to change about the Chicago scene would be the trend of historical venues and clubs closing down. It's always tragic to see iconic places close down such as the Double Door, or Neo. At the same time, there are some fantastic new venues like Sleeping Village popping up in their place.

Finally, if you could have dinner with any four musicians, living or deceased, who would they be, and why?

My dinner party guests would be Chris Cornell of Soundgarden, Diamanda Galas, Saul Williams, and Lemmy Kilmister of Motörhead.

Chris Cornell, because he probably was the biggest influence for me vocally, and how cool would it be to be able to hear tour stories, and get the chance to ask where his inspiration came from?

Diamanda Galas would also bring some hard-edged wit, and fascinating discussions, to the table.

Saul Williams, because I would love to pick his brain on poetry and politics.

Lastly, I'd have an after dinner shot of whiskey and party with Lemmy Kilmister, because … well do I really need to explain why? It's Lemmy.

For more I:Scintilla check out iscintilla.com, and follow them on Facebook, Twitter, and Instagram.



Labels: Vid Picks
posted by Adam Bernard @ 7:00 AM