Stacking The Deck with Tatiana DeMaria
Friday, August 24, 2018

Stacking The Deck is a feature exclusive to Adam's World where I bring packs of 1991 Pro Set Superstars MusiCards to artists, and we discuss who they find in each pack.

Way back in 2009 I was covering a Warped Tour date on Long Island when I happened across an artist going by the name TAT who was rocking out with her guitar. I really liked what I heard.

TAT, it would turn out, is London-based alt-rock artist Tatiana DeMaria, who, now going by her own name, was back at Warped Tour this year, closing out the night at Jones Beach with a solo set that featured mood lighting, and music that was equally packed with power and emotion.




I caught up with DeMaria before her set to open up some packs of MusiCards, and the artists we found sparked conversations about near encounters with the Queen of England, cutting school to watch MTV, and the concept of gender in music.




Ozzy Osbourne


I grew up and listened to a bunch of Black Sabbath, and one day I was hired to play guitar for Ozzy Osbourne, for the Queen, for the Royal variety show.

That was cool. I must have been about 17 at the time.

So you were 17, playing with Ozzy, for the Queen?

No, I was hired to do that, and I got paid to do that, but the problem is Ozzy, very sadly, had his quad-biking accident, and hurt his neck, right before that. So the day before we were supposed to get together and rehearse, which was just a few days before we were to play for the Queen, it was cancelled.

What level of heartbreak was that for you?

It wasn't heartbreak. If a guy hurts his neck because of his quad-bike, and is injured, I just hope that he gets better. I'll do other fun things in life, I hope, but it was certainly something that would have been fun.

Future invites from the Queen are still coming, hopefully.

I remember I was about three years old, and I was in the car with my parents, and they said, "Do you want to go meet the Queen?" and I couldn't be bothered to get out of the car. I was like, "No, not really." Anyway, we have a framed picture in the house of my sister meeting the Queen. I was too fucking lazy, apparently, to get out of the car.

So you're 0-2.

Yeah. I really am. One day. One day, Elizabeth, you and I are gonna meet.

I'm sure she's a frequent reader of indie music sites.

She is. She's a massive Tatiana DeMaria fan.




Run-DMC


I just remember the first time I heard "Walk This Way," and the first time I saw the video. I was off school, and MTV was still big, MTV was actually playing music videos, and I would call in sick to school just so I could stay home and watch videos on MTV, and my mom was awesome, she would let me.

I remember when that came on I just thought it was the coolest thing, and it made me feel so alive. I remember sitting there, I remember the room and the tiny TV, and just watching it. You'd have to sit, watch MTV, and wait for it to come all the way back around again. I also did that with Green Day's "When I Come Around." I used to just sit there and watch TV, and be like "OK, bring the video back. Bring the video back."

Tell me more about your mom letting you skip school to watch MTV, because this seems like every child's dream in the '80s and '90s.

Well, she didn't do it to let me watch TV. She's wonderful, she's an amazing mom, but she grew up in a school that she didn't really love, and she had asthma a lot, so her school experience was a bit rough.

So school was there, and it was good, but then she would sort of have her kids back because her teachers were a bit rough on her when she was struggling, and was sick, so with that said even if there was a little bit of snow my mother would be like, "You're not going to school. I'm worried about you. I don't want the bus to crash. You're staying home." So once in a while if the kids wanted to stay home she'd just give us a sneaky day off. It wasn't something she did all the time, just once in a blue moon we'd get to do that.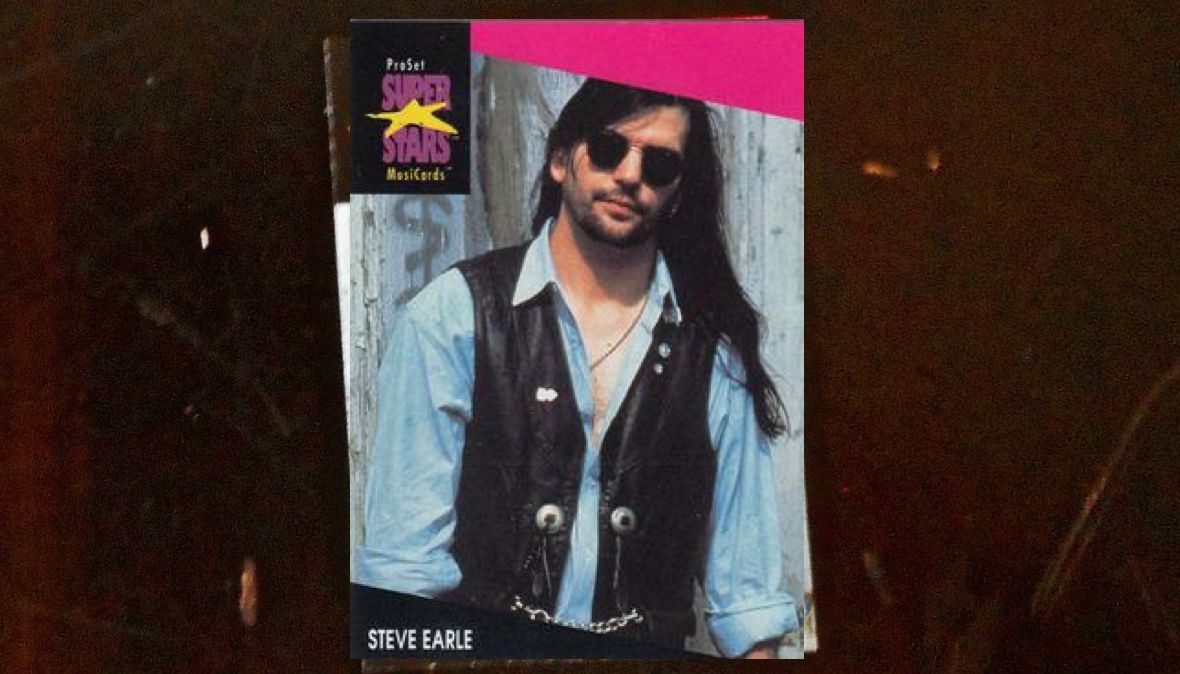 Steve Earle


The first review I ever read about TAT, I think it might have been in Time Out in England, Steve Earle was referenced.

I had never heard of Steve Earle. I had never listened to Steve Earle. I was like, OK.

Did you check out his music after that?

I think at some point I did.

He looks like he's trying to seduce you with his eyes on the back of the card.

Yeah. I think he was trying to put the world to rights.



He's wearing sunglasses on the front, because he's trying to be cool, then on the back he's looking to get you into bed.

You know that PR team sat there and picked those pictures.




Belinda Carlisle


Lead singer of The Go-Go's, super strong woman in music during a time when that was probably a little difficult. You are also a strong woman in music. I was wondering if you have any stories about pushing through some boundaries, breaking barriers, or destroying a glass ceiling.

That's very kind of you. Thank you.

It's funny, I've been asked how it feels to be a woman in music, and what have you experienced, and I think I've probably felt it less in music than I have in life, in terms of whether it's discrimination, or whether it's discomfort, or unease.

I'd like to find the woman who can hashtag #NotMe. It's just the culture we've sort of been raised in, and what it is, and you learn to navigate that at a young age.

In music I've never had to ask for permission. I don't really give a fuck what people think. If I play my guitar, and I play it well, great. If I play it poorly, and you tell me I play it poorly, well that's on me to practice my guitar. I don't take it personally, and I don't think it's about being a woman.

If people say, "You suck because you're a woman," that's a different conversation. I've had that happen once in my life. It wasn't (exactly), "You suck." I played a solo behind my head, it was in Nottingham, and it was years ago. I was a teenager, and some guy said, "You know you're playing that solo behind your head, but no one really cares cuz we're just staring at your tits," and all I could think was alright, well I don't know how often you're getting laid, but you don't have any game, and that was a shit thing to say. I just left it at that.

There were hundreds of other people in the venue that got a kick out of the solo, whether I was a woman or not, so I think, for me, it's important to transcend gender. I don't mean by neutralizing it for myself, all I mean is when you watch a musician on stage, I don't want to watch them and think, "That's a man doing man stuff," or, "That's a woman."

When I watch Michael Jackson I don't think, "That's a man on stage, with his manly sporty man energy." I just think, "There's an artist." When I look at Amy Winehouse I just hear the voice in her music. That's the way I approach music, and that's the way I would like to be approached, as well.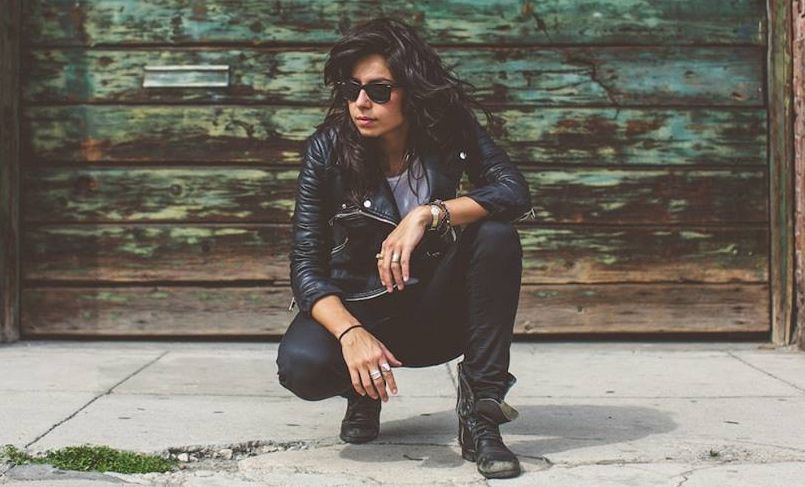 No one can stop me learning to play guitar, no one can stop me writing my music, no one can stop me putting it out there if I want. Thankfully, the internet has made that completely possible.

At the end of the day, people can say what they want. I can choose to take it personally, or not, but the long and short of it is I've never really asked for permission to do what I do, so I've never really felt like there was a ceiling to break. I've also been very lucky to be on Warped Tour a lot, a place where I've received nothing but love and support. I've been surrounded by strong women. Production is a bunch of strong women, so it's been a really supportive tour.

All of my touring life I've felt very supported for the musician that I am, and I don't ever feel that being a woman has gotten in the way. I think in some respects I might be lucky. In other respects I've toured with women who never really carried their gear, didn't really write the songs, just didn't really lend a helping hand, would show up in a dress and sing. I'd go OK, that's cool, you look lovely, but it also does fall into a bit more of a stereotype.

I think you can, as a musician, just do you, and sometimes that doesn't even fall into a stereotype, and you don't have to think about it, or apologize for anything. Just be good. Be good at your sport. Be good at your music. Be good at your photography. Be good at your craft. Talent, I think, trumps everything. There will always be one or two narrow-minded dickheads, but they're the one who are gonna miss out on the talent, so do what the fuck you have to do, make it great, and if people don't want to be a part of it, cool.

People will not want to work with you for a myriad of reasons, and I don't give a fuck what those reasons are. If someone has constructive criticism, cool, I'll go back and look at my songs, and if I agree, it will help me grow. If I don't agree, I'll keep doing what I'm doing and maybe someone will get it. That's how I feel about that.




For more Tatiana DeMaria check out tatianademaria.com, and follow her on Facebook, Twitter, and Instagram.



Labels: Music Interviews, Stacking The Deck
posted by Adam Bernard @ 7:00 AM