Vid Pick: Deux Trois – Late Night Girls
Friday, May 04, 2018

Remember the feeling you had the first time you heard a band like Garbage, or Elastica? That's the exact type of feeling I had the first time I heard Ontario-based indie noise pop trio Deux Trois.

Consisting of Nadia Pacey (drums and vocals), Benjamin Nelson (bass and vocals), and Ben Webb (guitar and vocals), Deux Trois will be releasing their debut EP, Health, on June 8th. The lead single off of the EP is "Late Night Girls," which tackles a few topics not usually covered in pop music, namely internet pornography, and what we, as a people, do while watching it.

I caught up with all three members of Deux Trois to find out more about "Late Night Girls," as well as their thoughts on the perceived taboo of touching oneself, the complexities involved in watching adult films, and the dis-connectivity of internet culture.

"Late Night Girls" is a pop anthem about looking at internet porn. Well, actually, it's about more than just looking at it. With all the openness about sexuality, and sex in general, today, why do you think this particular topic is still viewed as slightly taboo?

B. Nelson: I feel maybe there's a guilt that comes from touching yourself instead of somebody else. 
 
B. Webb: I think the taboo mainly exists due to the fact that sexual education is still heavily overlooked, at least it was in my experience of going through health education in school.

There's a lot of embarrassment and shame surrounding all things sexual, which is a shame since it's something almost all of us do, or want to do.

Nadia: I think the root of the question is, "Is masturbation a controversial topic?" and I found myself lost in a lot of different conclusions about it based on the spectrum of potential experience with talking about masturbation. I'm pretty sure most people in the world consider it a taboo, as much as it might be considered a relatively acceptable topic for some. 

Is the inspiration for the song something you personally went through, or is it something you've seen friends go through, and you wanted to let them know they aren't alone?

Nadia: I have absolutely gone through a time of deep lows like the kind I allude to when I talk about "Late Night Girls." I have felt at a distance, and alienated from social interactions, and done my best to find solace in myself, and in my loneliness, in those times.

I didn't write it to let others know they aren't alone in their own times, but part of music's aspect as an interpretive, individual, subjective experience lends itself to a person feeling a connection with an artist in that way anyway.

I don't think I would have to impress that idea upon someone's experience, or even say that I am there, for them to feel that I have been there, as well. I don't think anyone is alone in wanting, or needing, self-pleasure.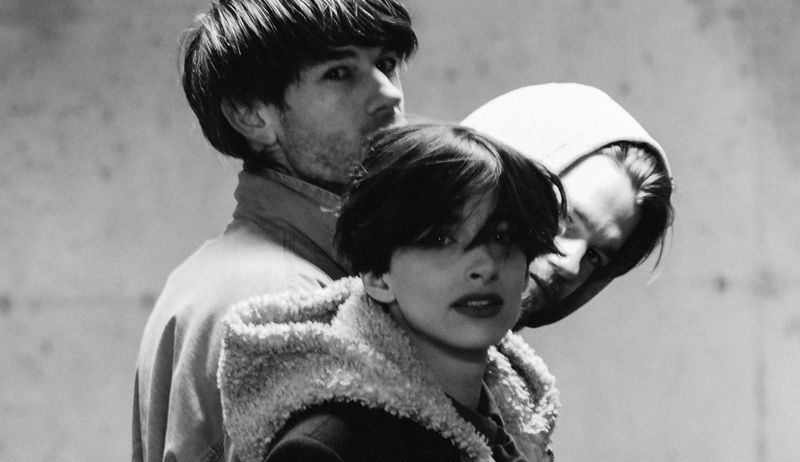 In the email you sent me, you mentioned the song is also about self-care. How does late night sessions on porn sites qualify as self-care, and does that suddenly make many of us way more emotionally aware than we might have imagined?

B. Nelson: It's a selfish act. Ideally the person in the video is not your friend, not somebody you know, just an object. I feel dirty, bad.

When you take down the wall of jerking off, and what you're jerking off to, how that video came to be … it's pretty dark. I don't think it qualifies as self-care. To feel what I'm talking about at least would be empathy – you can pretend that d*ck is yours, but how often do you put yourself in the shoes of the person being viewed? Do you get turned on by sucking a dude's d*ck who is possibly wearing a miner's hard hat with a GoPro camera strapped on it? If that's your thing, then … yeah. You do you. 

B. Webb: Masturbation is great, though. It can relieve stress and tension, it can help you sleep at night, and I find it can help clear the cobwebs in your brain. It's a pretty powerful time-waster. 

Nadia: I don't know, to be honest. Masturbation qualifies as self-care to me, just being with, and in, your body, right. The relationship that we have with porn is part of that conversation, but repressed thoughts/desires, voyeurism, addiction to images of people, and abuse live there, as well.

There's a distinction between the act of masturbation and giving yourself a moment, and what preludes, or confines, that act, socially, mentally, figuratively, symbolically. It's a complex question.

The common claim about the internet is that it connects us, but if that's true, why does it leave so many people so lonely, and looking for those "Late Night Girls"?

Nadia: I might say that being on the internet is like being in a single room, by myself, among millions of other single rooms. When I walk into the hallway, I can see that there are many other rooms surrounding my space, but even though I'm aware of all of those other rooms when I'm in my room, I am still at a great distance from every one of them.

That is lonely.

Each room is a series of photos, or video, or snippets of text. It doesn't mean you're any less mentally or emotionally connected to people, (but) being involved with a computer, and a cloud, would mean, by necessity, that you're physically disconnected from the people around you.

History shows that people would look for those "Late Night Girls" regardless of whether or not we used the internet. The late night girls I am talking about are just one part of a system that perpetuates a two-dimensional version of three-dimensional people. 

B. Webb: I would argue that as much as the internet is globally connecting us as a species, as a collective it is pulling us apart. I don't have to tell you how often you'll be out with friends and almost everyone at the table is scrolling through Instagram, or whatever. I'm guilty of it, too. I'm doing it right now. I just wonder how many people are aware of the divides it's created.

I miss the days of showing up at your friend's house, when even if they weren't home, their family would invite you in to wait, or for dinner. Now people don't even leave the house without a plan.

I also think being constantly in contact with everyone you like is exhausting, absolutely exhausting.



How did the concept for the video come together, and were there any challenges in filming it?

Nadia: The concept was, "The band goes to a party where everyone is on their phones, and looks for something to do." (There's) a lot of potential there with such an open-ended log-line.

Dima (Uchitel, cinematographer) came up with a critical aspect of the concept of the end product – Oil Man, Ghost of the 20th Century. I suggested that Benjamin be a character that shows up in closets. Dima was like, "What if he was just covered in oil?" It was hilarious, so we ran with it. 

B. Webb: The video evolved as the night went on. It was a long night. People were tired, and drunk. Some shots didn't turn out as planned, but as a band, and as friends now, I think we're getting pretty comfortable flying by the seat of our pants. 

The three of you are originally from different bands. What have been some of the early rewards, musically, or otherwise, from working together as Deux Trois?

B. Webb: So far, hands down, one of my favorite things about playing with Nadia on drums is how unrestrained she is. She isn't a typical percussionist, and it makes for a lot of interesting rhythmic textures, and cool beats.

Benjamin on bass likes to take up a lot of space, which allows me to be as weird, or minimal, as I want to be.

We tend to encourage each other to experiment with sound and feels. We're all big fans of straight noise, as well, which has been great for me coming from a punk rhythm-guitar background. 

Nadia: I have been rewarded by the care and love of everyone involved in this project, for this project.

I've learned to play the drums, and respect my instincts.

I'm still learning how to collaborate best. It feels closer all the time. 

B. Webb: We are all out of our comfort zones. I've never been more than a rhythm guitar player hacking at power chords. I think all of us are feeling sort of new. There's a youthful exuberance to it.

B. Nelson: My success was as a drummer in another band. I play the bass in Deux Trois. It's not so far removed from the drums, and gives me a new medium to grow and experiment in. I forgot how great it felt to play an electric instrument. 

For more Deux Trois check them out out on Bandcamp, and follow them on Facebook, Twitter, and Instagram.



Labels: Vid Picks
posted by Adam Bernard @ 7:00 AM