Vid Pick: Crunk Witch – Drive
Friday, March 02, 2018

Maine-based electro-pop duo Crunk Witch have made a number of appearances here since I first saw the twosome back in 2014 when one of their tours made at stop at The Acoustic in Bridgeport, CT (it was a show that also included Ceschi, and Sketch Tha Cataclysm).

On March 5th, Crunk Witch will be releasing their fourth album, a self-titled effort that's led by the single "Drive," and is a bit different from their previous work.

I caught up with the Crunk Witch duo of Brandon Miles and Hannah Colleen to find out more about the album, the single, and how touring has affected their marriage.

"Drive" is a song about an incredibly strong emotion. Tell everyone about this emotion, and your relationship with it.

Hannah: The song is about the overwhelming feeling of falling in love too quickly, and not knowing where you're going to land. It's about embracing uncertainty, and welcoming the ride.

When (Brandon and I) met we were both young, and yet we knew that what we were feeling for each other was real. It was electric, and terrifying, at the same time.

Can you only feel the "Drive" emotion with one person, or is it an infinite resource?

Brandon: It's fairly universal. It's just about letting down your walls and allowing yourself to be open, honest, and vulnerable.

We too often try to control everything that happens to us, when sometimes it's best to just let life happen.

"Drive" is off of your upcoming self-titled album, due out March 5th. After releasing a number of albums, why did you decide now was the right time to have one that's self-titled? Is there a "we found ourselves" story to be told here?

Hannah: Our other albums have been very story based. (They've been) built in fantasy, with maybe the odd line pertaining to an experience of ours. On this record we are the story. Each song is about us, our friends, and our journey since meeting. Even the release date is personal as it's the 11th anniversary of the day we first met.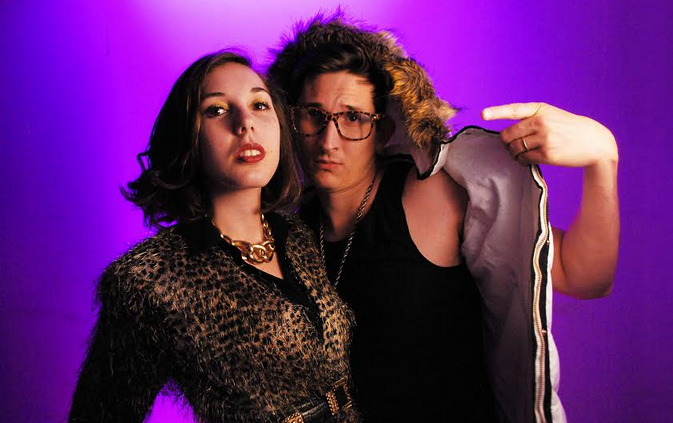 In what ways is "Drive" the perfect introduction to this album?

Brandon: We were pretty nervous about how this album would be received. Would people enjoy the straight forward songwriting? Are the production changes any good? Lots of second guessing. This makes "Drive" the perfect flagship as it talks about doubts, fears, and the courage to overcome them.

You mentioned both the songwriting, and the production. Where do you hear your musical growth the most on the album?

Brandon: We really took our time with these songs. Letting them, essentially, write themselves. The lyrics are more natural, and relatable.

There are some new (musical) genres we branched into that were unfamiliar, but fun to play with.

Other than that, I'm really proud of the technical work I did on this album – production, sound design, mixing, etc. It sounds light years better than any of our previous work.

You'll be touring in support of the album from March 9th through March 27th, including a SXSW show on March 17th. Is it safe to say that touring is the greatest possible test of a marriage?

Hannah: I would say having kids is probably a way harder test, we just haven't taken that road. In fact, we'd say that the band has been more of a marital aid than anything.

Touring has definitely shaped us as a couple. We have learned how to be better to each other in less than optimal situations.

We are each other's allies in health and happiness. I feed Brandon snacks when he's hungry, and he lets me nap for as long as I need.

It reminds us that we are a team, and that we are working towards the same goal.



Do you have anything especially wild planned for your SXSW date?

Brandon: SXSW is always a party, and we are very excited to have been invited back for our third year in a row. We will be bringing a new show, and playing songs from the new album.

We have a few possible tricks up our sleeve, but we don't want to ruin the reveal.

Finally, since the chorus of "Drive" draws an emotional comparison to driving drunk, close out this interview by giving a quick message about drunk driving, for the kids.

Hannah: We had our concerns with making this song, that it would be taken the wrong way. We use the phrase "drunk driving" only as a metaphor for being under the influence of something larger than yourself.

Love is intoxicating, and "Drive" is about losing control, and letting something larger steer your life.

As the last line of the song states, "We don't condone drunk driving." Please find a safe alternative home. There are many options available. Save your life, and someone else's!

For more Crunk Witch, check them out on Bandcamp, Facebook, and Twitter.



Labels: Vid Picks
posted by Adam Bernard @ 7:00 AM