Pop Shots – The False Narrative of #GrammysSoMale
Monday, February 05, 2018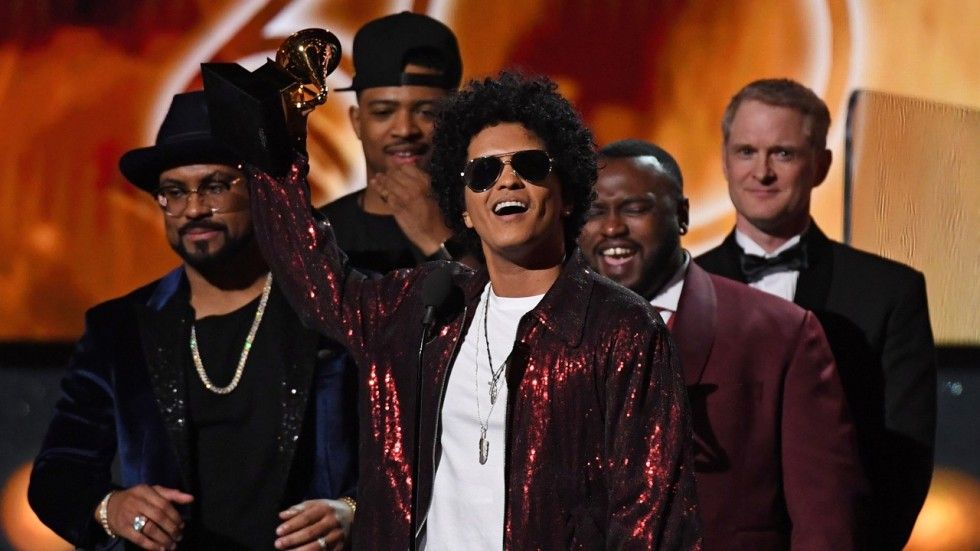 Welcome to your weekly dose of pop world musings. Covering all things pop culture, this week Pop Shots is hitting you with thoughts on the post-Grammys #GrammysSoMale social media explosion, and why it's a false narrative.

A quick recap for those who aren't into social media – after Bruno Mars took home Album of the Year, Song of the Year, and Record of the Year, Twitter blew up with accusations of sexism, leading to the creation of the hashtag #GrammysSoMale. The reaction, however, was more indicative of people's incredibly short attention spans than any sort of sexism at the Grammys.

If people looked back at all they'd see the 2017, and 2016 Album of the Year awards went to female artists (Adele, and Taylor Swift).

Digging a little deeper into recent history, 7 out of the past 12 years the Album of the Year, Song of the Year, and Record of the Year honors have gone to either a female act, or an act that prominently featured a female vocalist and/or songwriter.

Heck even if we're just talking about this year's Grammys, Alessia Cara took home one of the night's biggest honors – Best New Artist – and CeCe Winans took home two awards, to raise her career total to 12. Apparently, since the latter's lady parts weren't televised, they don't count (man, that sentence came out wrong, but you know what I mean).

What's especially interesting about the vitriol directed toward Bruno Mars' wins is that just an hour, or so, before he took home the night's top honor Camila Cabello gave an impassioned speech about immigration that drew a huge reaction.



Bruno Mars is the son of a Filipino immigrant mother, so either Cabello's speech was the only time the audience cared about the dreams of immigrants, or people are so wrapped up in wanting something to fight for/against that they can't keep their causes straight for more than a nanosecond. Speaking of which, has anyone mentioned how #GrammysSoStraight?

Getting back to the subject of #GrammysSoMale – did the Academy president misspeak in a major way when he said female artists need to "step up?" Absolutely. It was an unbelievably stupid thing to say, even in jest, in our current climate of heightened sensitivity to essentially everything. It also simply made no sense to anyone who listens to music.

If you look at my Top 10 albums from this past year, 9 of the 10 albums were by female acts, and at least two of those acts – Halsey, and K.Flay – I felt could've been in line for an Album of the Year nomination.

The Grammys, however, aren't just about nominations, and winning awards. They're also about the performances, which can do just as much – if not more – for sales as a Grammy win.

According to statistics provided by Nielsen Music, the songs performed on this year's show earned a collective 328% gain in download sales in the U.S. on the day of the show. Take a wild guess as to who had some of the biggest jumps in sales? Yup, the women who performed.



Kesha's "Praying" saw a sales increase of over 8,000 units (a 720% increase) – the biggest unit increase of any song performed – and sales of her album Rainbow were up nearly 500 units (289%).

Pink's "Wild Hearts Can't Be Broken" saw a sales spike of over 20,000% (+4,800 units), making it one of the biggest gainers of the night.

SZA's "Broken Clocks" was up 364% (+600 units).

Lady Gaga saw sales boosts to "Joanne" (+41%/+600 units) and "Million Reasons" (+662%/+3,500 units).

These impressive Grammy related sales increases for female artists didn't matter to the #GrammysSoMale crowd, however, because they already had their "-isms" picked out before the ceremony, and performances, and sales numbers, didn't fit into their narrative.

When it came to Album of the Year, Bruno Mars' 24K Magic was up against albums by Childish Gambino, Jay-Z, Kendrick Lamar, and Lorde. Had any of the other men won, it still would have been #GrammysSoMale, and had Lorde won, it would have been #GrammysSoWhite, because she would have taken home the honor over four non-white artists.

What's become clear from all this is that there's a very vocal majority that will only be happy if Beyonce is nominated for everything, and wins everything, every year … even in years when she doesn't release any music.

That's pretty much what all this boils down to, isn't it?

#GrammysSoBeyonce

Folks are going to find a way to be outraged by anyone winning who isn't her.

And with that, my time is up for the week, but I'll be back next week with more shots on all things pop.



Labels: Pop Shots
posted by Adam Bernard @ 7:00 AM