Pop Shots – For Sale
Monday, December 05, 2016

Welcome to your weekly dose of pop world musings. Covering all things pop culture, this week Pop Shots is hitting you with thoughts on everything from Beyonce's holiday marketing push, to Ad-Rock's charitable kicks, to Billy Corgan getting out of the pro wrestling business, and since this is Pop Shots you know everything is seasoned with a little bit of attitude.

* Beyonce has released a bevy of holiday themed Lemonade inspired merchandise. This should come as a surprise to no one, as she's made it clear her favorite "Formation" is an orderly line at the register.

* Desiigner, of "Panda" fame, was cleared of all charges stemming from his September drug and gun arrest. He is now free to continue rapping about drugs and guns.

* Lil Yachty apologized for calling The Notorious B.I.G. "overrated," admitting in an interview, "Until about two weeks ago, I had never listened to a Biggie song." I can't be the only one who thinks that claim sounds a bit … "Unbelievable."




* Calvin Harris took to Twitter last week to ask fans to suggest a new profile picture for him. Personally, I think it would been easier to just wait until Taylor Swift is done writing about him, and use her next album cover as his avatar.

* Ad-Rock, of the Beastie Boys, is teaming with Keep, a Los Angeles vegan apparel company, to create a pair of shoes, with the proceeds from sales going to Planned Parenthood. While this is nice, wouldn't a raincoat be more apropos?

* During an appearance on The Ellen DeGeneres Show, Mariah Carey had a slightly uncomfortable moment when the topic of her split with fiancé James Packer came up. After an awkward exchange with Ellen, Mariah said, "It's kind of difficult to talk about it at the moment, so I'm just going to compliment you on these decorations once again, because they are fabulous, and I'm here." She did not strip down, and offer the audience ice cream. Only Carson Daly gets that honor.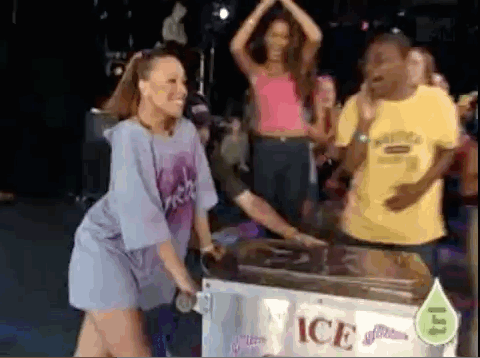 * Niall Horan told the British outlet Sunday People that One Direction will "definitely" reform at some point, saying, "We will be back. We would be silly not to ... ridiculous." If Horan's prediction doesn't come true, I'm sure there's a support group waiting for him that includes every member of NSYNC not named Justin Timberlake.

* According to Spotify, on Friday, November 25th The Weeknd broke the streaming music service's single-day record for plays. As of the writing of this column Spotify hadn't announced the exact number, but being that I can't escape hearing "Starboy" no matter where I go, I have to wonder who these people are who feel the need to stream an artist who's played on every radio station eighty bajillion times per day.

* Little Mix topped the U.K. charts with their latest album, Glory Days, moving 96k combined units, the highest opening week for a British girl group since the Spice Girls had 192k first week sales of Spiceworld back in 1997. With their album being titled Glory Days I expect the entire project to be nothing but Bruce Springsteen covers.




* Billy Corgan resolved his lawsuit against TNA Wrestling, and its parent company Impact Venture, as Anthem Sports & Entertainment Corp., an equity stakeholder in TNA, acquired Corgan's loan to Impact Ventures on undisclosed terms. Sadly, this means we will never get a "Rat In A Cage" match.

* Tove Lo released the latest single off Lady Wood this past week, and it's a "True Disaster." It's also yet another example of why I consider Tove Lo to be one the most underrated artists in pop music today.




And with that, my time is up for the week, but I'll be back next week with more shots on all things pop.



Labels: Pop Shots
posted by Adam Bernard @ 7:00 AM