Pop Shots - Unlikely Battles
Monday, January 05, 2015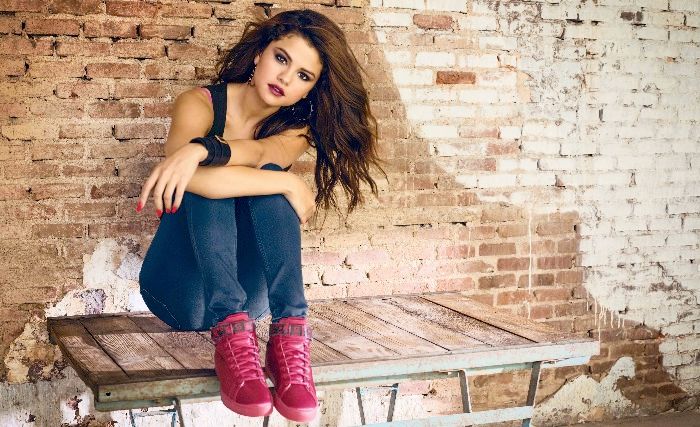 Welcome to your weekly dose of pop world musings. Covering all things pop culture, this week Pop Shots is hitting you with thoughts on everything from Selena Gomez possibly starting a holy war, to Miley Cyrus' fight against clothing, to Christina Aguilera feuding with a guy in a Mickey Mouse costume, and since it's Pop Shots you know everything is seasoned with a little bit of attitude.

* Selena Gomez took a trip to Abu Dhabi with some friends, and accidentally caused a controversy when she visited the Sheikh Zayed Grand Mosque while having her ankles exposed. Although she has since deleted the picture of her visit, this world is a messed up enough place that I don't think it would surprise anyone if the next holy war were to be accidentally sparked a girl who was once on Barney & Friends.

* In what has become almost a weekly occurrence, Miley Cyrus posted another topless picture of herself on Instagram, this time purportedly in support of the Free the Nipple Campaign, which aims to raise awareness about nudity in the United States. Since Miley is clearly using Madonna's playbook from the early 90s, the next thing she has to do is sleep with her generation's Vanilla Ice... or maybe just sleep with Vanilla Ice. I know he has a lot of reality TV shows, but I'm sure he could find time for her. Let's check his knuckles to see his schedule.



* For the third straight year Taylor Swift topped DoSomething.org's "Celebs Gone Good" list, which honors celebrities for their philanthropic efforts. One of the most notable of Swift's charitable efforts this past year was her donating of all the proceeds from the sales of her single "Welcome to New York" to New York City's public schools. If only she could also do something to get rid of Common Core! Perhaps 2015 will be the year we get Swift Core in all our school systems. Make it happen, Taylor.

* Maple Leif Garrett, aka Justin Bieber, and his manager, Scooter Braun, hinted that new music may be on the way from the Canadian pop star in 2015. Upon hearing this news, experts have already deemed 2015 a worse year for music than 2014.

* In an interview with Glamour UK, Jessie J revealed the royalties she received for co-writing Miley Cyrus' "Party In The U.S.A." were quite impressive, saying that they took care of her rent "for, like, three years." So apparently the REAL party was in London, at Jessie J's place.



* Former Mouseketeer Christina Aguilera was reportedly none too kind to her former friend Mickey Mouse during a recent trip to Disney California Adventure Park. According to TMZ, Aguilera, who was celebrating her 34th birthday, became so verbally abusive to a Mickey Mouse character that he had to be brought to a safe zone, and security was called. Aguilera was gone by the time security arrived. We assume she was off attempting to drown Donald Duck in front of a group of schoolchildren.

* Alicia Keys and Swizz Beatz welcomed a new baby boy into the world this past week. Now, I don't want to imply that Keys' star is fading, but raise your hand if you had any idea she was pregnant.

* Beyonce's father, and former manager, Mathew Knowles, held a garage sale where he sold some of his daughter's old merch, including outdated t-shirts, CDs, and concert DVDs. So basically, it was pretty much like every other merch table you see if you're at the final dates of a tour.



* In a story that has the year 2007 very excited, Paramore lead singer Hayley Williams, and longtime boyfriend, New Found Glory guitarist Chad Gilbert, have announced they're engaged. Here's hoping they book the Kevin Says stage at Warped Tour for the wedding.

* Michael Stipe surprised everyone at NYC's Webster Hall last Monday as he appeared as an unannounced opening act for the first of Patti Smith's two shows at the venue. Sadly, he neglected to pick up his religion, which is still in the venue's lost and found.

* Finally, with the college football season coming to a close next Monday, let's give one last listen to Fall Out Boy's "Centuries" with the knowledge that we'll never have to hear it during an ESPN commercial break ever again.




And with that, my time is up for the week, but I'll be back next week with more shots on all things pop.



Labels: Pop Shots
posted by Adam Bernard @ 7:00 AM