Pop Shots - Resistance Is Futile
Monday, November 03, 2014

Welcome to your weekly dose of pop world musings. Covering all things pop culture, this week Pop Shots is hitting you with thoughts on everything from Taylor Swift taking over the world, to Justin Bieber's ability to ruin everything he comes near, to Tove Lo continuing to give us great songs, and since it's Pop Shots you know everything is seasoned with a little bit of attitude.

* Facebook released a study comparing the cultural similarities and differences of Democrats and Republicans using data based on "likes," and what they found was one singer, and only one singer, unites the parties. That singer is Taylor Swift. The logical next step is to get Taylor to run for president. Her breakup song, and cute cat videos, platform clearly already has everyone's vote.

* Speaking of Miss Swift, industry sources are forecasting her latest album, 1989, will sell more than one million copies in its first week. This will make Swift the first artist to have three albums with million selling weeks. Only 19 albums have accomplished the feat since SoundScan began tracking sales in 1991. Let's just start calling her President Swift now. It will make the transition easier when it eventually happens.

* Shakira is partnering with Fisher-Price to launch a line of baby toys, and a web series for moms. This is great news for me, as it provides a reason to post a Shakira video.




* A biography on Beyonce is in the works, and it's set to be released in the fall of 2015. For the sake of Beyonce's fans I hope it's written on a first grade level.

* Metallica will have a weeklong residency on the Late Late Show With Craig Ferguson this month. It's an odd choice for the aging rockers, who will likely have to set an alarm to make it to the show since they usually fall asleep while watching reruns of CSI.

* Maple Leif Garrett (aka Justin Bieber) was in the house for LeBron James' first game back in a Cavs uniform last week. LeBron went on to have the worst game of his career, including turning the ball over eight times. This means Bieber has reached a level where he doesn't just suck, his mere presence makes everything around him suck, as well.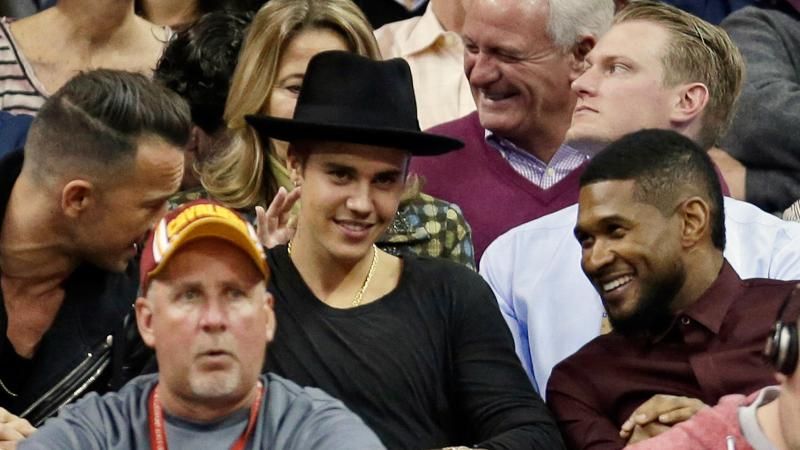 * Demi Lovato is expected to release a new album in 2015. It will serve as a helpful reminder that Demi Lovato still exists.

* Lorde, One Direction, and Fergie, will be headlining this year's American Music Awards. Only one of those acts is American, however, sooo way to stick with the theme of the show, guys.

* Robbie Williams tweeted videos of his wife in labor that included him singing and dancing while she was looking to push out baby #2. My guess is he probably won't think it's so witty if his wife ends up doing something similar if he ever gets a vasectomy.



* Sia offered a jar of her breath for auction at the Adelaide Film Festival's film quiz night charity event in Australia this past Friday. Proceeds supported Adelaide-based filmmakers, and anyone who bid on what was nothing more than a sealed empty jar was a damned fool.

* Tove Lo's "Habits (Stay High)" is currently number three on the Billboard Hot 100, but I want to focus on what's coming up next for her, as the follow up single, "Not On Drugs," is another one of my favorites from her album, Queen Of The Clouds, which is one of the year's best.




And with that, my time is up for the week, but I'll be back next week with more shots on all things pop.



Labels: Pop Shots
posted by Adam Bernard @ 7:00 AM