Pop Shots - We Found Ya!
Monday, September 29, 2014

Welcome to your weekly dose of pop world musings. Covering all things pop culture, this week Pop Shots is hitting you with thoughts on everything from Bieber's upcoming hospital stay, to Kanye's exceptionally eventful club night, to a Spice Girl at the UN, and since it's Pop Shots you know everything is seasoned with a little bit of attitude.

* Maple Leif Garrett (aka Justin Bieber) tweeted that he "busted" an eardrum in a cliff diving accident in LA. I could be wrong, but I'm pretty sure this automatically gives the cliff national landmark status.

* Taylor Swift has once again reminded us that she's pretty awesome. The superstar Instagrammed a photo of herself wearing a t-shirt that read "No It's Becky," a direct reference to an old meme of Swift in a tiara that was accompanied by an anti-marijuana message claiming that the girl in the photo was "Becky," a girl who died from snorting pot. A commenter instantly noted that it was actually Taylor Swift in the pic, and things took off from there. So yes, Taylor Swift Googles herself, and she has a great sense of humor about it.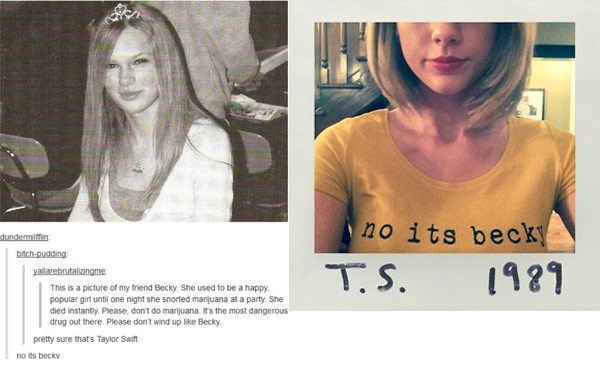 * Theophilus London is making noise that a new Kanye West album has been completed. West executive-produced London's upcoming album, Vibes, and according to the London's tweets and Instagram captions, "I only remember Kanye playing his new album 3 times in a dark room of 20 people last night and moshing drunk with mad babes." This is in stark contrast to when women drunkenly mosh with Cee Lo, as everyone usually wakes up from that with no recollection of anything.

* According to E! News, Jason Derulo and Jordin Sparks have reportedly ended their nearly three year relationship. In response to this, the entire world said, "Those two were dating?"

* In breakup news featuring a couple everybody knew about, Amber Rose filed for divorce from Wiz Khalifa this past week, alleging that the rapper cheated on her. If he did, we can be pretty sure it wasn't with a cheeseburger.



* Victoria "Posh Spice" Beckham has been named a United Nations goodwill ambassador for the organization's program on HIV/AIDS. Her long history of standing around doing nothing makes her a perfect fit for the UN.

* Lana Del Rey announced she'll be playing shows on October 17th and 18th at the Hollywood Forever Cemetery. Some say the venue matches the darkness, and gloom, of her music. I feel it's appropriate because she bores me to death.

* In news that shows exactly where the music industry is right now, internet pornography site PornHub has announced they're launching a record label. This means there's now a level below signing with Pato Music World.



* Hipster clothing store Urban Outfitters is claiming to be "the world's number one vinyl seller." This must come as a huge shock to suppliers of diner booths nationwide.

* This past Friday, Radiohead frontman Thom Yorke released a solo effort titled Tomorrow's Modern Boxes via the file sharing site BitTorrent. The album requires payment, and Yorke and producer Nigel Godrich are calling the entire thing an "experiment." I hope Yorke's next experiment involves creating something I might actually want to listen to.

* Finally, if you're looking for a Robin Thicke / Justin Timberlake replacement, Nick Jonas, yes, Nick Jonas of Jonas Brothers fame, is on his way to being a major player in the world of soul-pop. Check out his latest single, "Jealous," the video for which reminds me of some of the visions I get when I drink expired cough medicine.




And with that, my time is up for the week, but I'll be back next week with more shots on all things pop.



Labels: Pop Shots
posted by Adam Bernard @ 7:00 AM