Demostina Bio
Tuesday, September 17, 2013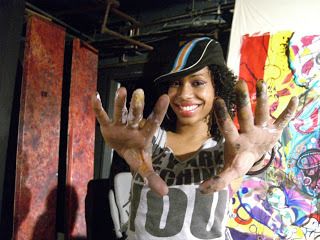 New York City has an impressive lineage of urban artists. Famed graffiti writers of the late 70s and 80s went on to become contemporaries of the great NYC artists of the past, as Keith Haring and Jean-Michael Basquiat are now mentioned alongside the likes of Andy Warhol.

Over the past decade, Demostina has carved out a place for herself amongst those luminaries, and she has two qualities none of them had - a Dominican background, and a feminine touch.

Being Dominican, and being a woman, isn't rare in the city, but it's rare in the city's art community. While growing up in Washington Heights, attending Parsons School of Design as an undergrad, and completing her Master's degree at New York University, Demostina came to notice that majority of her creative influences were male. Her ascendance in the city's art scene has resulted in her breaking quite a few stereotypes, and redefining what it means to be Dominican, and a woman, in New York City.

Part of Demostina's redefinition stems from her unique artistic background, as she has both urban, and classical forms of artistic training in her arsenal. Some might feel forced to make a choice between the two distinct paths, but Demostina chose to build a seamless bridge between them, and work from there.

Often executing her vibrant, surrealistic, works in the form of mixed media, Demostina carefully explores a range of specific subjects and themes with her art, one such theme being the human experience in New York City. She says of her passion for the people of the city, "I often document meaningful quotes from everyday people in my life, or people that I come across in random situations. I find words beautiful, and empowering. There are profound relationships that I have established with so many people, and I bring their quirky, and inspirational, thoughts into my visual realm."

A crowning achievement of Demostina's in this realm has been her illustration series The Female Factor, which examines, and celebrates, the complex nature of women, both physically and spiritually. Her work has also been featured throughout the city at a number of high profile events and galleries including the Howl Festival, the Rio Gallery, the art wall at the Bowery Poetry Club, La Mama Theatre, and the Uptown Arts Stroll.

In addition to her gallery work, Demostina is a pioneer in the live painting scene, where she has created an impressive collection of unique pieces immortalizing some of New York City's most noteworthy independent hip-hop events and stars. She refers to her live art process, which involves painting while musicians are performing, as "a freestyle painting carnival where sound and color run the show." For Demostina it's a marriage made in heaven, as while she was a college student she discovered she has multiple forms of the neurological condition synesthesia.

The form of synesthesia that Demostina has that most affects her work is chromesthesia, which is sound-color synesthesia. This involves sounds triggering colors and shapes in her mind, which, for her, makes live painting at concerts both enjoyable, and exciting. Demostina routinely steps into venues with no preconceived notion of what she's going to paint, and instead allows the music, and nuances of the crowd, dictate where she will go artistically.

Having a talent for live painting, and connections in the independent music world, in 2006 Demostina launched M3rd: Music is a Major Motivator, which celebrates independent music communities both locally and globally via themed artist exhibitions and live music events. Keeping a close eye on hip-hop, dance, and reggae culture, M3rd features themed artwork by Demostina that offers viewers an opportunity to engage in the active documentation of independent music culture.

In addition to her work putting together M3rd's events, Demostina has worked with a number of independent hip-hop artists, including doing album, and promotional, artwork for Homeboy Sandman, Tah Phrum Duh Bush, and Bisco Smith, among others. She also combined on a banner with fellow Latina artist Marthalicia for Mama's Hip-Hop Kitchen in The Bronx during women's history month in 2009.

Up next for Demostina is the creation of her Demogra campaign. Demogra (pronounced Dem-Ah-Gra) is the brand Demostina will be using for all of her artwork. This includes not just her paintings, but also her upcoming jewelry line, which will be for both women and men, her soon to be launched lifestyle blog, and the continuation of M3rd, with Snap Shots of the EMCEE. Snap Shots of the EMCEE will highlight select members of the independent hip-hop community, and, "Through richly mixed colorful textures manifest their essence as portraits."

Demostina has been, and continues to be, a force in New York City's art scene, and her place in it involves both artistic, and philanthropic endeavors, which, for her, operate in unison. This has led Demostina to participate in artist panels, and women's discussion groups, as well as advocating for quality arts education, and working with a number of charitable fundraising auction events. With her success, Demostina is making it so the next young girl growing up in Washington Heights who wants to pick up a paintbrush, and pursue art, will have someone to look up to that bears a much closer resemblance to what she sees in the mirror.

She is urban. She is classical. She is Dominican. She is New York City. She is Demostina, and she's breaking the mold so she can re-create it in an image that represents everything that she is, and everything that she sees.


posted by Adam Bernard @ 7:00 AM