Pop Shots - Status Symbols
Monday, July 29, 2013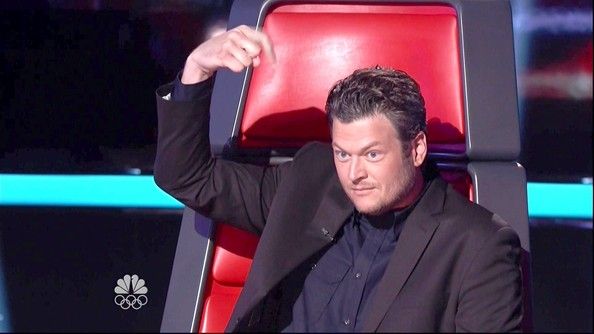 Welcome to your weekly dose of pop world musings. Covering all things pop culture, this week Pop Shots is hitting you with thoughts on everything from Blake Shelton reaching a new career pinnacle, to Bruce Springsteen being bigger than the law, to Lady Gaga choosing quite the stage for her comeback performance, and since it's Pop Shots you know everything is seasoned with a little bit of attitude.

* Blake Shelton finally has a platinum plaque to hang on his wall. The country superstar's 2011 release, Red River Blue, passed the million sales mark this past week, marking the first time a release of Shelton's has reached platinum status. No one knows how he's going to hold the plaque, along with all of his country music awards, to attempt to woo contestants to his team on the next season of The Voice, but make no mistake, if he can find a way, he will.

* Despite video footage of Kanye West assaulting a paparazzi at LAX, and grabbing his camera, Yeezus won't face a charge of felony attempted robbery because, the District Attorney claims, there's no proof. Next up for Kanye is a possible misdemeanor criminal battery prosecution for the incident, but TMZ learned Kanye will pay his way out of that. Personally, I think that's a mistake on his part, as he has an easy defense. How can anyone claim they were assaulted by him? The man lost a fight to a road sign.

* When Bruce Springsteen and The E Street Band finished up their show at the new Leeds Arena in London they were met with parking tickets gracing the trucks that carried their equipment. Apparently they'd parked illegally, outside the designated unloading zone, and the officer on duty ticketed them like he, or she, would anyone else. Leeds City Council quickly revoked the tickets, which just goes to show you the best way to get out of a parking ticket is to be one of the most famous musicians on the face of the earth. Either that, or the Leeds City Council was re-watching The Sopranos and thought Steven Van Zandt might go all Silvio Dante on them if they tried to make the tickets stick.



* Lady Gaga will be making her first post hip surgery performance at this year's MTV VMAs on August 25th. Gaga will be singing the first single off of her upcoming album, ARTPOP, although there is no word on if Sam the Butcher will once again be providing her outfit.

* In more VMA news, MTV is making a bold attempt to destroy any remnant of their past, as in celebration of the 30th anniversary of the VMAs the network hired Brooklyn artist KAWS to change the iconic moonman given to VMA winners. From a historical perspective, this is the equivalent of the network murdering Kurt Loder (oh crap, I hope I didn't just give them an idea. You stay away from the god of MTV News! You hear me, MTV!). Only MTV would look to celebrate their history by making sure as little of it shows as possible.



* A group of ten former American Idol contestants are suing the show for $25 million dollars each, claiming that producers dug up their arrest histories to get them thrown off because of their race. First of all, they have no shot winning this case being that 25% of Idol's winners have been black. Second, David Cook, Kris Allen, and Lee DeWyze would like to have a word with them about how much an American Idol winner makes.

* Puddle of Mudd, a band that could use all the fans it can get, has one less fan this week as their lead singer, Wes Scantlin, has reportedly been very un-Mister Rogers-like with his neighbor, electro-pop singer Sasha Gradiva. His antics have been so bad that Scantlin was thrown in jail last week for allegedly taking a buzz saw, and a sledgehammer, to Gradiva's patio. According to Gradiva, the number of incidents involving Scantlin has reached double digits, which has led to her pursuing a restraining order. On the plus side for Scantlin, at least there isn't much mystery as to why this woman f*ckin hates him.

* Frank Ocean was forced to cancel his sold-out Australian tour after learning he has a tear in one of his vocal cords. If Australia is looking for a replacement I hear Billy Ocean is available, and he'll provide his own ride.




And with that, my time is up for the week, but I'll be back next week with more shots on all things pop.



Labels: Pop Shots
posted by Adam Bernard @ 7:00 AM