The Excitement of a Boregasm
Wednesday, May 15, 2013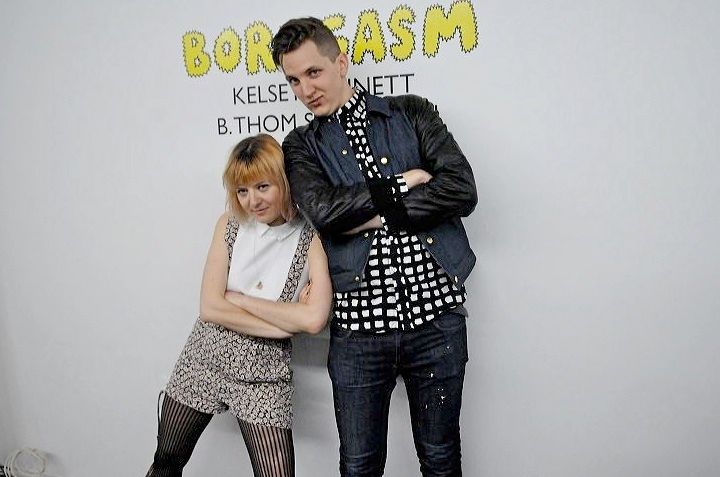 When photographer Kelsey Bennett and fine artist B. Thom Stevenson teamed up they knew they wanted to do something different. That desire turned into the artistic collaborative effort Boregasm, which is running from May 3rd through May 16th at Fig.19 Gallery in NYC. Concurrently, Bennett also has another project, The Honeymoon Phase, running at DKRM Gallery in LA through June 1st.

I caught up with both Bennett and Stevenson at Fig.19 to find out more about their collaboration, and while art was discussed, there was also plenty on 90s pop culture, rebuking sexual advances in Spanish, and lullabies from Naughty By Nature.

Adam Bernard: First of all, I love the Mallrats reference (Boregasm).
Kelsey Bennett: Yes, I'm so glad you picked up on that. That was like a childhood obsession. She (Tricia Jones) was the study of the prowess of 90s male sexuality. Me and my sister used to watch that all the time. Jason Lee in that movie... I love him. I was like, yes!
B. Thom Stevenson: That's funny, because that's a skateboard reference at the same time, because (Lee) was a professional skateboarder. We grew up in that. That's the 90s. Nothing we do can keep the 90s out of what we do.
Kelsey: I feel like no matter what we do there will always be 90s references. It was really funny because a lot of these (pieces), well most of them, Brian used screen printing, and when I was at his studio there was a yin yang he was gonna use and I was like "that's too 90s." He was like "who cares, everybody loves the 90s."

Adam: A yin yang. A little T&C Surf?
B. Thom: T&C Surf Designs. That was the best video game ever. It was like the first skateboard game that you could ollie in, and I didn't figure out you could ollie in that game until like years later. All the characters were like monkeys and tribesman.

Adam: Kelsey, you have this exhibit, Boregasm, in NYC, and The Honeymoon Phase in LA. How are you managing to literally be in two places at once?
Kelsey: It's been a lot of work, but there's nothing I'd rather be doing than throwing two shows, one east coast, one west coast. It is a lot of running around. I'm doing a lot of the curating for the west coast and the east coast, but collaborating on this has made this so much calmer for me, just the fact that we've been doing everything together. This is the first time that I've done a collaborative show in this way, and Brian's a fine artist.
B. Thom: Most of the time.
Kelsey: I usually do straight up portraits, so this is my first show that I consider fine art, which is exciting for me.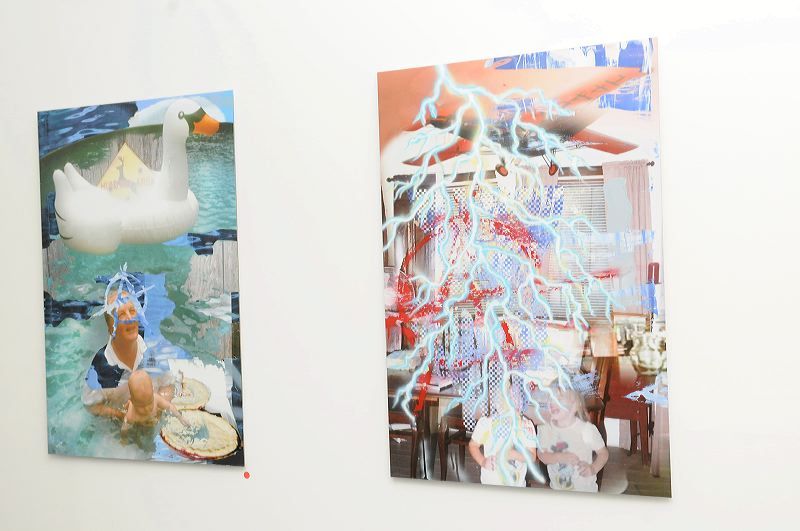 Adam: With Boregasm being a collaborative effort, what do you feel is the common thread that links all of these images together?
B. Thom: I would say duality. Everything has this parallel. I did everything twice on it, she did everything twice...
Kelsey: I guess the word I would use is explosiveness. Brian was saying the other day, which I thought was hilarious, that a lot of the images look like something you might see outside of a pharmacy. Remember those weird pictures of a kid being spoon-fed banana pudding, or something? It takes this very normal, mundane (image), and makes it really explosive, and when you have a collaboration, especially between two people like myself and Brian, I think no matter what it's going to be explosive. We have very scattered minds, but they're focused.
B. Thom: It's funny the things we choose to focus on, too. The idea of Boregasm is that you do something so many times, over and over and over again, that you start to get used to it. Like me with painting, and her with photography, you get to a point where you're like "I want to do something different," and that's what we did.
Kelsey: The collaboration allowed us to go someplace that we wouldn't individually have gone.
B. Thom: I was getting bored in my studio. Kelsey had been getting ready for the show she has in LA, and I was doing the same thing on my end, and this collaboration just enabled us to...
Kelsey: Do something so different. Also, something with Boregasm, something that I totally think of, there's this camaraderie. In high school I was always kind of staring off into space, or thinking of other things that made me really excited, like a project, and I feel like I didn't relate to a lot of people in high school because they were paying attention. Then I meet Brian, and fellow artists like Brian, and maybe both of us were staring out into space in high school, but we didn't know each other. We can (now) find each other, and we can make it happen, the things we were thinking about when we were staring off into space, and math was boring.

Adam: You were the worst people to call on in class, and you would be the ones who would always get called on because the teacher would notice you were staring off into space.
Kelsey: Definitely.
B. Thom: We usually knew the answer.
Kelsey: I didn't know the answer. I had to take Latin.
B. Thom: Latin was horrible. I dropped that the first week. I switched to Spanish.
Kelsey: All I know is "no mas molesto," which is like don't molest me.

Adam: That's a solid phrase to know in any language.
B. Thom: I know "puedo ir el bano."
Kelsey: I know restaurant Spanish.

Adam: Moving back to the art, Kelsey, you've described your work as "Super Real Life." When does real life hit the point where the "super" prefix gets added?
Kelsey: When you have regular, mundane, sort of things that could be looked at in a symbolic way, or placed in a dream, or a daydream. I feel like people's minds don't think in a linear way, they don't think in this way of "my checklist of things to do." The way that people function in the real world, that's not really how our minds work. We're thinking of a million things all the time, and I think it's very dream like. I like to acknowledge that, and honor that, and bring it out in art.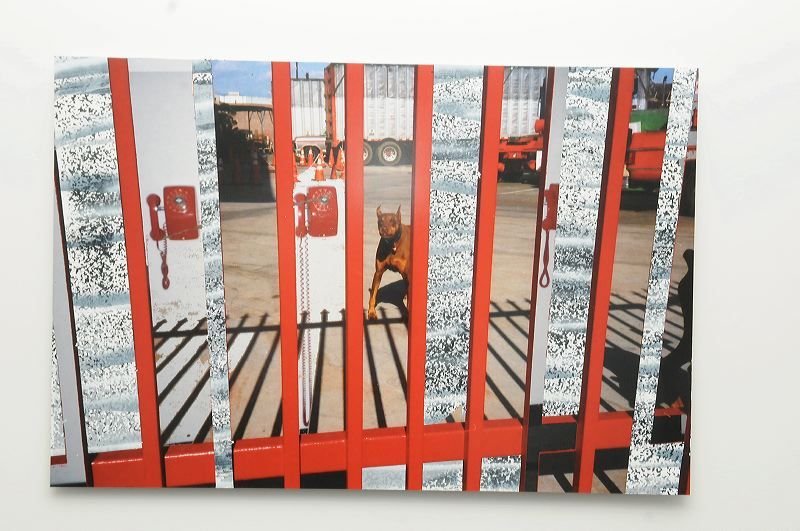 Adam: Finally, you have a famous grandfather, Tony Bennett, and that can have its advantages and its drawbacks. Some doors may open, while at the same time some people may think, oh, this is just so and so's granddaughter playing around, and not take you seriously. Open doors are kind of boring, so tell me about some of the hurdles you've had to overcome to get to where you are today.
Kelsey: Basically, how I look at it is I grew up in a world surrounded by art. My grandfather's a painter and a singer. My uncle had a recording studio in the basement. By the way, he recorded Naughty By Nature's "O.P.P."

Adam: Your uncle?
Kelsey: Yeah. "O.P.P.," and Salt N' Pepa recorded in my basement, and I was a musician and I recorded down there. My dad managed bands, and my parents always had us acknowledge that we are related to an artist, so it feels more like a legacy than anything else, so I never get concerned about people thinking I'm opening doors using a name.
B. Thom: And Kelsey is one of the hardest working girls I've ever met.

Adam: I need a story about Naughty By Nature in your house. Did Treach rap you to sleep?
Kelsey: Of course. Every night.

For more on Kelsey Bennett and B. Thom Stevenson check out kelseybennett.com and bthomstevenson.com.



Labels: Culture
posted by Adam Bernard @ 12:10 PM