Pop Shots - Way Too Big
Monday, March 25, 2013

Welcome to your weekly dose of pop world musings. Covering all things pop culture, this week Pop Shots is hitting you with thoughts on everything from Beyonce's big ego, to the big risk Sony is taking with their latest signing, to big health concerns for Lil' Wayne and Tone Loc, and since it's Pop Shots you know everything is seasoned with a little bit of attitude.

* Beyonce created a minor controversy last week when she released a new song titled "Bow Down." No longer inspiring women, Beyonce is now telling them to "bow down, bitches." Somewhere, all the former members of Destiny's Child are thinking, "this isn't the first time we've heard her say that."

* Katy Perry and John Mayer have reportedly broken up, or are on a break, or are at the very least temporarily not bumping uglies. Whatever the case may be, she still hasn't called me, so I'm rapidly losing interest in the story.

* Everything old is new again on the Billboard 200 album chart. This past week 80s icons Bon Jovi topped the list with 101,000 copies sold of their latest album, What About Now, and David Bowie came in second with 85,000 copies sold of his new album, The Next Day. Oddly, second place is the highest Bowie has ever charted despite releasing 27 albums over his illustrious career. You would have thought the movie Labyrinth would have given him a bigger bump than that!



* In a wildly successful effort to lower music industry standards to new depths, Sony signed a 13 year old boy based off of the youngster's number of Instagram followers, and the YouTube videos he made lip-syncing current hits. The kiddo, Benjamin Lasnier, bears a close resemblance to Justin Bieber, but has never actually sung a note in his life. Even the creators of Auto-Tune must be thinking "well, this should be an interesting stress test."

* Barenaked Ladies have announced a 25th anniversary album and tour. Checking their itinerary, the tour lasts a lot longer than "One Week," and they won't be playing in "The Old Apartment," but ticket prices will not require any fan to say the only way they can go is "If I Had A Million Dollars."

* Remember that awful experience Rihanna gave journalists and fans when she took them on a torturous week long ride on a jet? Well, apparently some folks documented it and found enough happy footage to throw it in a new special that will be airing on May 6th on Fox. Titled RIHANNA 777, even if many on the plane began to view her as RIHANNA 666, the special will feature footage from the jet, as well as performances, and behind the scenes action. If you want to feel like you were on the aircraft, and really a part of everything, just deny yourself food, water, and bathroom breaks, while watching the special.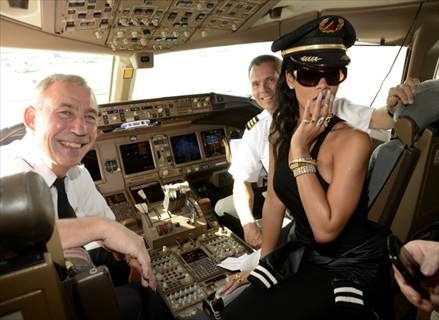 * In news you can't un-read, former Cake drummer Peter McNeal has been found guilty of child molestation... AGAIN. This is his second child molestation related conviction. They have involved a three, and six, year old girl. Thanks to McNeal's disgustingness, the lyric "he's going the distance" has a horrible new connotation.

* TMZ erroneously claimed Lil' Wayne was on his death bed when it turned out he had actually suffered a series of seizures, perhaps brought on by drinking too much sizzurp (cough syrup and fruit flavored soda with a Jolly Rancher). Well, Weezy may still be wheezing, but he's out of the hospital now and reportedly "recovering." Some are calling Wayne's common sense into question, but on the flip side, wouldn't having to listen to Drake and Nicki Minaj all day make YOU want to go a little nutty with the codeine?

* In more rapper health news, Tone Loc collapsed on stage during a performance in Des Moines, Iowa, this past week. You can forget about considering sizzurp to be the culprit, though. I think we all know what's to blame for this one...




And with that, my time is up for the week, but I'll be back next week with more shots on all things pop.



Labels: Pop Shots
posted by Adam Bernard @ 7:00 AM