Pop Shots - Fresh Inspiration
Monday, October 29, 2012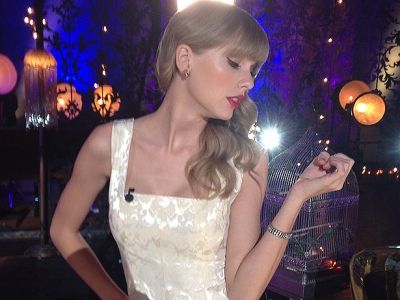 Welcome to your weekly dose of pop world musings. Covering all things pop culture, this week Pop Shots is hitting you with thoughts on everything from Taylor Swift getting some material for her next album, to Oprah becoming a Belieber, to one X Factor contestant's amazing story, and since it's Pop Shots you know everything is seasoned with a little bit of attitude.

* Taylor Swift is back on the market after being dumped by her now former beau Conor Kennedy, who is still in high school. I hear Swift is already working on a song about the relationship titled "I Am Never Ever Ever Doing Your English Homework Again."

* In an interview with The Hollywood Reporter, Christina Aguilera was quoted as saying "I don't read blogs. It's just God-knows-who in Buttf*ck wherever writing hate sh*t. You can't take it seriously. I'm sure you've all been hated on at some point by buttf*ck people." I'd just like to go on the record saying I don't get nearly enough booty for Christina's description of bloggers to be correct.

* Adele gave birth to her first child, a son, last week. She reportedly can't wait till he turns 18 and goes to college so she can write a song about how he left her.



* Oprah may be reaching grandma age, but on November 25th she'll be embracing the tween girl inside her when a very special edition of Oprah's Next Chapter will star Justin Bieber. For the episode, Oprah attends a concert of Bieber's and then has dinner with him. The episode will air in over 100 countries on thanks to an agreement with Discovery Networks International that has it airing first on OWN at 9pm, and then on TLC, Home & Health, and Real Time. After the cameras stopped rolling Bieber was confused to learn this was a TV special. He thought he was just doing community service for a senior citizen.

* Carly Rae Jepsen will receive Billboard's Rising Star Award next month at the annual Billboard Women in Music event. No word on who the backup is just in case Jepsen is no longer relevant by the November 30th date of the event.

* Because apparently Honey Boo Boo Child was only the false bottom of the reality TV barrel, the family of Whitney Houston are starring in a new Lifetime reality series titled The Houstons: On Our Own. The show debuted this past week, and it probably won't make you want to dance with somebody.

* Jason Aldean's latest album, Night Train, debuted at number one on the Billboard 200 with sales in excess of 400,000 copies. This should give the country crooner even more chances to hook up with former American Idol contestants. Although next time he might want to take off his wedding ring.



* When David Correy was asked by the judges why he was auditioning for The X Factor his response was the he hoped his birth mother would hear his voice and it could possibly reconnect them. Now Brazilian newspaper O Diario de Pernambuco is reporting that Luciene Correia de Lima, 40, claims that the timeline, birth certificate and orphanage information she gave local authorities matches up with Correy's information. Lima is reportedly willing to take a DNA test, which Correy is unsure whether he'll go to Brazil for, or fly Lima to the US to get done. Regardless, the 26 year old singer may have already won a prize much bigger than anything Simon Cowell and L.A. Reid could possibly offer.

* Elizabeth Taylor has surpassed Michael Jackson as the top earning dead celebrity, earning $210 million in the past year, to Jackson's $145 million. The New York Yankees attempted to get Alex Rodriguez added to this list, but were turned down since only his bat has technically died.

* Bon Jovi have announced the aptly titled Because We Can tour for 2013. The band, whose 2011 tour grossed $365 million, will be playing stadiums and arenas worldwide starting February 13th with a date in Montreal. The tour will support the band's upcoming album, What About Now, due out in the Spring. So Jersey Shore goes off the air, and Bon Jovi goes on tour? The Jersey world takeover refuses to stop!

* Ever wondered what Kreayshawn would look and sound like if she was a K-Pop star? I think I've found the answer, and it's pretty awesome.




And with that, my time is up for the week, but I'll be back next week with more shots on all things pop.



Labels: Pop Shots
posted by Adam Bernard @ 7:29 AM