Pop Shots - Revolving Doors
Monday, September 24, 2012

Welcome to your weekly dose of pop world musings. Covering all things pop culture, this week Pop Shots is hitting you with thoughts on everything from Shakira and Usher joining The Voice, to another American Idol winner losing his record deal, to a documentary on 30 Seconds to Mars' tumultuous relationship with their label, and since it's Pop Shots you know everything is seasoned with a little bit of attitude.

* Usher and Shakria will be taking over the chairs of Cee Lo and Christina Aguilera for the fourth installment of The Voice. If you think you're gonna get the smokin hot, hip shaking, version of Shakira, however, you're going to be disappointed, as the Latin bombshell just announced she is pregnant with her first child. Clearly this is a plot devised and executed by Christina Aguilera in order to be considered thin when she returns to the show after Shakira's stint in her chair.

* Green Day frontman Billie Joe Armstrong threw what amounted to a glorified hissy fit at the iHeartRadio Festival over the weekend when their set was cut short. Yelling "I'm not fucking Justin Bieber," he and the rest of the band commenced smashing their instruments. This would have been quite the punk rock move had it not occurred at a festival thrown by Clear Channel Communications, and in the midst of sets from Taylor Swift, Pink, and Rihanna. Sorry Green Day, you lose your punk rock cred when you're performing at a show hosted by Ryan Seacrest.

* Dave Matthews Band debuted at number one on the Billboard albums chart this past week, moving 266,000 copies of their latest release, Away From the World. In a related story, 266,000 people have just been added to the government's marijuana watch list.



* Kris Allen, who you have no reason to remember was the season eight winner of American Idol, because the runner up that year was the far more interesting Adam Lambert, is no longer on the RCA Records roster. Dropping Idol winners seems to have become RCA's new hobby as they've also punted season seven's David Cook, and season nine's Lee DeWyze, over the past year. Not all Idol winners are so easy to get rid of, however, as season five winner Taylor Hicks has signed a one year extension of his residency at Bally's Las Vegas through 2013. Allen, Cook, and DeWyze will be able to be seen at Bally's next year, as well, singing outside the building for nickels.

* Led Zeppelin are releasing a concert film based on their 2007 charity performance in London. Scheduled to hit theaters on October 17th, this won't be a small deal, as it's slated to be on 1,500 screens in more than 40 territories. Personally, I feel this is a great step in helping us forget about that awful Jimmy Page collaboration with Diddy.

* High School Musical fans (is that an inappropriate use of the plural in 2012?) will be happy to hear Vanessa Hudgens and Ashley Tisdale have been reunited for a feature film. Well, at least their voices have. Both actresses have signed on, along with Big Time Rush members Kendall Schmidt and Logan Henderson, and Pretty Little Liars star Ashley Benson, to voice characters in the animated film The Great Migration. Despite the title, the film has nothing to do with bird flight patterns, or America settling the West. Writer Kevin G. Schmidt was quoted by The Hollywood Reporter as saying the plot involves a group that encounters a mutated predator that's threatening to destroy the balance of their environment. If you ask me, that sounds a little bit like the Pauly Shore classic Bio-Dome. You know what, instead of continuing to talk about this animated film, here's an image from Hudgens' and Benson's upcoming movie Spring Breakers. You're welcome.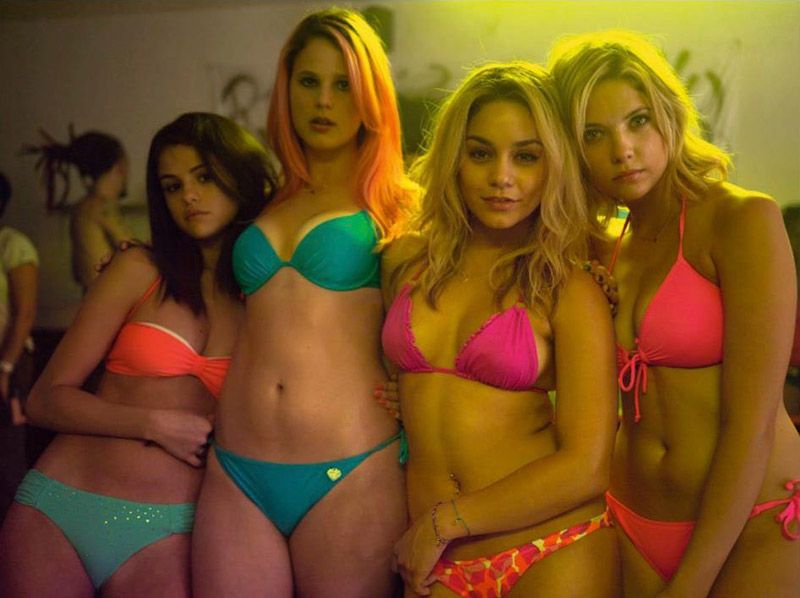 * The long and winding road 30 Seconds to Mars has been down with EMI has been chronicled by the band's frontman, Jared Leto, in a documentary titled Artifact. Artifact covers what the band went through after they were hit with a $30 million dollar breach of contract suit in 2008 after they tried to jump ship from Virgin/EMI over a royalties dispute. The film, which was able to be released after Leto and the band came to an agreement on a better deal with EMI, is proving to be a hit in the festival scene as it just won the People's Choice Award at the Toronto International Film Festival. This is great news for Nicole Scherzinger, who can't wait to complete her documentary - Shelved.

* Just one day after going on a rant about how she felt Amanda Bynes had been getting preferential treatment despite being a terror on the roads, Lindsay Lohan was arrested for what seems like her one billionth car related incident. This time she hit a pedestrian at around 2am in a parking lot outside of her hotel in New York. After one of her friends checked her car for damages, team Lohan took off, making it what the law likes to call a hit and run. Anyone else get the feeling Lohan and Bynes are gunning for a spot in the 27 Club thinking it's an actual nightclub?

* Finally, a little something from your cartoon, video game, LSD, fueled Korean dreams.




And with that, my time is up for the week, but I'll be back next week with more shots on all things pop.


Labels: Pop Shots
posted by Adam Bernard @ 7:22 AM