Pop Shots - Seeing Things
Monday, August 20, 2012

Welcome to your weekly dose of pop world musings. Covering all things pop culture, this week Pop Shots is hitting you with thoughts on everything from Taylor Swift seeing red, to Bryan Adams exposing himself, to Green Day's view from the top, and since it's Pop Shots you know everything is seasoned with a little bit of attitude.

* Taylor Swift announced her next album, Red, will be hitting stores on October 22nd. The first single from the album, "We Are Never Ever Getting Back Together," has already hit iTunes and is spurring conversation regarding which ex-boyfriend of hers it's about. In addition to the new single and album, Swift also has a new house. The $4.9 million home is in Hyannis Port, MA, overlooks Nantucket Sound, and happens to be right across the street from the home of the grandmother of Swift's rumored boyfriend, Conor Kennedy. The house can't wait for the first time Swift bangs her head on a cabinet, forcing her to reconsider her decision, and leading her to break up with the house, move out, and then write a song about it.

* Carley Rae Jepsen's reign at the top of the Billboard Hot 100 singles chart has come to an end. After nine weeks at number one, "Call Me Maybe" has been knocked off by Flo Rida's "Whistle." You'd figure with a song title like "Whistle" she'd have heard him coming.

* Miley Cyrus got a haircut and the entire world ended. Most wouldn't assume a simple haircut could cause such dramatics, but when Miley went from her traditional look, to a short, punky, blonde look that makes her look kind of like an anime character, the internet exploded. So many people chimed in with their two cents that Miley could have made her next million simply by collecting the pennies. After watching multiple episodes of Jerseylicious I feel I have the kind of knowledge required to properly analyze such a delicate subject as a hairdo, and adding everything up, my final analysis of Miley's new look is as follows - I'd do her.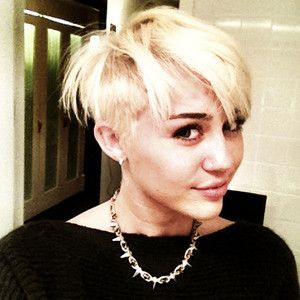 * Canadian rocker Bryan Adams will be releasing a photography book this September titled Exposed. It won't be Adams who's exposed in the book, however, it will be his friends and colleagues in the entertainment world. This is good, because with a title like Exposed I was worried this was going to be like Madonna's Sex book, and I'm not sure how many people really want to see Bryan Adam's turn "Summer of '69" into a double entendre.

* The Grammy Museum, which apparently is a real thing, unveiled an exhibit celebrating the late Whitney Houston titled "Whitney! Celebrating the Musical Legacy of Whitney Houston." The exhibit features Grammy awards, clothing, film scripts, photographs, and personal memorabilia. A local LA crackhouse is hoping to do something similar when they can gather all of her old drug paraphernalia.

* Good news for Hilary Duff fans (inappropriate use of the plural?), she's working her way back into the limelight. This past week the singer/actress tweeted "Ok it's official! Very excited about my development deal with 20th century fox!! t.v. here I come! :)" In addition to her upcoming TV work, Duff told E! that she's getting back into the studio to record new music. Now that she's finally old enough, maybe Hilary Duff and can finally have the role I've always wanted her to have - the heir to the Duff Beer throne. Duffman wants to party with Lizzy McGuire!



* Actress Mayim Bialik survived a major car accident this past week when her Volvo was run into by an oncoming car. TMZ reported that one of Bialik's fingers was "almost completely severed," but doctors managed to save it. This is proof that no matter what you do to Blossom she simply won't give you the finger.

* In an apparent effort to shed any last bit of punk relevancy they may have, Green Day premiered their video for "Oh Love," which is the first song off of their upcoming album trilogy, across all MTV platforms in over 150 territories this past week. The band will also be premiering new music when they perform at the MTV VMAs on Thursday, September 6th. It's looking more and more like the Green in Green Day can now be construed as a reference to money.

* Some friends (you know who you are) roll their eyes at me when I talk about the TV shows I watch. One show in particular that is the focus of their derision is the Canadian teen melodrama Degrassi. If I didn't watch Degrassi, however, I would have never found out about Stef Lang, whose song "Bullet Train" was playing during a recent episode, and is completely amazing. I'm now passing this song along to you, and you can tell people you discovered it on an awesome music blog, even if you know the path of discovery really goes back to the show that gave Drake his big break.




And with that, my time is up for the week, but I'll be back next week with more shots on all things pop.




Labels: Pop Shots
posted by Adam Bernard @ 7:25 AM