Warped Tour 2012 - A Tour For Discovery
Wednesday, July 25, 2012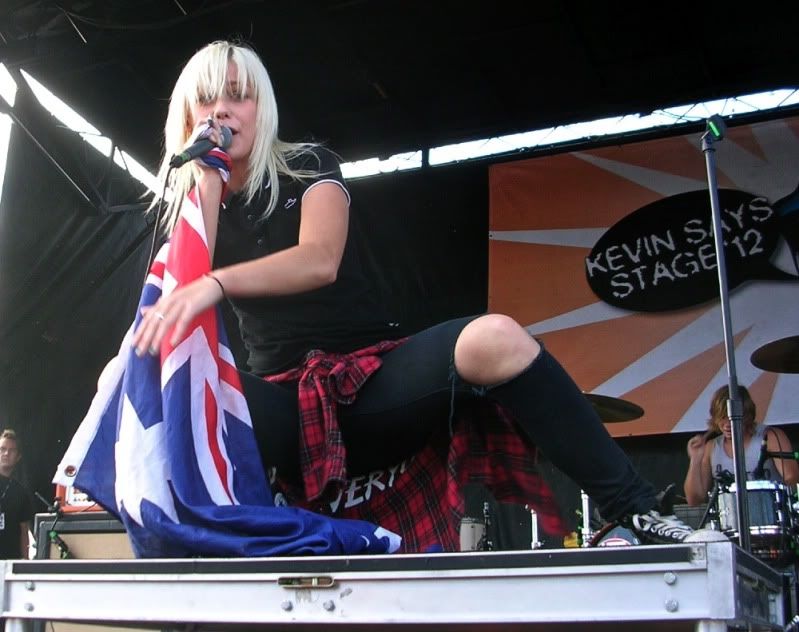 A unique aspect of Warped Tour is that they don't post artist set times until the doors open. When I spoke with Warped Tour founder Kevin Lyman about this last year he stated "I still think it's important for kids to come and learn, so we always have to manage it so that kids come early and wander around and run into a band they might like. We want to try to keep some sense of adventure to shows." With this year's lineup he's accomplished that goal in spades.

Some years Warped Tour has huge headliners that are the big draw, but this year, with the exception of a few well known bands, like Taking Back Sunday and New Found Glory, the majority of the acts on the bill were up and coming bands that have made a name for themselves within their musical genre, but don't necessarily have widespread notoriety yet. For me, this made for a Warped Tour experience that was all about the sense of adventure Lyman was talking about, and the thrill of discovery. Nothing is cooler than discovering a new band and falling in love with their work, and this year's Warped Tour provides a lot of that.

Having an intense love of wandering around the Nassau Coliseum parking lot (OK, that's really only true when Warped Tour is in town), this was one of my favorite Warped Tours to date. Through my wanderings I found a number of artists I'd never heard live before, and now have in rotation in my personal playlist. Here are three that I came across that I currently can't get enough of.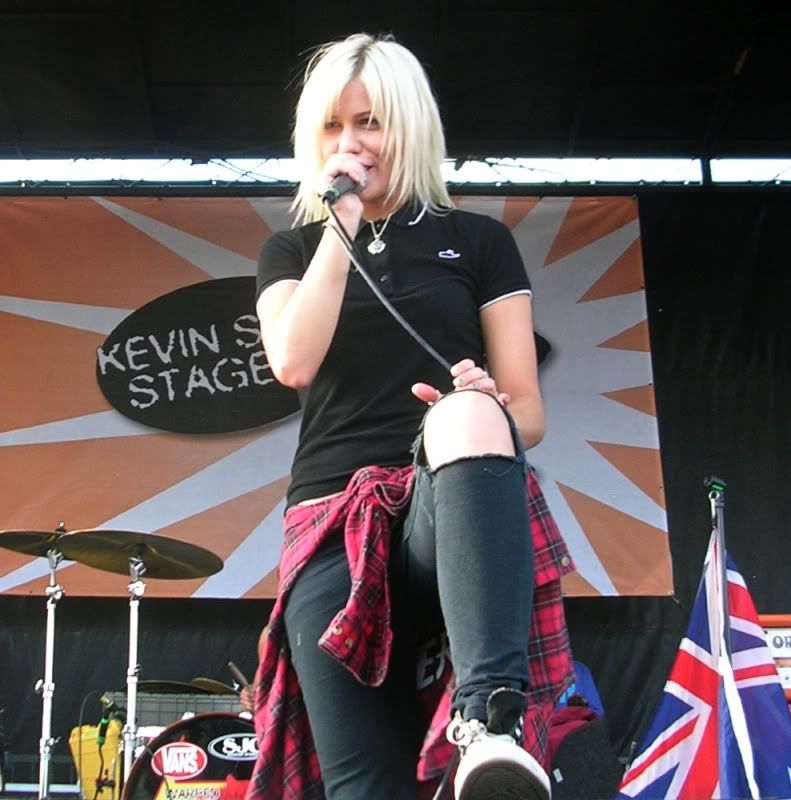 Tonight Alive


I do a significant amount of prep work before Warped Tour each year, so I have at least a rough idea of who I want to try to see. Tonight Alive was on that list, but when the set times were released their set conflicted with two other acts I wanted to catch. At around 2pm I was wandering around the grounds with my friend, superstar photographer Natty S., when we heard an acoustic guitar and an incredible voice. We made our way to the crowd that was gathered around and checked out what we'd later learn was Tonight Alive singer Jenna McDougall, and guitarist Whakaio, doing a quick acoustic set. We were hooked, and immediately made plans to catch their full set. This meant missing New Found Glory and Memphis May Fire, but we'd been won over. When 5:35pm came around, and Tonight Alive began their full set, we knew we'd made the right decision. The Australian band fits in right alongside the biggest of female fronted rock bands, and eclipses many of them. McDougall is a talented, fun, charismatic frontwoman, and I hope Tonight Alive makes it back out my way again soon. I picked up both their latest album, and their acoustic album, after their set. It was a two for one deal, but I would've picked up both either way.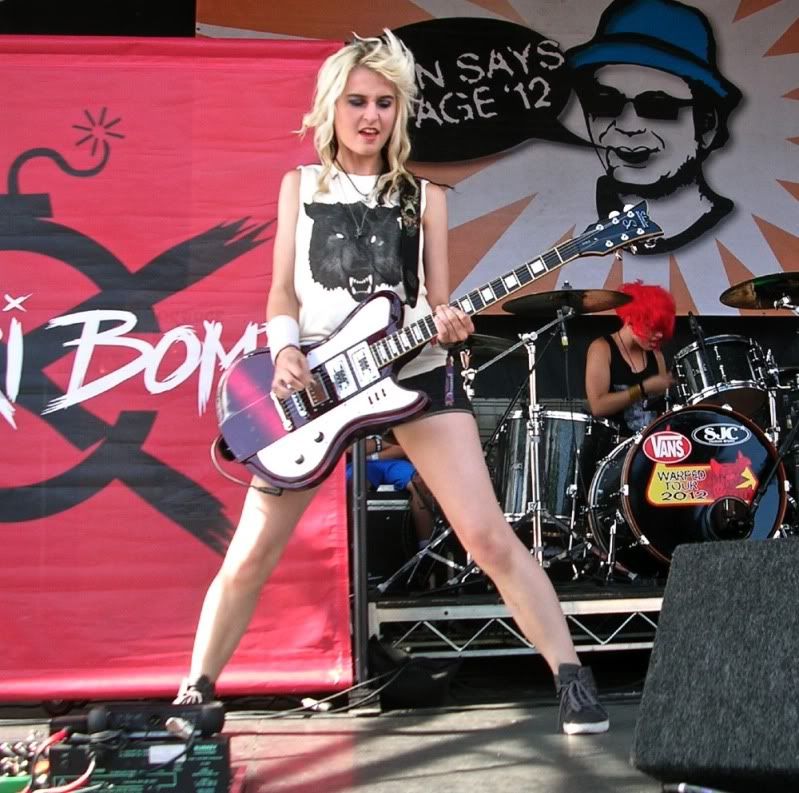 Cherri Bomb


A little while back I interviewed Cherri Bomb's Rena Lovelis for a feature on the band that's in the current issue of Substream Music Press (*blatant plug*). At the time I'd only heard their recorded music, but was intrigued about the band of young teenagers that are managed by former Hole drummer Samantha Maloney. The interview went extremely well. The fact that a fourteen year old had more interesting things to say than some of the 30+ year olds I interview made me even more interested in the group. With all that in mind, I made it a point to check out their Warped Tour set, which meant bailing on I Fight Dragons, and only being able to do a very quick visit of my friend Kelsey Chaos' set. From their recorded music I could tell that Cherri Bomb is a real rock band, almost in the Riot grrrl ethos, but even with that knowledge I was surprised by how mature they sounded as musicians. If you don't look at them you might think they've been performing for fifteen years, not that two of the members are fifteen years old. This is a band of young women that probably would have fit in just fine during the CBGBs era alongside all-girl rock bands like The Go-Go's and The Runaways. Rena described Cherri Bomb's sound to me as "face melting rock," and she was incredibly on point with that description. I'm a fan, although one that definitely has to be in the photo/press area or I'm gonna look really creepy at their shows being that I'm old enough to be their dad.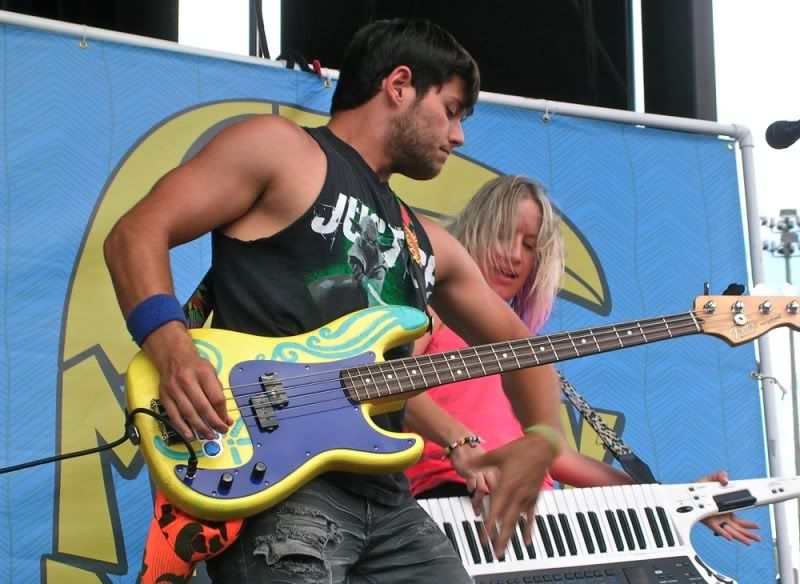 Mighty Mongo


Sometimes a great press photo can be highly effective. Case in point, as soon as I saw the brightly colored picture of Mighty Mongo, all four members with huge crazy smiles on their faces, I immediately thought of acts like Ludo and The Presidents of the United States of America, and wanted to hear their music. Their set was the first I checked out, and amidst dodging beach balls, and eventually hitting them back into the crowd at a - take a picture, hit a beach ball, take a picture, hit a beach ball - pace, I had a really good time. For starters, the band has a very fun attitude, and it's infectious. They're having a good time, and they want their audience to have a good time with them. Mighty Mongo also features a musical instrument I have a strange obsession with, and that's the keytar. Not only that, their keytar player rocks the crap out of it. Mighty Mongo is a reminder that music can be both fun and really good, one quality doesn't have to be sacrificed for the other. I spoke with singer/bassist Alex Card, and singer/keytar player Lindsay Vitola, after their set and it only reinforced my notion that Mighty Mongo is a band that is probably really fun to go bar hopping with. I picked up a CD, and look forward to hearing more from them.




As an aside, I'd like to shout out my long list of friends who performed, who I'm sure were great discoveries for many in attendance. Warren Britt, Sketch Tha Cataclysm, Ceschi, J Ross Parrelli, and Kelsey Chaos all did their thing, and seeing Warren Britt go from Warped Tour fan, to Warped Tour performer, was really something special. It's one thing to be a dope performer, it's another thing to be both dope and know what an audience is looking for. Because he's been a part of the Warped Tour audience for so long he knew exactly what to give them, and it was completely authentic, and very cool to watch.

For 71 pictures from the 2012 Warped Tour check out my Photo Album - Warped Tour 2012.



Labels: Music Reviews
posted by Adam Bernard @ 7:32 AM

Follow
Subscribe to the
Weekly Email