Pop Shots - The Long Arm Of The Law
Monday, July 16, 2012

Welcome to your weekly dose of pop world musings. Covering all things pop culture, this week Pop Shots is hitting you with thoughts on everything from Diddy's home invasion, to Justin Bieber's high speed adventure, to Robin Thicke's ride in a cop car, and since it's Pop Shots you know everything is seasoned with a little bit of attitude.

* A New York man has admitted to breaking into P. Diddy's Long Island home earlier this year. I really hope he was sent by an artist looking to claim money owed to them. Of course, if that were to be the case the list of possible suspects would include everybody from the Bad Boy roster since the beginning of Bad Boy.

* Pink has announced she'll be releasing her sixth studio album, titled The Truth About Love, on September 18th. If it's anything like Pink's previous efforts, what we'll learn about love is that it's kind of aggressive and angst-y.

* Wal-Mart has officially bore witness to the power of the internet. The store is running a contest with Pitbull where the rapper will appear at the Wal-Mart store that generates the most "likes" on Facebook. Detractors of the artist created an #exilepitbull campaign to make the Wal-Mart on the Alaskan island of Kodiak the winner. Pitbull took it all in stride, tweeting "I hear there's bear repellant at Kodiak, Alaska." Voting ended on Sunday, and as of Thursday Kodiak was winning. I'd like to remind the people who came up with #exilepitbull that people pay tens of thousands of dollars to go on Alaskan cruises, and you, in your haste, may have given him this for free.

* Slash, of Guns N' Roses fame, received a star on the Hollywood Walk of Fame. The star may be tough to find, however, as it's covered completely by hair and a top hat.



* Justin Bieber was cited for speeding in his chrome-bodied Fisker Karma. He claimed the paparazzi were chasing him, and after he was pulled over he placed a 911 call complaining about the paparazzi, apparently not understanding the concept of a timeline. To be fair to Bieber, Sean Kingston may have been on the radio, and when Kingston sings for somebody to call 911, you do it! For all Bieber knew shorty's fire really was burning up the dance floor!

* Chris Brown's latest, Fortune, debuted at number one on the Billboard's albums chart. In other words, Brown really beat his competition senseless.

* Courtney Love is being sued by a former assistant for, in essence, being Courtney Love. You mean she didn't pay you what she said she would, and she made questionable requests, like asking you to falsify legal documents? You were working for Courtney Love, a woman who thinks sobriety is the name of a lake in Minnesota. You had to know you were more likely to be making late night runs for speedballs than Starbucks.

* Steven Tyler announced he's leaving his post as a judge on American Idol, and Jennifer Lopez stated she's leaving the show, as well. At the rate Idol is going, pretty soon we're going to have a separate reality show all about picking the next judges for this reality show. They can call it "Who Wants To Work With Randy Jackson?"

* In more Idol news, season two contestant, and supposed romancer of Paula Abdul, Corey Clark, who you wouldn't recognize if he walked by you on the street holding a big sign saying "I am Corey Clark," has filed a libel lawsuit against MTV for more than $40 million, claiming he was unfairly ridiculed by one of its news reporters. In a response, Randy Jackson called the lawsuit "pitchy," while Simon Cowell said he'd seen better lawsuits on cruise ships.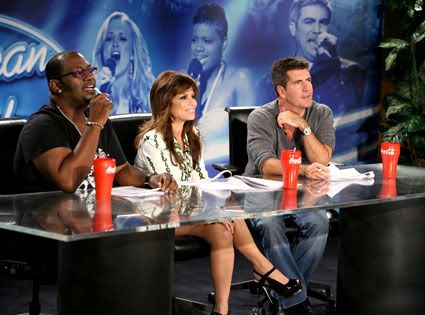 * The Rolling Stones celebrated their 50th anniversary last week, and hinted about a possible tour. It would be the first tour in the history of rock and roll where the van would go the speed limit and have its blinker on for thirty miles before anyone notices.

* Target is refusing to carry Frank Ocean's Channel Orange, and while people are up in arms claiming it's due to an anti-gay stance, the reality of the situation is they're refusing to carry it because iTunes has exclusivity for the album's first week, which is when all the major sales of it will be. Regardless, I'm guessing Ocean will be shopping for $20 bookshelves and floral print light switch covers somewhere else from now on.

* Florence, of Florence + The Machine, was forced to cancel two European festival performances after suffering a vocal injury. If the Terminator movies have taught us anything, it's that you never turn your back on the machines. Watch out Florence, today you leave The Machine to recoup, tomorrow they've killed you in an attempt to alter the future!

* Rihanna is suing her former accountants for allegedly mismanaging her finances, losing her millions of dollars, and getting her audited by the IRS. If there's any way she can pin the whole Battleship thing on them she'll do that, too!

* Pop music's good guy of the week is Robin Thicke, who, after being cut off while driving, crashed his Porsche into a parked car, but stuck around to wait for the police and give them a statement. His reward for this was a ride home from the cops... in the part of the cop car that it's OK for a pop star to be seen in. #NoLohan

* Finally, if Rosetta Stone DVDs looked more like this I might have a shot at learning Spanish... or having a seizure (and no, I don't know what Robinson Cano is doing there either).




And with that, my time is up for the week, but I'll be back next week with more shots on all things pop.



Labels: Pop Shots
posted by Adam Bernard @ 7:25 AM