Pop Shots - Center Of Attention
Wednesday, June 27, 2012

Welcome to your weekly dose of pop world musings. Covering all things pop culture, this week Pop Shots is hitting you with thoughts on everything from the ruckus over Rihanna, to the returns of both Lily Allen and 98 Degrees, to a Pussycat Doll who clearly has nine lives when it comes to her career, and since it's Pop Shots you know everything is seasoned with a little bit of attitude.

* As everyone knows, Drake and Chris Brown got into a bar scuffle, reportedly over some words said about Rihanna. What you may not know is Rihanna is attempting to find any footage of the melee and get it added as an extra to the forthcoming Battleship DVD in order to make the movie something people might actually want to watch.

* Katy Perry is launching an as of yet unnamed record label. The twist - she says she's going to attempt to treat artists the way she would want to be treated by a label. Although there's been no official word, I'm also guessing there will also be a "No mediocre British comedians allowed" sign on the front door.

* Part one of NBC's Justin Bieber special, Justin Bieber: All Around the World, was the lowest rated broadcast last Wednesday night. This is pretty damning evidence that Bieber's fan base is completely unable to figure out how to use a remote control. Maybe they can get some lessons from Colin Quinn and Kari Wuhrer.



* After a three year hiatus from making music, Lily Allen is back in the studio "throwing sh-t at the wall and seeing if anything sticks." Is that a subliminal way of telling us she's working with a surviving member of The Monkees, or should we really not want to shake her hand anytime soon? Regardless, anytime Lily Allen is making music it's a good thing... and I carry Purel with me everywhere anyway.

* For just one night (make your own "Una Noche" joke), 98 Degrees is reuniting for a show. The performance will be at the Summer Mixtape Festival on August 18th. The Summer Mixtape Festival is held in Hershey, PA, which leads to wonder if this reunion show is just a way for Nick Lachey to placate some of Vanessa Minnillo's pregnancy cravings.

* There is a musical in London opening on December 11th that's based on the songs of the Spice Girls. Now if you'll excuse me, I have to make sure my passport is in order, and you should too... that is, if you want to spice up your life.

* Usher topped Billboard's album chart last week with the debut of his latest effort, Looking 4 Myself. I gotta be honest, I didn't even know he had an album coming out, but apparently 128,000 people did, and with sales numbers like that Usher should now be able to afford a mirror and end his personal game of hide and seek.

* Just a handful of months after being fired from the US version of The X Factor, everyone's favorite Pussycat Doll, and, quite frankly, the only one of them anyone can name, Nicole Scherzinger, has landed on her feet as a judge on the British version of the show. In a related story, Brian Dunkleman is currently emailing his resume to the British version of American Idol.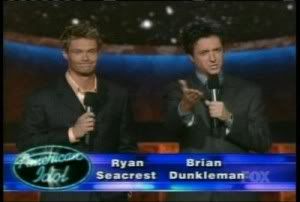 * Bobby Brown has taken another wife, this time marrying his manager, who is also the mother of one of his five kids. Sorry ladies, I know I announced that without any kind of emotional cushioning, and many of you had your heart set on Brown being with you every little step you take, but it's just like ripping off a Band-Aid, it's better to get it over with and then deal with the pain.

* In super terrific totally awesome old people news, Blondie and Devo are joining forces for an upcoming tour. The tour, which is going to be called Whip It To Shreds, will hit 13 US cities starting September 7th. Start times for each show will be as soon as Cracker Barrel is done serving their early bird special. (Yeah, I make that joke, but if anyone wants to hit me off with tickets to cover the show I'd totally be there)

* Finally, for all I know Shakira could be singing about murdering my family in this clip, but she's in a bathtub, and look, she's wet!




And with that, my time is up for the week, but I'll be back next week with more shots on all things pop.



Labels: Pop Shots
posted by Adam Bernard @ 7:35 AM