Pop Shots - No Pain No Gain?
Wednesday, April 11, 2012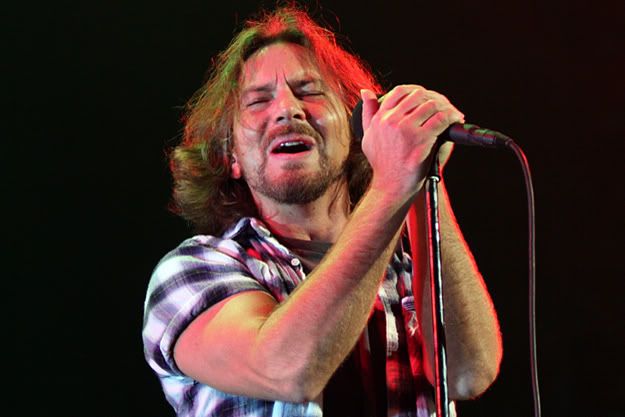 Welcome to your weekly dose of pop world musings. Covering all things pop culture, this week Pop Shots is hitting you with thoughts on everything from Eddie Vedder being laid up, to an event where no one feels any pain, to Weird Al looking to put a serious hurtin on Sony, and since it's Pop Shots you know everything is seasoned with a little bit of attitude.

* Our childhood idols, they get old. Case in point, Eddie Vedder, who announced he had to push back his 23 date solo tour that was supposed to begin yesterday, because of nerve damage in his right arm that stems from a recent back injury. Maybe for the next Pearl Jam album Jeremy can go from speaking in class to spending some time in the nurse's office.

* Madonna's MDNA was the number one album in the country last week, but she cheated to get that ranking. How does one "cheat" their album sales numbers? Well, there are a myriad of ways. The material girl chose to rig her numbers through the ticketing process for her upcoming tour. Everyone who bought their ticket online automatically received a copy of MDNA, regardless of the ticket price. Since far more people want to see her perform her classic songs live than listen to her new music, they bought a ticket, but are now stuck with her new album. And there you have it - artificially inflated numbers. In a related story, because you are reading this edition of Pop Shots, you have automatically been given a ticket to my "Adam B sings the best of LFO" tour, which is looking like it's going to be a complete sellout!

* Justin Bieber will be taking home an award at the Tribeca Film Festival's Disruptive Innovation Awards, which are designed to "highlight successful disruptive innovation in non-traditional, identity-based domains." Bieber, along with his manager, Scooter Braun, will be honored for the YouTube discovery and success of a career that the festival says "disrupted the traditional gatekeepers of the music industry." Sorry Tribeca Film Festival, teenage girls have ALWAYS been the traditional gatekeepers of the music industry.

* The first batch of artists who will be performing at this year's Electric Daisy Carnival have been confirmed and it's a veritable who's who of the EDM world. David Guetta, Tiesto, Avicii, Benny Benassi, Afrojack and Kaskade will all be a part of the three day festival that runs from June 8th - 10th at the Las Vegas Motor Speedway. Three day general admission passes will run you $275, smokin hot raver girl not included, but probably really easy to find.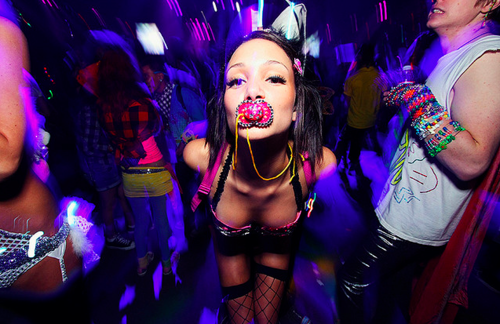 * Kanye West has finally named a song appropriately with his latest release, "Theraflu." By naming the song after something so incredibly distasteful we have to be on death's doorstep before even considering it, Yeezy has poetically stated how many feel about his music. Bitter taste and urine color aside, "Theraflu" features Kanye professing his love for the equally vapid Kim Kardashian, saying how her former husband Kris Humphries is "lucky I ain't have Jay drop him from the team." Yeah, cuz I'm sure the guy who owns 1.7% of the Nets gets to have his producer make those kind of decisions.

* Beyonce has launched a fan site where she's posting pictures and videos of her private life. If you think it's odd for someone to launch a site solely to share their personal pictures, videos and thoughts, you probably aren't on Facebook.

* According to Pitchfork, British duo Everything But the Girl will be reissuing four of their albums on June 4th - 1984's Eden, 1985's Love Not Money, 1986's Baby the Stars Shine Bright, and 1988's Idlewild. All four records will be released as 2-CD sets with the second disc containing time-appropriate non-album cuts, unreleased home recordings, and BBC sessions. Each set will also come with an accompanying book that will include lyrics, photos, and notes from Tracey Thorn and Ben Watt on each album. They are, quite literally, giving fans everything but the girl. Well, everything but the girl and the one song you actually know by them. Yes, that's right, this collection of albums is missing "Missing." So if you're really into the back catalogs of one-hit wonders, circle June 4th on your calendar now!

* Weird Al is getting serious. No, the comedic musical icon isn't contemplating a record of political protest songs, he's suing Sony for five million dollars. Weird Al's claim is that Sony hasn't been paying him all of his royalties and they've been hiding that fact through improper accounting practices. According to Reuters, "among the alleged dirty dealings on Sony's part: Double-charging (Weird Al's company) Ear Booker for advance royalty payments, miscategorizing marketing costs as production costs that can be recouped, charging for expenses that it hasn't provided documentation for, miscategorizing commercial videos as promotional videos that can be recouped against, and reporting negative streaming royalties on the tune 'Don't Download This Song' - something that the suit claims is an impossibility." Does anyone else think Al's pockets may end up "Fat" after this one?




And with that, my time is up for the week, but I'll be back next week with more shots on all things pop.



Labels: Pop Shots
posted by Adam Bernard @ 7:35 AM