Pop Shots - Born To Run
Wednesday, March 28, 2012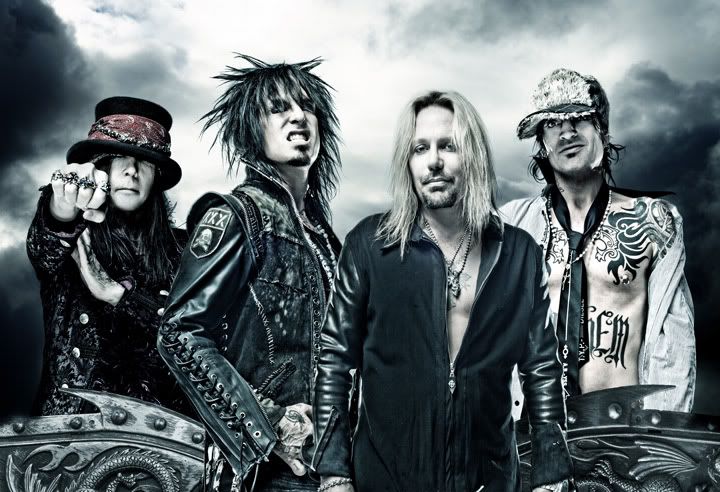 Welcome to your weekly dose of pop world musings. Covering all things pop culture, this week Pop Shots is hitting you with thoughts on everything from the run down of Whitney Houston's autopsy report, to why Motley Crue (pictured above) and KISS need to put on their running shoes, to Tyga having to run from gunfire, and since it's Pop Shots you know everything is seasoned with a little bit of attitude.

* The autopsy report on Whitney Houston is in and it reads like an old advertising campaign.



Yes, the woman who once wowed us with her legendary vocals died of an accidental drowning due to the effects of cocaine use and heart disease (and if you don't think there's a connection between those two things you're crazy). None of this is really news since everyone knew she had issues with drugs, so the most shocking thing about Houston's death is still that she was with Ray J.

* Motley Crue and KISS are uniting for a US tour. Both bands still know how to rock a crowd, but I wonder if they realize how poorly their groupies have aged. Years of chasing, and sleeping with, rock stars isn't exactly a recipe for long lasting beauty. I would recommend everyone in both bands get their cardio up now, so they'll be ready to run from the big haired middle aged women who have both a burning for the boys in their hearts, and an equal amount of burning when they pee.

* File this one under Simon Cowell knows what he's talking about. British boy band One Direction, which came together on Britain's The X Factor after Cowell suggested they sing together rather than on their own, became the first UK group to debut at number one on the US Billboard albums chart. The video for their song "What Makes You Beautiful" has nearly 80 million views on YouTube, and it looks like they're just getting started. If the world is a good and just place this will bring about a boy band renaissance. I don't care how anyone else feels about that, I Want It That Way.

* Rolling Stones guitarist Keith Richards has reportedly apologized to Mick Jagger for derogatory comments he made about the singer in his 2010 memoir, Life. While the apology is nice, I'm not entirely sure it was necessary. At their age it's more than likely that they'd already forgotten all about the book... along with most of the songs off of Voodoo Lounge and Bridges to Babylon.

* Former Playboy Playmate, and romancer of the elderly, Kendra Wilkinson, along with a girl who at one point in time just wanted to have fun, Cyndi Lauper, have both inked deal with WE TV for new reality shows. I could make a joke about this, but Google AdSense pretty much did it for me while simultaneously summing up my feelings on Kendra getting another TV show.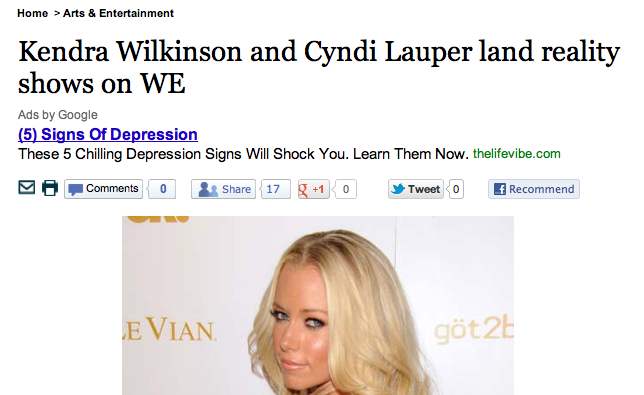 * Michael K. Williams, best known for his role as Omar on The Wire, has just signed on to play one of the more unique characters in music history, Ol' Dirty Bastard, in the upcoming film Dirty White Boy. Dirty White Boy chronicles the unique friendship ODB had with Jarred Weisfeld, a 22 year old VH1 intern turned manager from the suburbs. If this film ends up a success I'd like to see a future movie chronicling the equally odd relationship between ODB and Mariah Carey.

* Rapper Tyga learned a valuable lesson last week - when in Omaha, let the local rappers perform. After brushing off the idea of having a local opening act for his show there, Tyga and a female artist he's working with named Honey Cocaine, were shot at, with Honey Cocaine getting hit in the arm. Gee, you mean artists don't like it when you come to their town wanting their support when you won't support them? Shocking!

* I've been diggin Estonian songstress Kerli since 2008, when her debut album, Love Is Dead, was released. Love Is Dead made my year end top ten list, and I interviewed Kerli that same year. Four years, and a lot of wondering where the heck she went, later, Kerli is back with the song "Zero Gravity," and I, for one, am thrilled. The clip is just as cool and creative as the artist it comes from. Check it out.




And with that, my time is up for the week, but I'll be back next week with more shots on all things pop.



Labels: Pop Shots
posted by Adam Bernard @ 7:13 AM