I'm Guilty - My TV Guilty Pleasures
Thursday, February 03, 2011

Everyone has at least one TV show they watch that qualifies as a guilty pleasure. I happen to have a lot more than one. I don't actually feel guilty about watching any of these shows, though. In fact, as this post will prove, I'm willing to say loud and clear that these shows routinely take up space on my DVR. Heck, I even reference them in conversation. So even if you're still huddled in a fort of couch cushions with the shades pulled down hoping no one sees you watching your favorite guilty pleasure show, here are four of my favorites that I watch with the shades, and the volume, up.



Jersey Shore


As ratings have proven, everyone watches Jersey Shore, whether they want to admit it or not. The men and women of MTV's biggest hit, and dare I say the show that saved the network, have given us new language with GTL and DTF, helped us celebrate t-shirt time, and reminded us that we should all have a little fun in life. The latter is one thing that I think really draws people to the show. Throughout the fights and the drama these men and women are having fun (with the noted exception of Sammi, who doesn't look like she knows how to have fun). All the critics who call them mindless just wish they had it in them to engage in such mindlessness.



Degrassi


Originally immortalized by a line in the Kevin Smith film Chasing Amy, Degrassi has become one of the biggest guilty pleasure hits on television. It's a show about high school kids that I swear, at this point, has an audience with an average age of about 30. It's produced some real stars with Drake, Nina Dobrev (The Vampire Diaries) and Shenae Grimes (90210) all being Degrassi grads, but I think the real reason I, and others, watch is because high school drama is a memory to us now. Sure, it seems like the end of the world to the kids who watch the show, and that's the point, but for those of us who've already come of age, watching the many characters of Degrassi come of age is pretty great. Plus, their drama is way crazier than ours ever was.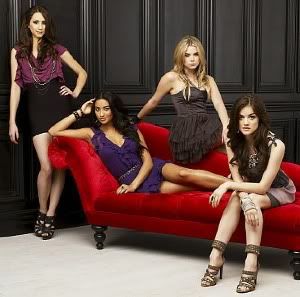 Pretty Little Liars


I swore I wasn't going to watch this, I really did. I thought the girls were too young (they're not, they're playing young), and I didn't think the storylines could possibly interest me. Then there I was last month, tuning in because ABC Family had a marathon on and I had a little bit of time to kill. It was like the first little hit of a powerful drug. I was hooked. It helped that this was the first time I saw a commercial for The Roommate, and I figured that any show that would advertise that movie probably caters to me (talk about advertising working in reverse!). This one's definitely for my DVR as its timeslot is awful, going up against How I Met Your Mother (arguably the best half hour show on network television), but with a killer plot, both literally and figuratively, and lines like "you look like a strung out Powerpuff girl," it's well worth the space on the hard drive.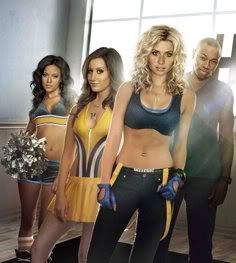 Hellcats


I know what you're probably thinking, "of course Adam likes the show where pretty girls are being thrown in the air." Well, yes, but that wasn't the original reason I tuned in. After Hellcats' first episode aired and received good reviews I decided, having nothing in particular to do on the night it was airing, to give it a shot. One of the names I saw in the opening credits was Jeff Hephner. I'd interviewed Jeff Hephner a number of years ago (I'm pretty sure it was in 2005) for the now defunct Soak magazine (which I really miss). Stoked to see him in another role I settled in for the show. Then I saw Alyson Michalka, Heather Hemmens and Ashley Tisdale and stayed for the long haul. So yeah, I like pretty girls being thrown in the air. Sue me.

So, now that I've admitted my TV guilty pleasures, feel free to emerge from your fort of couch cushions and admit yours!



Labels: Entertainment Commentary
posted by Adam Bernard @ 7:30 AM