The Hate Mail Files – Vol. 1
Thursday, June 11, 2009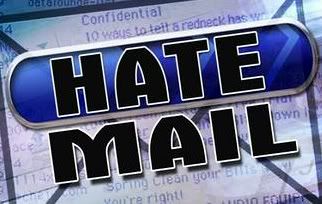 A wise man once told me that if you're getting hate mail then you know you're doing something right. Well, judging by the comment sections of some of my more controversial features I must be doing a really kick ass job. Adam's World, however, isn't the only place where people post their feelings regarding my work. Case in point, a little over a week ago my latest Weekly article hit both newsstands and the web. The story was about the lack of growth shown by Busta Rhymes and Eminem on their latest albums. The comments section on the Weekly's website for this feature blew up and today, inspired in part by my fellow writer Marty Beckerman's Hate Mail section of his website, I am going to share the most asinine of all the postings.

The following is a rant of a reply that was posted by "Real Hip Hop Fan" and it dives into levels of stupidity that are usually reserved for arguments on Hip-Hop message boards. It's even replete with grammatical errors! Enjoy!

"1st off that whole article and all your comments are retarded. Busta Rhymes has been whack for a long time, we all should know this by now. I stopped listening to him years ago. But to try and bag Eminem, your crazy. 1st off you cant just only listen to Albums, you have to take it a step further and analyze underground hiphop, mixtapes, things that the average person doesnt hear. Look at Eminem's battles name 1 person thats came at him and walked away with a victory. Also not to mention album sales are completely irrelevant but he still blows people out of the water in that category too. I dont know how they have someone writing this article that knows nothing about hiphop. You cant be serious, this couldnt have been your assignment to write a completely false article bashing 2 hiphop artists who shouldnt even be mentioned in the same breathe as each other. Also throughout the entire article your favoring KRS1, who is so old and played out, I used to listen to him in like 85 dog, be serious. You also named Outkast? gimme a break Andre 3000 is trash and that group is in desperation. Guru? The Roots? Gimme a break that isnt hiphop, thats pop trash, how you going to even include them in an article listing real artist. Go back and do your homework dog, put up a L.O.X album, Dipset, Wu-Tang something! learn the real essence of rap my g."

There are so many things wrong with this it's almost beautiful. The idea that Em was a feared battle emcee, the idea that Guru and The Roots aren't Hip-Hop, the idea that DipSet are "the real essence of rap," I can't even get mad at a letter this hilariously misguided. So, "Real Hip Hop Fan," I sit here in awe of your idiocy and hope you enjoy your place in history as a contributor to the internet's ongoing dumbing down of humanity.


posted by Adam Bernard @ 7:39 AM