The Recession Hits a New Low… err, High
Friday, April 24, 2009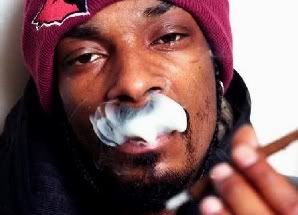 If anyone was wondering how far reaching our recession is I think I may have found the answer last weekend at Washington Square Park in New York City. Apparently, even the weed dealers are feeling the crunch.

It was a perfect day outside and I was walking around the city with my homegirl Q, showing her some of the important sights of NYC while she was in town. It was Record Store Day, so we had already hit up Fat Beats and seen the AOK Collective perform and afterwards the weather was so nice we decided to hit up the park. Of course, since the park in question was Washington Square Park we were offered weed literally the second we walked in.

Positioned like a Wal-Mart greeter, just 180 years younger and sans the blue vest, the dealer of the day was perched on a railing at the park's entrance. Not exactly inconspicuous, but that wasn't the point. He had product to move and it isn't exactly a secret that such dealings go on in Washington Square Park on a minute by minute basis. Spying us walking in he immediately saw a potential sale, which I thought was interesting since I always feel like I look like the worst NARC ever. Perhaps it was all the talk of Fat Beats that led him to know that we weren't 5-0. Regardless, as we took our third step into the park he said his greetings to us. Here's how the conversation went:

"You smoke?"
"Nah man, not right now."

Short pause as he looks us over.

"Couple's discount?"

It shocked me to hear it. The recession has gotten to the point where even the local weed man is offering discounts, and only two days before 4/20! Who would have ever thought a group of people who sell stimulants would need a stimulus package themselves? How far will this go? Sure, it starts with discount weed, but what's next, BOGO sales on dime bags? Free giveaways with purchase?

"Get your weed now and we'll throw in this free Shamwow! The Shamwow! is made in Germany, so you know it's strong cuz German's make good stuff. Speaking of good stuff, you're gonna love my weed, it's top notch!"

Actually, come to think of it, weed and a Shamwow! is a pretty killer combination. It's almost as good as weed and a free bag of chips.

Ironically, earlier in the day another buddy of mine brought up the idea that since we're in a recession strippers should be charging less. He had just been to a bachelor party and said twenty bucks was just too much to shell out for a lapdance right now. A cut rate would actually make sense for both the strippers and their customers. Rather than spending half their night calling people "baby" while wandering around a dimly lit club searching for a guy willing to pay them twenty bucks for 200 seconds of grind time they could be raking in the dough if they cut their rate in half and spent the majority of their time working their hips rather than working the crowd. Then they would have plenty to bring to their local drug dealer, who is clearly also busy trying to swing deals. Oh, I'm sorry, did I say they'd bring their money to their local drug dealer, I meant college tuition payment center. Yeah, that's it.

The moral of the story – whenever the recession has you down just think of all the weed dealers and strippers it's affecting, too, and shed a little tear for them… the real heroes.


posted by Adam Bernard @ 7:47 AM