It Happened in Vegas
Wednesday, November 12, 2008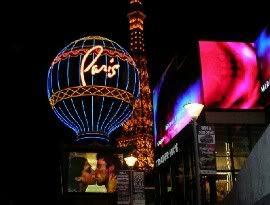 Last week I spent four days and three nights in sin city. It was my very first Vegas experience and I know their motto is "what happens in Vegas stays in Vegas," but since I'm a writer we're gonna have to throw that out the window. The main reason I was there was to see my cousin get married, which he did in a very nice, and very quick, ceremony (congratulations Steve and Crystal!), but there were plenty of other highlights from the trip, as well. The following are some of those interesting happenings. Spoiler alert - there's a hooker involved in one of these stories.



Slow Ride (11/8) –

Although it may seem hard to imagine one of the best moments of the entire trip involved being crammed into a car with four other people while making a tediously slow drive up the strip from my cousin's wedding to the reception (could there possibly be any more stoplights on that road?). I broke out the video camera and craziness ensued.






The Party Table (11/8) –

The craziness of the car ride carried over to the reception as we met up with three more people to form what ended up being dubbed "The Party Table." Loud, raucous, and in a celebratory mood, I think we inspired at least a few people to join us in engaging in random acts of lunacy. After the reception I actually jumped out of the car to stand in a parking space at Mandalay Bay just so we wouldn't lose it. After 10 minutes of circling the lot, it was worth it.



We Be Clubbin (11/7) –

No trip to Vegas is complete without at least one night out at a club. For me it was Friday night. My old college buddy Jen works at Wasted Space at the Hard Rock and she made sure I was on the list plus twenty. This was when I met a large chunk of the wedding party as I called up Steve and said "just come to the Hard Rock, everyone is on the list." We partied, we drank (probably too much), and got to know each other. That night was also the only night I got to see Jen, whom I hadn't seen in eight years, and it was nice to have a reunion of sorts.

Pretty Woman (11/7) – When I left the club at around 2am I noticed a very attractive woman playing slots by herself and looking unhappy. I had one thought in mind in my slightly inebriated state – target acquired. I started to talk with her, but within about a minute the conversation took a turn I didn't like. Although these aren't the exact words, here is as close as I can come to replicating the end of the chat:

Woman: "Where you stayin?"
Me: "Hooters."
Woman: "How many people you with?"
Me: "I'm rollin solo."
Woman: "You want some company?"

Now, at this point I was thinking one thing and one thing only, "oh man, I can't believe this is going to be this easy! Vegas is great!" Of course, that wasn't the case.

Me: "Sure."
Woman: "You got five hundred dollars?"
Me: "Bye."

Yes, I literally just said bye and walked away. I felt no need to show any manners of any kind. I did get a great Vegas hooker story out of it, though, so perhaps I should have thanked her.



The Flight Delay (11/9) –

Some people get stuck next to screaming babies, or spend entire flight delays being mad at the world because they can't get where they want to go. On the way home from Vegas not only was I at the airport way early, my flight was delayed an extra hour. While making my way to the gate to wait it out I saw a drop dead gorgeous woman also boarding the same shuttle to the D gates. It was the equivalent of seeing a filet mignon in a sea of fast food hamburgers. I started to talk to her. It turned out we had been staying at the same hotel and our flights were at gates right next to each other. It also turned out that she's Miss June in the 2009 Hooters Girls calendar. We spent the next 2 ½ hours hanging out. Needless to say I had no problems with my wait at the airport.



Things That Go Boom (11/7) –

There's not a lot to do in Vegas if you're by yourself. Everyone else there is usually part of a couple or a group. I happened to find one really fun place to visit alone, though, and that's the Atomic Testing Museum. It was a bit of a walk (a couple miles) from my hotel, but it turned out to be a really interesting place. Who knew part of Las Vegas' tourism was built on people coming to see atomic bombs getting tested in the desert?



Effective Branding (11/6) –

Right after I arrived at my hotel, Hooters, I sat down at the restaurant of the same name to grab a quick, inexpensive, bite to eat. I was rockin my B-Lister t-shirt. The next day I had one of the Hooters girls come up to me and say "hey, it's the B-Lister!" That's branding, baby!



Day Damn One (11/6) –

It was the first day I was in Vegas. The first time I had been away from work in seemingly forever. So what happens when I'm investigating the strip? A rapper tries to hand me a CD. Check that, he tries to sell me a CD. I told him I respected his hustle and that I write about music for a living. I gave him the address of the blog and told him to hit me up. He still tried to push the hard sell, but I reiterated I was on vacation and he should hit me up. I still haven't heard from him. Hopefully, if his hustle is really strong, he'll read this and hit me up. Note to all artists – there are times when a sale isn't the be all and end all of success. Networking is, in fact, even more important. OK, I'll get off my soapbox now. PS – One million points to whoever gets the "Day Damn One" reference.

Overall I had a great time in Vegas, logged about 20 miles walking, and am thrilled to say I survived being away from a computer for nearly four full days. I am now totally inspired to try unplugging a little more often than once every ten years.

For all my pics from Vegas check out my Vegas Photo Album.
posted by Adam Bernard @ 7:33 AM