Influencing the Youth of America (Again)
Wednesday, October 08, 2008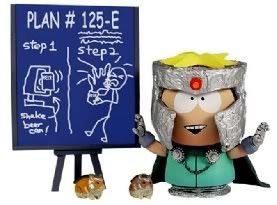 Not much can get me out of bed at 6AM. I really enjoy my last hour of sleep. I was more than willing to forgo it yesterday morning, though, for the opportunity to speak to two media relations classes at my alma mater, Hofstra University (as an aside, that place is seriously geared up for the presidential debate that will be held there on the 15th). After my previous speaking engagement there two years ago, and my subsequent gigs speaking at Westhill High School in Stamford, CT, I've found that I really enjoy being in front of a classroom full of students and sharing with them what knowledge I have to give. Yesterday I didn't just give, though, I received, as well, as I came home with a whole lotta good vibes and a few new questions to ponder.

First and foremost I have to say tangible evidence that you're making an impact is amazing. I met a student in the first class I spoke at who is interning for my good friend, and new media guru, Theda Sandiford. Apparently they met when I brought Theda to the school to speak two years ago. They connected and now a working relationship has developed. I know all I did was provide the opportunity for it to happen, but it felt really good to see that two years after the fact there is still something there from that one opportunity I helped set up.

OK, enough of the self-congratulatory rhetoric. The real reason I was at Hofstra was to expand on something I wrote about here last month; PR Gaffes. My former professor and advisor, Ellen Frisina, asked me to come in to talk to her class about it and offered me up to another professor, Suzanne Berman, who was also happy to have me come in and both reiterate some of the points she's been teaching and bring up some unique ones from my own career. The students really seemed to get into it.

The first class I spoke to (and with) included Theda's intern as well as a man who maintains an incredible three blogs on the side. During the second class there was one especially ambitious young woman who is interning at Ciroc Vodka who made sure to get my info for her press list (that certainly made an impression) and her fellow classmate, celebrity blogger Micah Jesse, asked some fantastic, and very specific, questions regarding launching an artist's PR campaign. I actually felt an odd kinship with Micah since he, too, has been mocked by Gawker.com, and he, too, has worked with Julia Allison.

One might assume college classrooms would be an atmosphere where 90-100% of the people would be reading blogs, but in actuality it seemed as though that number was much closer to 60%, if that (hopefully all of them are reading my blog now!). It really surprised me to see how few college aged people are paying attention to the blogosphere and on my drive home a few questions popped into my head.

- Is there a lack of blogs aimed at college aged students?

- If so, is the reason because there's no market for them, or is it a market that simply hasn't been explored?

- Are college aged students simply not interested in getting their information from blogs?

- If that's the case, what sources are they getting their information from?

I can't answer any of those questions right now, but I hope to figure them out as the months go on. I'm scheduling another round of speaking gigs at Westhill High School for November and will openly ask them where they get the majority of their information from. It should be interesting since so many blogs claim to have such a large number of unique users, although as I said to one class, all webmasters lie (but not me, baby. I really mean it when I say I love you.). Lies aside, a lot of people assume blogs are trafficked by the younger generation. Wouldn't it be interesting to find out that's not the case at all?
posted by Adam Bernard @ 7:38 AM